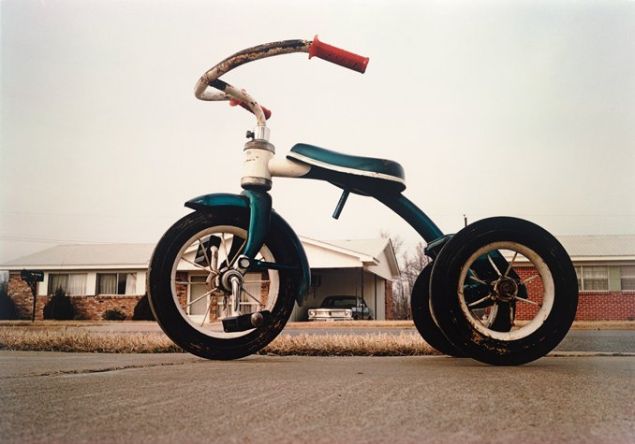 The results of this week's Fall Photo Sales were—with the exception of a controversial Mapplethorpe—subpar.
Collectors had their eyes and their purses open for a blitz of sales at three major New York auction houses, but in the end a much of the artwork was left unsold, especially by historically popular artists that have been the bread-and-butter of photo sales in recent years. Both powerhouse auctioneers, Christie's and Sotheby's, had close to 40 percent of their wares unsold this week.
Perhaps, if there is a success this week, it was at Phillips, which produced the highest combined total of all the houses with its two day sales and ended the week at $4.2 million. Unlike its competitors, Phillips leaned more toward contemporary works.
"These were clearly the worst sales in years," Stephen Perloff, editor of critical quarterly the Photo Review told the Observer after the sales.
The star lot, if there was one, was William Eggleston's color photo of a tricycle against a suburban backdrop, Memphis, which sold for $365,000, with Diane Arbus' similarly-themed black-and-white suburban portrait A Family on their lawn one Sunday in Westchester, N.Y. grabbing $305,000.
Sotheby's total was lower that of Phillips, at $3.2 million, but it had the biggest sale of a single work this week on Wednesday: $478,000 for Robert Mapplethorpe's 1980 image Man in Polyester Suit, a striking portrait of his lover Milton Moore, originally estimated at between $250,000 and $350,000.
The stately image of Moore's torso, clad in a dark suit on top of his own dark skin, is bluntly juxtaposed with the exposure of his uncircumcised penis. In 1988, the work was positioned at the center of his divisive exhibition "The Perfect Moment"; Washington D.C.'s Corcoran Gallery then canceled its plans to show the exhibition following a media frenzy.
While a handful of lots went for well above their high estimate at Sotheby's, the sale still was still 40.4 percent unsold. Notable lots that did sell were Alfred Stieglitz's rare portrait of artist Georgia O'Keeffe, which ended up in the top three, selling for $212,500. Lewis W. Hine's black-and-white An Ellis Island Madonna (Russian Family) sold for nearly twice its high estimate at $60,000, as did Ruth Orkin's An American Girl in Florence, which fetched $32,500.
A surprise also came with Andreas Meininger's hazy skyline 42nd Street, as Viewed from Weehawken, which sold for over three times its high estimate of $5,000-$7,000 for a total of $27,500.
Meanwhile, Christie's offered three auctions: an online-only, an evening, and a day sale, which concluded Tuesday. At the day sale, the buy-in rate was 44 percent and the total $1.6 million, placing it even lower than its disappointing Monday evening sale, which was 43 percent unsold and pulled in a $1 million total.
Its top lot was fashion photographer Peter Lindbergh's 1990 image Helena Christensen, Debbie Lee Carrington, Vogue Italy, Et Mirage, California, which sold for $118,750. But at least the cover lot of Christie's day sale on Tuesday did manage to sell, as opposed to the failed sale of Edward Steichen's Rockefeller Center on Monday night. Michael Eastman's curving architectural composition Palace Stairwell, Lisbon sold for $25,000 on Tuesday, above its high estimate for $18,000.
Mr. Perloff explained that while Christie's offered a sale that was more curated than the others, and more "intellectual than normal," it was not commercial. Collectors were more likely to find classic works by Ansel Adams, Henri Cartier-Bresson, and Irving Penn, who have all been staple solid sellers at past photos sales—but this time around none of those artists faired well.
On this week's clear winner, he said, "Phillips seems to have captured another audience. There are people in their rooms that don't come to the other auctions…and [Phillips] seems to get more energy."
Have the tides shifted from classic to contemporary, from seasoned collectors to younger enthusiasts?
"One season is not a trend," Mr. Perloff said. "But it could well be a harbinger that there are shifting interests. We're left with a great deal of uncertainty."