Pizza lovers lined up round the block outside of St. Anthony's church Wednesday afternoon to indulge in some of the city's best slices—all at a buck a piece.
Over 50 pizzerias, vendors and volunteers came together for the sixth annual Slice Out Hunger event, with all proceeds from the nonprofit's fundraiser going directly to the Food Bank for New York City. With nearly one in five New Yorkers relying on the Food Bank for food and other resources, Scott Wiener, the founder of Slice Out Hunger and pizza enthusiast, tapped into the idea a year after running his own pizza business.
"In the business that I run, the concept is that I treat food like entertainment, which is great but not everybody can afford to treat food like its entertainment," Mr. Wiener, who also runs Scott's Pizza Tours said. "We work in food, we should be helping feed people who can't afford it."
Mr. Wiener added that on the first anniversary party for Scott's Pizza Tours, multiple pizzerias donated free pies: "It didn't make sense to give all my friends free pizza cause you know, they could pay for it. So I just made them pay a buck for a slice and we gave all the money to a hunger relief organization in New York."
Those few pies have now turned into what is hailed as "New York's biggest pizza party." Over 1,100 pizzas were donated from restaurants such as Artichoke, Nicoletta and Grimaldi's—each dollar spent on pizza, dessert or drinks (everything was $1) helping feed five New Yorkers in need. Over an hour before the event started, the line was already stretched around Thompson and Prince Street.
Some pizza fanatics arrived as early as 2:20 p.m. for the 6 p.m. event.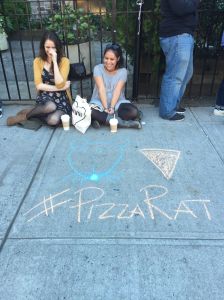 "I see pizza as a food that kind of connects the world," Mikey Rodriguez, who was the first person in line, told the Observer. "I love talking to everyone that waits in line, because everyone has a story about pizza."
"You can see the passion that people in this city have for pizza, by the fact that there's a line outside at 4:30," volunteer Tim Reitzes, who is also part of The New York Pizza Project said. "The event does a really good job at bringing that passion together for a good cause."
A passion, indeed. Multiple people in line were planning to eat the maximum amount of slices allowed…or at least take them home in their GreenBox.
"Today, I'm going to limit it to 15. Yeah, I can eat 15," Mr. Rodriguez said.