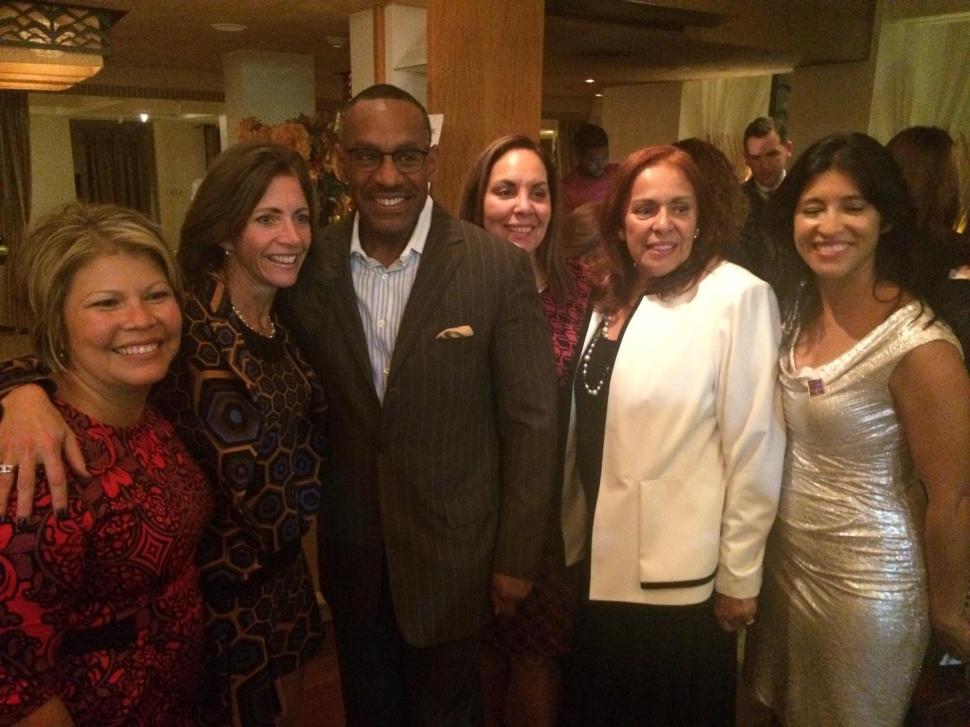 It's Thursday in New Jersey, where Gov. Chris Christie doesn't have to worry about Democrat Joe Biden entering the presidential race and drops a surprise about his employment history. Meanwhile, we look at the top state assembly races while the NJEA is a major funder in some of the most hotly contested races.
Quote Of The Day: "Our members have not missed a payment. Their contributions have gone up every year since 2011. Ultimately, we would like to have people in office who will ensure the state meets its responsibility." – NJEA executive director Edward Richardson
10 of the Most Influential Local Races in 2015
With the November 3 election expected to draw low voter turnout, some local races seem to be the best hope for driving people to cast their ballots. Here is a list of ten races that have the potential to influence the election.
Alyana Alfaro, PolitickerNJ Read more
With General Majority PAC Contributions, NJEA Leads The Charge in Spending
The New Jersey Education Association has been the driving force behind the General Majority PAC's roughly $2 million campaign effort on behalf of Assembly candidates in the first and second legislative districts, contributing $3 million to the independent group.
JT Aregood, PolitickerNJ Read more
10 Reasons a 2016 Casino Referendum Will Face an Arduous Path
The question of new casinos in the Meadowlands and Jersey City has dominated the Assembly races in South Jersey's first and second districts this year. Although Assemblymen Chris Brown (R-2) and Vince Mazzeo (D-2) have both made impassioned opposition to North Jersey casinos mainstays, many see the plans for a new Meadowlands Hard Rock Casino and for a staggering 95-story luxury casino in Jersey City as hard sells — even on their home turf.
JT Aregood, PolitickerNJ Read more
Mazzeo Campaign Attacks Brown on Gun Control Record
Assemblyman Vince Mazzeo's (D-2) campaign released a statement Wednesday going after rival Chris Brown (R-2) for his voting record on gun control measures and his good standing with the NRA.
JT Aregood, PolitickerNJ Read more
Garcia vs. Grossbard: Was Grossbard Too Involved in Hoboken?
According to an October 9 filing with the Hudson County Superior Court, new action is still being taken in the case of Assemblyman Carmelo Garcia against Hoboken Mayor Dawn Zimmer, her husband Stan Grossbard and former/current members of the Hoboken Housing Authority.
Alyana Alfaro, PolitickerNJ Read more
N.J. attorneys accused of concealing political donations
Eight partners of a politically active New Jersey law firm are accused of illegally funneling about $8,000 in political contributions to state and local candidates and committees through the firm's associate attorneys.
Samantha Marcus, NJ.com Read more
Christie: Prosecutor, not governor, 'best job I ever had'
Despite being reelected in a landslide, Gov. Chris Christie told a lunchtime crowd at an Iowa town hall Wednesday that serving as a U.S. Attorney was actually "the best job I've ever had."
Claude Brodesser-Akner, NJ.com Read more
Super PAC backing Christie tops $1M in spending in past two weeks
A super PAC promoting Governor Christie's bid for the presidency has spent more than $1 million over the past two weeks, mostly on television ads in New Hampshire.
Salvador Rizzo, The Record Read more
At debate, Assembly candidates focus on issues, avoid discussing controversy
The first and only debate among Assembly candidates in the key 38th Legislative District focused on the issues and mostly skirted the ruckus that has surrounded the race.
John C. Ensslin, The Record
N.J. mental health advocates wary of Kean bill in midst of gun debate
On the eve of a partisan showdown over legislation involving people with serious mental illness and gun access, a coalition of advocacy groups Wednesday expressed "concern" about an alternate measure proposed by the top Republican in the state Senate.
Susan K. Livio, NJ.com Read more
Lawsuit says Rockaway Twp. councilmen get undeserved health benefits
A citizen activist has filed a lawsuit claiming that Rockaway Township's mayor and seven councilmen are receiving medical benefits to which they are not entitled.
Ben Horowitz, NJ.com Read more
Brown says he'll vote to override Christie on guns
Assemblyman Chris Brown says he will vote to override Gov. Chris Christie's veto of a bill that would require law enforcement to be notified when potential gun buyers try to have mental health records erased.
Christian Hetrick, Press of Atlantic City Read more
Reform of Port Authority Moves Slowly Ahead
A bipartisan group of New Jersey lawmakers that has been closely scrutinizing the Port Authority in the wake of the George Washington Bridge lane-closure scandal seems to be reaching some consensus on the need for a new bus terminal and possibly even legislation to reform the bistate agency.
John Reitmeyer, NJSpotlight Read more
Joe Biden Will Not Run for President in 2016
Vice President Joseph R. Biden Jr. said Wednesday that he would not be a candidate in the 2016 presidential campaign, bringing to a close a three-month exploration that began shortly after the death of his eldest child and threatened to fracture the Democratic Party.
Peter Baker and Maggie Haberman, New York Times Read more