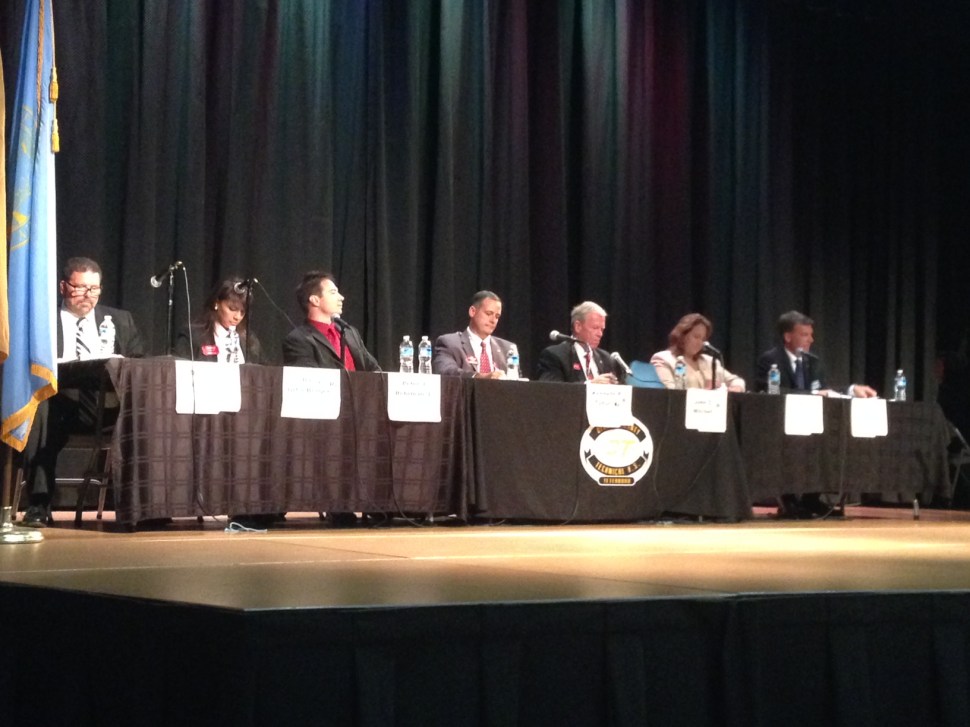 It's Tuesday in New Jersey, where all eyes are on the coming election and the possible aftermath. We take a look at the situation in Bergen County, where both party leaders have a lot riding on the outcome, and in Hoboken, where Mayor Dawn Zimmer isn't running, but still has lots hanging on the race. Meanwhile, in the south, there are reports a Democratic candidate met with his Republican rival before calling it quits.
Sources: Bergen County Prosecutor Molinelli Likely to Resign Tuesday
There is considerable speculation about the fate of Bergen County Prosecutor John Molinelli. According to sources, Molinelli will likely announce his resignation on Tuesday.
PolitickerNJ Editor, PolitickerNJ Read more
A Tale of Two Chairmen: Stellato and Yudin
The two chairs of Bergen County's primary political organizations—Bergen County Republican Organization Chairman Bob Yudin and Democratic Committee of Bergen County Chairman Lou Stellato—have a lot riding on the November 3 elections. While some are saying that Yudin's time as chairman will be deeply impacted by the results of this election, it seems that Stellato is thriving in the position he has held since 2011.
Alyana Alfaro, PolitickerNJ Read more
What Does Mayor Zimmer Have to Win or Lose on Election Day?
Hoboken Mayor Dawn Zimmer is not up for reelection on November 3 but, due to her connection to a slate of candidates called Team Zimmer, she still stands to win/lose plenty depending on who comes out on top in five of the six ward races.
Alyana Alfaro, PolitickerNJ Read more
APP: Rible and Keady in LD30
The Asbury Park Press this weekend issued a split ticket endorsement in the heavily Republican 30th Legislative District.
Max Pizarro, PolitickerNJ Read more
Monteiro Getting Blitzed by Negative Mail in Elizabeth
Having lost his bid earlier this year for an Assembly seat in LD20, incumbent Elizabeth School Board member Tony Monteiro is sustaining heavy fire in his bid to win back his board seat and assist Rafael Fajardo in keeping organizational control of the board.
Max Pizarro, PolitickerNJ Read more
Former Assembly Candidate Arrested on Charges of Mortgage Fraud
The Hudson County Prosecutor's Office arrested three people on Friday – including a former Democratic candidate for the Assembly in LD31 – on charges of mortgage fraud.
Max Pizarro, PolitickerNJ Read more
Monmouth Poll: Carson Holds 14-Pt. Lead Over Trump Among Iowa Republicans
In a battle for top dog between anti-establishment Republicans amid party unrest over its choices, a Monmouth University Poll of likely Iowa Republican caucus-goers today finds that former neurosurgeon Ben Carson has assumed a double digit lead over real estate tycoon Donald Trump.
Max Pizarro, PolitickerNJ Read more
Source: Schroeder Huddled with Levinson a Day Before Aborting his Campaign
A day before he dropped out of the race for Atlantic County executive, Jim Schroeder dropped in on the man he was challenging, powerful incumbent Dennis Levinson.
Max Pizarro, PolitickerNJ Read more
Doing Everything in My Power for Our Veterans
I ran for Congress in 2014 because I knew the federal government could do more to empower individuals and private secto
Tom MacArthur, PolitickerNJ Read more
Christie's slanderous take on Black Lives Matter – Opinion
A few minutes ago I was at home packing, preparing to fly to Zimbabwe on Tuesday morning and was looking at "Face the Nation" on CBS. Gov. Chris Christie was being interviewed and was asked about the effect on policing following the shooting in Ferguson, Missouri. Gov. Christie proceeded to lay the blame for problems with policing and law enforcement on President Barack Obama and his support of the Black Lives Matter movement.
Reginald T. Jackson, NJ.com Read more
Republican seeking upset in Hudson County legislative race
Six state Assembly seats are up for grabs next Tuesday in Hudson County, but all eyes are on the 31st Legislative District, where a Republican lawyer is hoping for an epic upset at the polls.
Terrence T. McDonald, The Jersey Journal Read more
N.J. citizens groups: Don't trade gas tax hike for estate tax cut
More than 40 advocacy and labor groups are urging New Jersey lawmakers to oppose any deal that cuts the state estate tax in exchange for a gas tax hike, a potential compromise floated to raise money for the Transportation Trust Fund.
Samantha Marcus, NJ.com Read more
Jackson: Christie appointee a thorn in GOP's side
A Democratic political activist appointed by Governor Christie to the board that runs Rutgers University is also the president of a Washington super PAC that has spent at least $2 million trying to stop Christie's fellow Republicans from winning seats in the state Assembly in next month's election.
Herb Jackson, The Record Read more
Judge Thompson suspended from 9 jobs in Monmouth County
A Middletown attorney who was serving as municipal judge in nine Monmouth County municipalities has been suspended without pay from his judgeships pending an investigation by New Jersey's Advisory Committee on Judicial Conduct.
Kathleen Hopkins, Asbury Park Press Read more
Christie signs three pro-veteran bills into law
Gov. Chris Christie signed three bills into law Monday to support New Jersey veterans and their families.
Christian Hetrick, The Press of Atlantic City Read more
District 2 Race One To Keep An Eye On
For Jersey Shore voters, all eyes are on the 2nd District in Atlantic County, where each party holds one Assembly seat and the race is considered one of the most competitive in the state.
Tara Nurin, NJSpotlight Read more