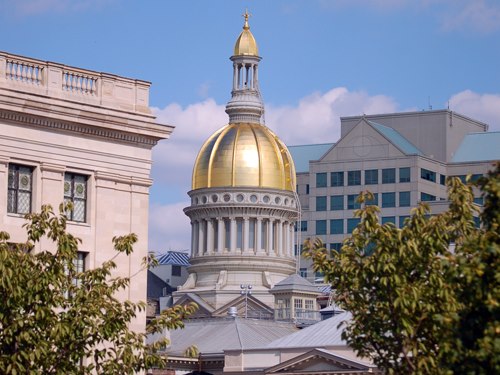 It's Tuesday in New Jersey, where Horizon executives had to explain their new insurance plan and other insurance measures are generating their own concerns.
Lawmakers Grill Horizon Execs on Insurance Plan
Lawmakers today expressed misgivings about Horizon New Jersey's proposed insurance plan, applauding efforts by the carrier to reduce costs in a state with the second most expensive healthcare in the country, but finally unconvinced that the plan's implementation would uniformly positively impact all New Jersey hospitals.
Max Pizarro, PolitickerNJ Read more
Bayou State Lawsuit Could Boost NJ Parties
A lawsuit filed by the Republican Party of Louisiana holds the potential for strengthening political parties in New Jersey.
Jeff Brindle, PolitickerNJ Read more
Gill and Vitale Call on AG to Intervene in Horizon OMNIA Case
Senate Commerce Chair Nia H. Gill and Senate Health Chair Joseph F. Vitale today called on the state's acting attorney general to investigate Horizon's new OMNIA Alliance and tiered benefits system and to establish a permanent oversight mechanism for the program.
Max Pizarro, PolitickerNJ Read more
Booker: 'A Black President Doesn't Mean We've Somehow Made It'
Senator Cory Booker, Senator Bob Menendez, Congressman Donald Payne and Bloomfield Mayor Michael Venezia announced a $3 million federal grant for Bloomfield College that would provide funding geared towards African American students pursuing careers in science, technology, engineering and math (STEM) fields.
Alyana Alfaro, PolitickerNJ Read more
Former State Human Services Payroll Clerk Pleads Guilty to Theft
Acting Attorney General John J. Hoffman announced that a former senior payroll clerk for the New Jersey Department of Human Services (DHS) pleaded guilty today to using her work computer to generate false insurance cards for herself and others. She also admitted that she stole public assistance benefits by creating false documents to claim childcare expenses.
Politicker Staff, PolitickerNJ Read more
Voss Plays Starring Role in Colleagues' First Campaign Ad
Bergen County Freeholder incumbents Steve Tanelli, Tracy Zur and Tom Sullivan will debut their first ad of the campaign season tomorrow on cable and online.
Max Pizarro, PolitickerNJ Read more
Mazzeo Running Mate Claims Brown Tried to Boot Him from NJTV Debate
Atlantic County Freeholder Colin Bell, running mate to incumbent Assemblyman Vince Mazzeo (D-2), claimed in a statement Monday that their Republican opponent Chris Brown (R-2) attempted to have Bell and his Republican counterpart Will Pauls removed from a panel scheduled to meet on NJTV this weekend.
JT Aregood, PolitickerNJ Read more
Legislators Call for Transparency and Attention to South Jersey at OMNIA Hearing
Adding to mounting criticism against Horizon Blue Cross Blue Shield for its proposed tiered system for hospitals and other healthcare providers in New Jersey, Senator Diane Allen (R-7) said during a joint hearing of the Senate Commerce and Health, Human Services and Senior Citizens committees hearing Monday that she hopes the plan will be altered to bring more of the new, lower-cost affiliates to her home district in Burlington County.
JT Aregood, PolitickerNJ Read more
Yudin: Cappola Incident Nobody's Fault
Last week, a book written by former LD38 assembly candidate Anthony Cappola that featured offensive and bigoted writings led him to drop out of the race. Bergen County Republican Chairman Bob Yudin said the situation is a "contrary reflection" on the GOP and on the chairman himself.
Alyana Alfaro, PolitickerNJ Read more
N.J's Garrett hit with ethics complaint over support for payday lenders
A watchdog group has filed an ethics complaint against U.S. Rep. Scott Garrett and 10 other lawmakers, charging them with taking actions to benefit payday lenders while accepting campaign contributions from the industry.
Jonathan D. Salant, NJ.com Read more
N.J. lawmakers to ask AG to determine if Horizon insurance plan violates law
Two state senators said Monday night they would ask the Attorney General to investigate whether New Jersey's largest health insurer violated anti-trust and false advertising laws in developing a new plan that excludes half of the hospitals in the state.
Susan K. Livio, NJ.com Read more
Tax break for entertainers who perform in Atlantic City moves forward
A bill that aims to bring top entertainers to Atlantic City more often by offering a tax break to those who commit to performing multiple times a year in the financially-strapped resort cleared a legislative panel on Monday.
Erin O'Neill, NJ.com Read more
Jersey Shore town looks to restrict public parking near beaches
An online petition opposing a proposal to prohibit non-residential parking on portions of six streets near the beach is gaining traction ahead of a borough meeting.
The proposed ordinance (#1124) requires only vehicles with a residential parking permit to park on the streets Monday through Sunday between the hours of 8 a.m. and 8 p.m. from May 1 through Oct. 31.
Alex Napoliello, NJ.com Read more
Questions Following NJ DOT Commissioner's Resignation
One big question after the Jamie Fox resignation announcement at 5 p.m. last Friday — did Fox do this on his own? Or was he pushed?
Michael Aron, NJTV News Read more
Bergen County GOP goes to court in bid to replace Assembly candidate
The Bergen County Republican Organization went to court Monday in an effort to replace an Assembly candidate who suspended his campaign last week over a controversial self-published book that contains racial slurs and stereotypes.
John C. Ensslin, The Record Read more
Head of N.J. cancer society struck, killed by falling tree during storm
The executive director of New Jersey's chapter of the Leukemia and Lymphoma Society was killed Saturday afternoon when a tree fell on her vehicle during a storm.
Associated Press Read more
Mayoral candidate: harness Hamilton's location to attract companies
The township needs to harness its existing prowess as a transportation hub to attract large employers who can employ residents in skilled positions and pay them well. It also needs to move away from becoming a "retail mecca."
Kevin Shea, NJ.com Read more
In Menendez case, Citizens United also on trial
The corruption case against New Jersey Sen. Robert Menendez has become a battleground over the controversial Supreme Court decision that allowed the flood of campaign money reshaping elections.
Jonathan Tamari, Philadelphia Inquirer Read more
Protecting Customers From Spikes in Utility Bills Goal of Bill Package
Consumers might be better protected from unexpected spikes in their utility bills if they choose to switch gas or electric suppliers under a legislative package being pushed by the Legislature.
Tom Johnson, NJSpotlight Read more