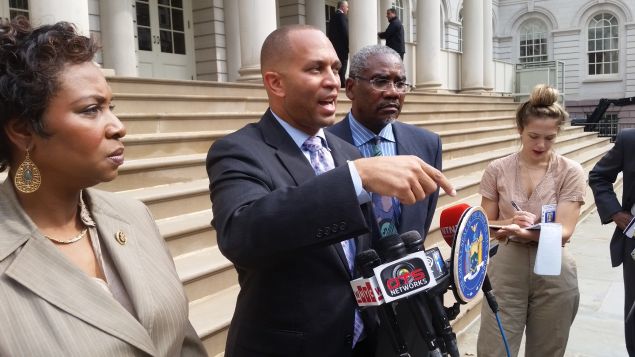 Congressman Hakeem Jeffries, a Brooklyn Democrat rumored to be considering a challenge of Mayor Bill de Blasio in 2017, chastised his fellow Democrat today for his many forays out of the five boroughs.
Mr. Jeffries, speaking at an endorsement event for Hillary Clinton ahead of the first televised debate of the Democratic presidential primary, implied that Mr. de Blasio, who is planning an Iowa forum on income inequality for December, should stay home.
"It's not clear to me … that a town hall meeting in the cornfields of Iowa has anything to do with the quality of life of every day New Yorkers," he said. "We got income inequality here. We've got an affordable housing crisis here. We've got a homeless crisis here."
"But who am I to advise anyone else as to how to conduct their policies?" he asked coyly.
Along with Mr. Jeffries, Brooklyn Congresswoman Yvette Clarke and Queens Congressman Gregory Meeks endorsed Ms. Clinton at City Hall today. They joined much of the New York Democratic establishment, including Gov. Andrew Cuomo, Sen. Charles Schumer and Council Speaker Melissa Mark-Viverito in backing the ex-New York senator. Mr. de Blasio has been, by far, the most prominent hold out, and he has missed out on opportunities to be a Clinton surrogate on the national stage.
Karen Hinton, a spokeswoman for Mr. de Blasio, shot back at Mr. Jeffries. "Issues being debated among the presidential candidates have everything to do with the quality of life of every day New Yorkers," she said. "One of the candidates will make it to Washington, D.C. where a living wage, paid sick leave, affordable housing, universal pre-K and other issues could be center stage, depending on what happens in Iowa, New Hampshire and other early-state primaries. That's why the cornfields of Iowa matter to New Yorkers and to all Americans."
New York Democrats have raised eyebrows and even mocked Mr. de Blasio's reluctance to endorse the former secretary of state: he managed Ms. Clinton's 2000 campaign for the Senate and invited her, along with former President Bill Clinton, to his inauguration last year, though he is withholding an endorsement many see as inevitable. When Mr. de Blasio declined to support Ms. Clinton when she said she was running for president in April, some Democrats saw the move as a gamble that could pay off, especially since grassroots progressives are skeptical of the Clintons and favoring Sen. Bernie Sanders of Vermont.
But it's not clear what Mr. de Blasio will gain at this point. He has repeatedly praised Ms. Clinton and said that he is waiting to hear "more" about the two-time contender's liberal vision for the country.
Mr. Jeffries, who is still more than likely to pass on challenging an incumbent mayor, extolled Ms. Clinton as a "common-sense progressive." He said he it wasn't his place to determine Mr. de Blasio's endorsement timetable.
Ms. Clarke, an early supporter of Mr. de Blasio when he ran for mayor in 2013, said the Democratic mayor wasn't being disloyal to Ms. Clinton.
"I think that he has decided to go through a process and we will see what this process yields," she said. "He has not selected a candidate as of yet. We have come to the conclusion that for us and the people that we represent, Hillary Rodham Clinton is the candidate of choice, the candidate we must choose in order to move this nation forward."
"Hopefully, we will influence him as well," she added.
Updated with comment from Mr. de Blasio's office.