Josh Rosenthal didn't have a plan when he left his job at Sony after 15 years. The music business veteran figured he'd get another industry job, but it took just one great idea to set him down a new path that would forever change the course of his career: starting his own record label.
Over the last 10 years, Mr. Rosenthal's record label, Tompkins Square, has built a catalog of nearly 100 reissues and new releases from obscure and prolific songwriters across a diverse assortment of genres. The label celebrates its double-digit milestone with its first-ever anniversary show on October 9 at Rough Trade NYC, bringing together guitarists new and old that have defined its presence over the years.
"This show is pretty much a slam dunk just because of who's on it," said Mr. Rosenthal. "I've never done anything like it."
With a lineup featuring prominent '60/'70s-era musicians (Michael Chapman, Peter Walker, Bob Brown), one of 2015's most-buzzed-about singer-songwriters, Ryley Walker—a torch bearer for sounds of an earlier time, says Mr. Rosenthal—headlines the event.
Mr. Rosenthal's love for songwriting and acoustic instrumentals inspired the night's lineup; all four performers are "monsters in that category," he said.
'I love bringing things back from oblivion and making them less rare.'
After playing around with the idea of releasing a guitar compilation record, Mr. Rosenthal created Tompkins Square in 2005 while living in New York. That album ended turned into the well-received Imaginational Anthem, featuring "American Primitive" guitarists such as Jack Rose, Harris Newman and Bob Hadley. It was the first compilation released from a seven-volume series, with the first three volumes focusing on guitarists.
"The first record was sort of like a clarion call for what I would do for the next years," said Mr. Rosenthal, now based in San Francisco.
Imaginational Anthem also followed a theme of juxtaposing old and new artists, setting the tone for the kind of records Tompkins Square would go on to produce.
"There are a lot of labels that do reissued work and labels that find new artists and I try to do both," he said. "I love bringing things back from oblivion and making them less rare."
Tompkins Square takes its name from the East Village park, of course, which Mr. Rosenthal lived by for years in the '90s. The name itself conjured up ideas of anarchy and rebellion, a similar route the artists he produces seem to take a in their music.
"We're kind of hard to define of what we do," said Mr. Chapman, who at 74 years old has released over 40 albums and toured relentlessly during his career. "People ask, 'what kind of music do you play?' and I say I don't know—it changes all the time."
'I make Michael Chapman records and it's nothing like the last records and that's the point—you have to keep on moving.'
The English musician got his start in the '60s when he was playing guitar in jazz, folk and rock and roll clubs to pay for his college tuition. He has continuously rejected being categorized as a "folk" artist and says people automatically assume that because they see an acoustic guitar. But Mr. Chapman is far from conforming to one genre, often dabbling in avant-garde projects.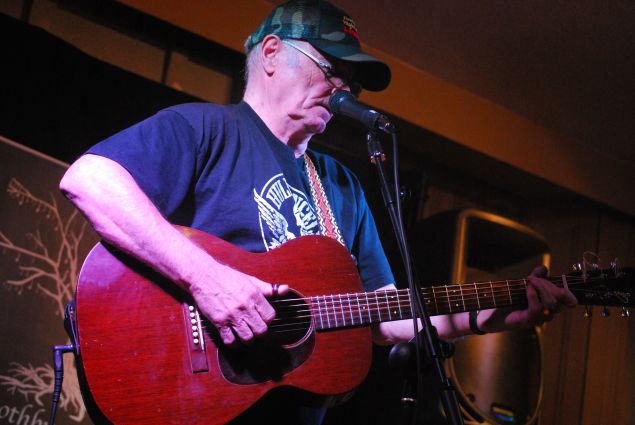 Mr. Chapman has worked with a string of labels, including Harvest Records with its legendary history of progressive '70s rock. He found complete freedom working with Tompkins Square, releasing a compilation album of guitar compositions and also received a tribute album from some of his admiring musicians, including Thurston Moore.
"I tend to lose labels because after I did a little of a first album they try to tell me what to do and it's impossible," he said. "I make Michael Chapman records and it's nothing like the last records and that's the point—you have to keep on moving."
His new album, Fish, an acoustic instrumental record that features a cello collaboration, was released by Tompkins Square in September and he'll also be joining Mr. Walker on tour this fall. But don't plan on hearing his newest album in full—a master of improvisation, Mr. Chapman never plans his setlists.
[soundcloud url="https://api.soundcloud.com/tracks/219671745″ params="color=ff5500&auto_play=false&hide_related=false&show_comments=true&show_user=true&show_reposts=false" width="100%" height='166′ iframe="true" /]
The October 9 anniversary show will be the first time any of the label's musicians perform together, and Mr. Rosenthal says it's going to be a historic experience to have all them on stage. Touring infrequently, it's a rare opportunity to catch Mr. Walker, or Mr. Brown, who hasn't performed in New York since the '80s.
On the day of show, Tompkins Square will put out a streaming box collection of its 10 best albums, along with a song collection titled 10 Years of Tompkins Square Label, Some That You Recognize Some That You Hardly Even Heard Of—a play on a Kinks song. Both will be available on all streaming services.
And for fans who want to dive even deeper into the Tompkins Square celebration, Mr. Rosenthal is also releasing his first book, The Record Store of the Mind, "a part memoir and "part music criticism" that reflects on his time in the music business. It will be available everywhere October 27, with a few release events, but he hopes to feature it at the merchandise table at Rough Trade.
"I just want to keep doing things better and more consistently," said Mr. Rosenthal. "Ten years is a long time to do anything, if you're not getting better, then what's the point?"