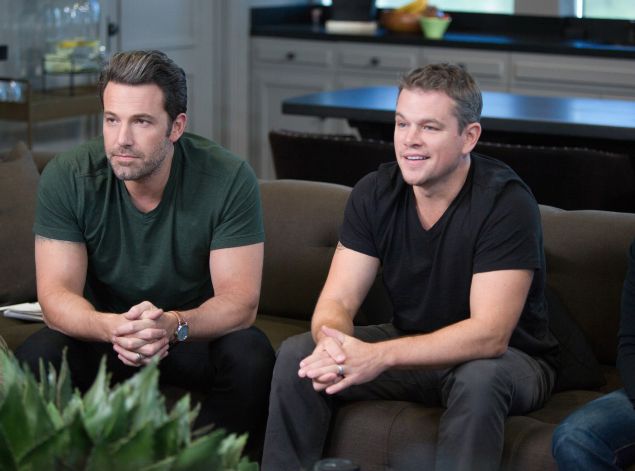 After a decade long hiatus, the reality series that offers a study in filmmaking has returned. Last on air in 2005, Project Greenlight features big Hollywood names – Matt Damon and Ben Affleck as Executive Producers — and a well- respected studio (HBO) backing an unknown filmmaker as he or she makes their first full length feature.
Feeling it was time to bring the series back from oblivion, Adaptive Studios jumped on the property, reasoning that there was not only still an interested audience but that the passage of time and that advancements in technology favored the re-booting of Project Greenlight. "When the series on the air the last time, Facebook, YouTube and Twitter didn't exist," explained series Executive Producer Perrin Chiles. "Now we have an opportunity for technology to be an integral part of how we discover new talent. Because of social media we were able to do the largest director video contest that's ever been done."
Getting down to just one director was tricky given the number of entries, admits Chiles. "We had 5000 people that submitted shorts. Our top 200 were really strong and it's important to note that 10 years ago that top 200 would have been top three, that's how much technology and mobile culture and ease of use of equipment has become. Everyone has a camera on their phone, so in some ways everyone is a filmmaker now."
Finally, that pool was whittled down to just one as recent film school graduate Jason Mann was selected as this season's auteur. "With Jason we loved the short film that he originally submitted, "explains Chiles. "Then, we gave all of the top directors the same three page scene and his finished product was dramatically different from everyone else's. Everyone on the judging panel really responded to the way he tells a story. From those pieces of material it was very evident that he was the real deal and we knew that we wanted to work with him."
After the selection of Mann, things got off a rocky start as he balked at the material that had been chosen for him to direct. "Yeah, he was hesitant about taking on that script," says Chiles.
In fact, Mann's first controversial move was to suggest that his own script be used for the project, instead of the pre-selected material "That move may have seemed really bold at the time, but he was completely right. His script was really good and he knew that he could make that piece really work."
Chiles insists that this change may have seemed problematic but it was actually in keeping with the mission of Project Greenlight. "Our main objective is to make a great movie, so we want the director we select to succeed. In this case, that meant changing up the script to get the best finished product, so that's what happened."
The series started off with another bang as Matt Damon clashed with line producer Effie Brown on the subject of diversity, both within the film and behind the scenes. Many felt that Damon's attempt to explain his feelings about diversity to Brown, an African-American female, was out of place. The heated discussion led to a lot of interaction on social media via the hashtag #damonsplaining.
Asked if he anticipated the backlash that resulted from that exchange, Chiles responded, "It's important that people understand that we know that one of the biggest criticisms of Project Greenlight in the past has been the lack of diversity with people saying, 'it's a bunch of white dudes choosing white dudes.' So, we were cognizant of that and wanted to add a different dynamic and that's part of the reason that we brought Effie in. But I want to be clear that that's only part of the reason we brought her in – first and foremost everyone should know that Effie is a damn good producer and that was our number one reason for wanting to work with her. In terms of diversity within our series, the thing is, we've set the series up so that it's a peek behind the curtain of how Hollywood thinks and really works. We want this to be a mirror of the good, the bad and the ugly of Hollywood and that discussion may have really fallen into all of those categories. That discussion happened just as you saw it and while we intended to have diversity as a topic of conversation on this season, we absolutely did not anticipate the heated level that it got to. I speak for everyone in saying we welcome discussions like this. They serve a purpose."
Going forward, Chiles and the team believes that it's important to look for ways to be more inclusive, starting with the submission process. "We ended up with 5000 submissions, 15% were female and less than 5% were people of color. We need to do a better job of outreach so that those groups are better represented."
What has surprised Chiles about this season of the series is "how sophisticated our audience is. When Project Greenlight first started, it was really on the cusp of the beginning of reality TV. Now people have caught on to the troupes of making reality TV and they're really savvy about manufactured drama. The thing is, moviemaking has its own inherent drama. There's the conflict of never enough time or money and the struggle to make things work given those constraints is really already filled with drama. We don't have to manufacture anything."
Chiles admits that the other thing that caught his team off guard is that people seem to want more than the already produced eight episodes. "Now I really wish we had more time. We're seeing people say on social media that they want more. There was so much drama that it was hard to catch it all in eight episodes. Because we had to cram so much in such a short amount of time I was afraid that some of the nuance and subtlety would get lost and that's not the case. People are catching everything."
Fans of the series won't have to wait too long to see the finished product as HBO just has announced that the film, The Leisure Class, will debut on November 2nd, just after the Project Greenlight finale on the 1st.
The film revolves around William, a debonair Englishman celebrating his imminent marriage to Fiona, the beautiful daughter of a U.S. senator and prominent East Coast family. But William is a con man; his identity is fake and his intent is to embezzle funds from the senator's charitable organization. Unexpectedly, William realizes he has true feelings for Fiona and now regrets his predicament.
On the eve of the wedding, the sudden arrival of William's unstable, estranged brother, Leonard, threatens to expose both William's true identity and his scam. Unable to convince Leonard to leave, William watches helplessly as his brother insinuates himself into the family and the wedding festivities. A long night ensues, during which Leonard's reckless behavior not only calls into question the true nature of William and Fiona's relationship, but also reveals disturbing, long-hidden truths about Fiona's family.
"The whole process of Project Greenlight has been crazy and messy and exhilarating and beautiful as well," muses Chiles. "What we've really tried to show is the contained chaos that it takes to make a movie. I think we've done that and I think people will really respond to the finished film as well. I just don't think you can ask for more than that from a TV show."
Project Greenlight airs Sundays at 10e/p on HBO.