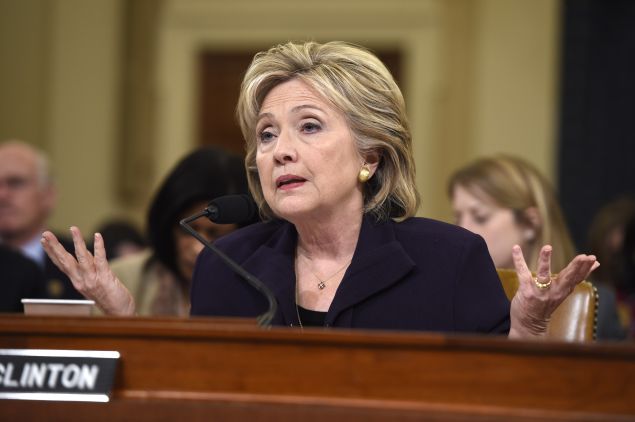 Thursday's Congressional interrogation of Hillary Clinton went on so long you could see – on high-definition television – the whiskers growing on the chin of Rep. Elijah Cummings of Maryland, the ranking Democrat on the Republican-dominated kangaroo court of the House of Representatives.
Also clear, even without the picture, was Mr. Cummings's anger toward the Republican members who were ostensibly seeking an explanation for the murder of four Americans in Benghazi, Libya, in a terrorist attack at an American diplomatic mission when Ms. Clinton was Secretary of State in 2012.
With few breaks, she endured 11 hours of loaded questions, rude interruptions and scolding lectures from committee members like chairman Trey Gowdy (R-South Carolina), Mike Pompeo (R-Kansas), Lynn Westmoreland (R-Georgia), Jim Jordan (R-Ohio), Martha Roby (R-Alabama), Susan Brooks (R-Indiana) and Peter Roskam (R-Illinois).
Amid their verbal attacks, Mr. Cummings spoke loudly and clearly in defense of Ms. Clinton, the leading contender for the Democratic presidential nomination.
"It bothers me when people even imply that you don't care about your people," Mr. Cummings said. "That's not right. We're better than that, using taxpayer dollars to destroy a campaign." Earlier, Mr. Cummings said: "The problem is the Republicans keep asking the same questions over and over again and pretend they don't know the answers."
At lunch recess, after Mr. Cummings and Mr. Gowdy argued about putting a document on the record, commentator Rachel Maddow of MSNBC called it "a partisan hockey fight."
"We're in the muck and mire," Ms. Maddow said later. "It makes you want to take a shower."
Ms. Clinton can expect less rancor Friday night when she is the exclusive guest on "The Rachel Maddow Show" at 9 p.m. on MSNBC.
The credibility of the committee was severely shaken two weeks ago when Majority Leader Kevin McCarthy (R-California) bragged to Sean Hannity on Fox News Channel that the committee's real purpose was to drive down Ms. Clinton's poll numbers.
Those words not only destroyed Mr. McCarthy's chances of replacing John Boehner as Speaker of the House but also might have diminished the Republican Party's chances of re-taking the White House in next year's November elections.
You could tell the Republicans were looking bad Thursday when Fox – their network of choice – cut away from the hearings in late afternoon for regularly scheduled programming. First came Neil Cavuto, whose guest was talk show host Gina Loudon.
She didn't like Democrats questioning the $4.8 million spent so far on the 17-month investigation, so she turned the subject to President Barack Obama.
"Let's not forget that this President has spent more on vacations than all Presidents combined in our history and more on just a couple golf outings than this cost," she said.
Even Mr. Cavuto seemed perplexed by this line of thinking and by the overall tone of the hearing.
"Do you feel this going nowhere and it's a waste of time?" Mr. Cavuto asked.
Instead of returning to the hearing at 5 p.m., Fox showed Ms. Clinton on a half-screen without sound while continuing with its usual program called "The Five" in which five amateur comedians sit around a table and impersonate social and political pundits.
Fox – unlike MSNBC and CNN – didn't return to the hearings until deep into its regular newscast that fills the 6 p.m. hour.
Occasional breaks gave a phalanx of real commentators a chance to voice their critiques. Jeffrey Toobin of CNN noted that "members of Congress are notoriously incompetent questioners." Also on CNN, Jake Tapper evaluated Ms. Clinton's performance about halfway through the ordeal.
Noting that the Republicans seemed to be trying to provoke an outburst from her, Tapper said "She's been very measured. She hasn't taken the bait." Tapper added that "Republicans have a lot to do to convince the public" that the investigation is not politically motivated.
While a television camera doesn't always reveal an X-Ray of the soul, it does convey emotion well, especially anger. Chris Matthews of MSNBC noted this when he said of Republican males: "Look at the faces of those men. They really don't like her."
He alluded to the tone of their questioning and to a voting block making up more than half the population. Ms. Clinton hopes to become the nation's first female President.
"Women of a certain age, older women, they are very tired of men with that kind of attitude toward them professionally," Mr. Matthews said. "I think they're showing that attitude of contempt with her and it's not appropriate."
Coming to a similar conclusion was committee member Adam Smith (D-Washington), who called the tone of the conversation and its length "badgering and vicious."
"They simply wish to wear you down," he told Ms. Clinton. "Their line of questioning is implying that you don't care. It is clear they are trying to attack you personally. It's damn sure not helpful."