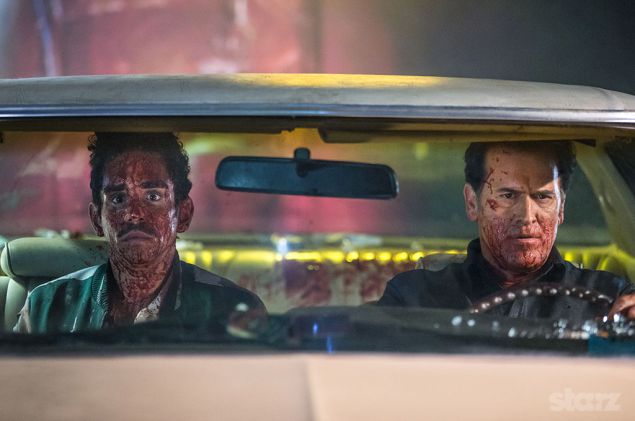 To celebrate this weekend's premiere of the blood-splattered, chainsaw-wielding and downright groovy Ash vs. Evil Dead, we'll be rolling out a new interview every day this week with the cast and creators. Yesterday was Lucy Lawless. Today: Ash's newest sidekick, Ray Santiago. 
Ray Santiago and I were sitting in a corner room at the New York EDITION hotel, three weeks before the premiere of Ash vs. Evil Dead, discussing the weight a relatively unknown actor (highest profile role: 2004's Meet the Fockers) might feel stepping into a cult-classic horror franchise.
Turns out, that weight doesn't exist. Throughout the first two episodes at least, Mr. Santiago's reserved, timid Pablo Bolivar manages to play the comedic yin to Bruce Campbell's iconic, slapstick Ash William's yang. It's a fantastic role for a young actor, and one that is not likely to be forgotten by newcomers and diehard fans alike.
Off-screen, Mr. Santiago is almost the anti-Pablo, his thickly-mustachioed mouth moving a mile a minute, his opinions on everything from horror to race widespread. About 20 minutes into our scheduled 10-minute chat, what started as a discussion about the series turned into a freewheeling talk about modern television, diversity, and the difference between American Horror Story creator Ryan Murphy and Sam Raimi.
"Being here and seeing 2500 people at the New York Comic Con welcome us so happily, to look into Sam Raimi's eyes right before we went into that panel and see them watering, I knew the blessing was there."
Observer: What's it like to not only be a fresh faced actor, but to be stepping into a well-known franchise?
Ray Santiago: What's interesting about it is [Evil Dead creator Sam Raimi] really wanted to find different versions of Ash. He was looking for people that had it within them to be as iconic as Ash's character. So when we met each other and we vibed, and when I jammed with Bruce during my audition, I think Sam realized [co-star Dana DeLorenzo] and I had what it took.
I'm so thankful that it's meshed so well, being a New Yorker, and being back here after 11 years in Los Angeles jumping from show to show, trying to find a home to go to work to go to every day. Being here and seeing 2500 people at the New York Comic Con welcome us so happily, to look into Sam Raimi's eyes right before we went into that panel and see them watering, I knew the blessing was there, the fans were going to love it, and that Sam was really happy with the choices they've made. This was the future of Evil Dead. Because let's face it, Ash is great but we're eventually going to have to roll him around in his wheelchair when he's 80.
As a kid I wanted to be the person running from the monster. I also wanted to be the person saving people from the monster. I wanted to be a super hero. The stuff I did as a kid, Sam lets me do that as a job, if you can call it that. We definitely want to not let down the fans, because we know we are the future of this franchise. I can bring to life this character that is the first Latino side kick that we've seen on television, the same way Bruce was the first guy with a chainsaw hand.
What is it like to trade one-liners with Bruce Campbell?
I think with certain characters, you have to listen. Sometimes listening can be funnier, the thing you don't say is the one-liner. That's the ying to the yang. But I'm just following the leader. Bruce would say, 'I'm telling you, Ray, just do the shorter version.' I listened, and that's the parallel between my character to Ash, and Ray to Bruce. Through idolizing Ash's character, Pablo comes to understand what kind of man he could be himself.
Is it a weight off your chest when you hear hardcore fans of the original trilogy accepting the show as part of the Evil Dead universe?
It's weird because I want to say the right thing, but the honest answer is no. I wasn't worried because Pablo is the heart of the situation, and I felt that was something people would see clearly.
"Pablo has to go through something at the end of the season that no man should have to go through. And it's definitely awful, and it's disgusting."
Sam took me into a room during my last audition for Starz, and said to me, 'When you get to New Zealand, you're going to have to do a lot of stunts, and you're going to be covered in blood, and it's going to be long hours, are you ready for that?' I told him to cover me in as much blood as possible, that I want to run around naked through the wilderness of New Zealand. Put me in a blender of bloody situations.
And he said 'Okay. Pablo is a good person, and I can tell that YOU are a good person.' And I think I am a good person, and I've been screwed over before. I knew I had that inside of me. I have that vulnerability and I knew that the world would see that if I showed up. After Meet the Fockers I went to LA and was jumping from show to show, but I wasn't prepared, not the way I am now. I'm a better man, I'm a better actor, and I'm ready to show the world that. That being said…I've already told them I need to be more badass! Pablo is such a fucking sissy.
He seems like a character that is primed for a big heroic moment, though.
Oh yeah, he definitely has some moments later on in the season where he definitely gives Ash a hand. Pablo has to go through something at the end of the season that no man should have to go through. And it's definitely awful, and it's disgusting. And it was so. much. fun to shoot.
Oh, man. Anything you can tell me?
I can say that my voice, like my actual physical voice, definitely was a factor that was used to show something cool. And I just surrendered to the scenario. I was like 'This is fucking disgusting,' but I am down with it because I know these fans need it. We take it pretty far, but we'll keep topping ourselves. Like Bruce said, we're happy to do as many seasons as the fans want, and I want them to chime in and say what they want. Use #PabloHasSeenSomeShit.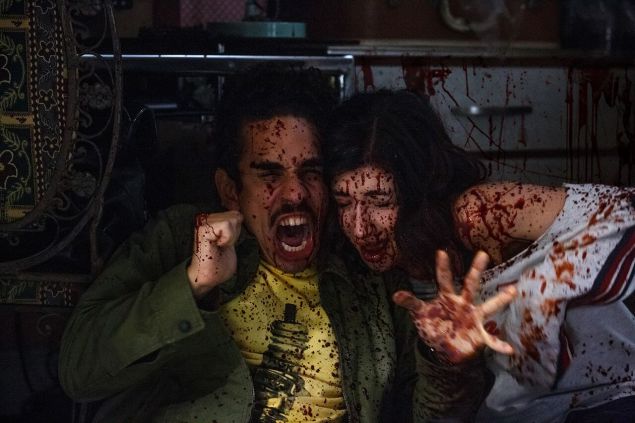 As a fan, I was almost afraid to watch the screeners because it was like 'what if it's a let down?' But it does feel very Evil Dead, just updated. 
Because it's so often that things are rebooted or remade, and they do go off track. I think at that moment when Sam had tears in his eyes, we all knew the choice to bring it back was the right choice, and we were doing it right. Because we could've had some hot young CW guy to come in and play Ash, and it would've been disgusting.
Dana is a hot, Italian badass. [Co-star Jill Marie Abrams] is a strong African American woman. I'm a handsome, caramel-colored Latino from the Bronx. I think the diversity really helps bring in the new generation. We already have Ash, we need to see the Evil Dead in other people's lives.
It's funny, because earlier today Sam and Bruce couldn't answer that question of 'Why bring it back now?' It just sort of felt right to them. And that actually makes sense, because it's a fantastic time not only for TV, but diversity on TV.
Yeah, and there's nothing out there like our show. It is a half hour, single camera, cult classic, comedic horror drama. We're not trying to compete. I dislike the competitive aspect on like Twitter, where it's like 'What are you watching? Scream Queens, American Horror Story, or Ash vs Evil Dead?' Look, I'm watching all of it!
This is why we have DVR's. 
Exactly! Look, Ryan Murphy is a completely different monster than Sam Raimi. We're different. People are going to watch each show for different things. But, with that said there really isn't anything that lives in the format of which we are showing our show.
It fits a sweet spot. Audiences respond to diverse casts, they respond to horror, they respond to comedy.
Viola Davis saying at the Emmys that you can't tell stories that aren't written, that really resonated with me. I never had the opportunity to play a Latino character that is seen in a heroic, smart way. I'm glad that I get to live in that world now. Gina Rodriguez said it, the Latino culture wants to be seen as heroes. I gravitate toward those things. So let's see what happens.