The widow of real estate mogul Richard Fisher has bid adieu to the Astor Place co-op the couple once shared.
Kristen Kelly Fisher inherited the ten-room apartment at 445 Lafayette Street after her husband, who comes from one of the wealthiest real estate families in the city, passed away in 2006. He had purchased the home for $9.67 million in 2005.
The 4,156-square-foot Noho pad has 360-degree views of the city, which one can see from the 971-square-foot wraparound terrace.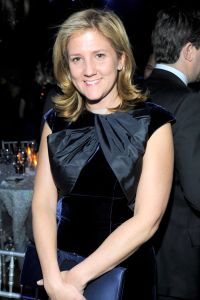 Ms. Fisher listed the full-floor penthouse in 2014 for $16 million, but the new owners, hidden under the inventively-named 445 LAFAYETTE STREET PH17 LLC, closed the deal for a mere  $14 million.
The three-bedroom, four-bath apartment has a master suite with two dressing rooms, a spa bath, a study with a wood-burning fireplace, and a coffee station with a minibar—hey, we also find the trek to the kitchen early in the morning (and late at night) to be tiresome.
Mara Flash Blum and Nikki Field at Sotheby's International Realty had the listing for the 18th-floor penthouse within Gwathmey Siegel's "Sculpture for Living" building, which an elevator opens directly into. There's a washer and dryer as well as the crucial "mood lighting."
Surprisingly, the most recent listing doesn't make any note of the much-discussed 1,100-gallon fish tank in the eighteenth-floor apartment—perhaps the brokers decided that a an enormous aquarium used as a headboard didn't have broad appeal.