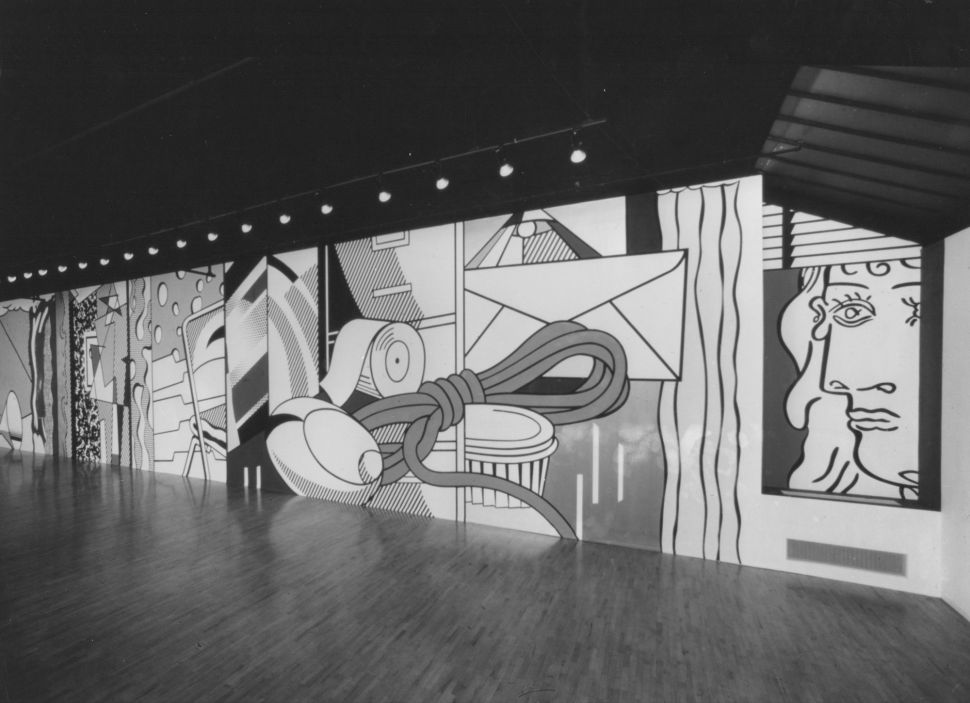 It's been stated that when the dust settles, America will be known for creating two great art forms: Jazz and comics.
Perhaps that's because, aside from both art forms experiencing immense growth within the U.S. after the industrial revolution, they're both completely understandable in terms of their sheer skill. Contemporary art has a tendency to get mired in intellectual context, not translating as easily over time. Lauded Gen X cartoonist Chris Ware probably explained this best when he stated, "No one blames themselves if they don't understand a cartoon, as they might with a painting or 'real' art; they simply think it's a bad cartoon."
Cartoons slowly began to infiltrate Modern art, at first tangentially, via the work of early modernists like Jean Dubuffet, who drew inspiration from graffiti, cartoons and artworks by children and the insane. Later on, they starred as direct appropriations in the hands of a new and irascible movement of Pop artists.
One of the original architects of Pop Art, Roy Lichtenstein is the subject of an enormous yet sophisticated show currently on view at Gagosian's 24th Street location until the 17th that focuses on a collection of his artworks from the 1980s. The gallery has culled together some fascinating works and studies from the period, many of which are centered around a to-scale reproduction of Lichtenstein's famous Greene Street mural (which was installed and subsequently destroyed at Leo Castelli's Soho gallery in 1983.)
It is common knowledge that Lichtenstein began his first Pop paintings, which were based on campy mass-produced cartoons, in the early 1960s. What is less known is how heavily the artist was influenced by proto-conceptual artist Allan Kaprow during this formative period. He started to view "art as life"—a mantra of Kaprow's—by settling on a quotidian subject: comics. They were thoroughly modern yet still upheld the formal ethics of flat colors and shapes espoused by dominant art critic Clement Greenberg and the Abstract Expressionists. The works were instantly a hit. Lichtenstein was clearly skilled in reproducing comic imagery but—since he'd initially received blowback from working cartoonists who weren't enthusiastic about their creations being coopted—he was quick to point out that these were paintings of comics, not comics themselves.
"One of the things a cartoon does is to express violent emotion and passion in a completely mechanical and removed style," said Lichtenstein in an early interview. "The techniques I use are not commercial, they only appear to be commercial – and the ways of seeing and composing and unifying are different and have different ends."

By the early 80s—twenty years after his first paintings of commercially produced imagery—Lichtenstein had honed an already precise technique and could now push his mastery to extremes.
Recreating the Greene Street mural was a controversial decision, but The Lichtenstein Foundation and Gagosian gallery tried making the new version as anonymous as possible by hiring the sign painting company Colossal Media to reproduce what Lichtenstein and his assistants had originally done. The mural was an ambitious project, measuring 18 feet across and 96.5 inches high and was the perfect opportunity for Lichtenstein to unite the impressive array of techniques and images he had amassed over the years.
The reproduction, like the original, is packed various Ben-Day dots, planes of flat color, line drawings and even splashy brush marks, and it depicts cross-sections of the Egyptian pyramids, a Composition book, a folding chair, and a drawing by his idol Picasso, among other visuals.
And while Roy was always honing his cartoon style, he, as the great painter David Salle concisely stated in his 2010 essay on the artist's later work, "expressed his distance from the collapse of social codes (something that he had helped bring about) by advancing—or retreating, I'm not sure which—into an increasingly pure classicism," meaning that, more than ever in his career, Lichtenstein was communicating via pure formal elements—lines, colors, and shapes—and the complex histories they carried.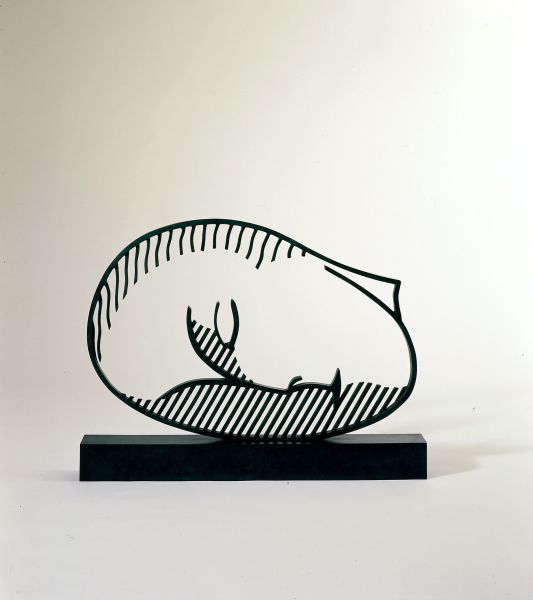 And nowhere is form and content more deeply embedded than in the artist's magnetic Sleeping Muse from 1983, a total conflation of fine and applied arts that leaves you stranded in a cul-de-sac of pure aesthetic admiration.
Based on Brancusi's revolutionary bronze sculpture Sleeping Muse from 1910 (a subject that occupied the Romanian sculptor for over 20 years), Lichtenstein's sculpture of the same name deftly captures the famed object with a few arcs and a smattering of dancing hatching lines—turning it into a clear, concise cartoon.
While Lichtenstein's version is technically a flattened relief, it can also ironically be defined exactly the same as the original Brancusi object. Lichtenstein's Sleeping Muse is a lowly cartoon but, like it's predecessor, is also fine art: a bronze multiple of the highest artistic prowess. Here Lichtenstein pares down his vocabulary so much that only "art" is left as a subject, and yet Sleeping Muse somehow taps into the dizzying mysteries of looking and representing that mystify human beings to this day. Even with his unrelenting attachment to appropriation, it was during this period that Lichtenstein finally seemed to locate an art that was truly his alone; freed from the fashionable and political engagement with commercial reproduction that kickstarted his career.