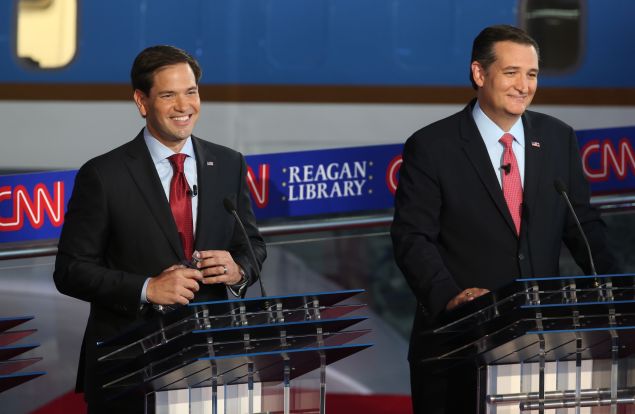 Sen. Kirsten Gillibrand, a New York Democrat, today predicted either Florida Sen. Marco Rubio and Texas Sen. Ted Cruz will be the last man standing in the Republican primary—but said neither could defeat the woman Ms. Gillibrand replaced, former Secretary of State Hillary Clinton.
Ms. Gillibrand made the predictions in a conversation with the United Way of New York City President Sheena Wright in Manhattan, as part of the group's new series of "Impact" discussions with major public figures. Most of the talk focused on income inequality and women's issues, but the race for the White House inevitably came up, and Ms. Gillibrand gave the strongest odds to her Senate colleagues—praising Mr. Rubio's optics and Mr. Cruz's intellect.
"Marco, I know him well, he's a very talented candidate, he stays on message, he's handsome, beautiful wife, beautiful kids. Low information voters like that Hollywood version of the presidency, I think that's tough to be up against," she said, arguing that Mr. Cruz could find a path to victory if current frontrunner Donald Trump's poll numbers deflate. "Ted Cruz, you should never underestimate him, he's extremely smart. If he can thread a needle, figure out how to get all those Trump voters, if Trump falls, he will figure out how to do that."
Mr. Rubio is seen as a rising star, but has struggled with fundraising and currently trails Mr. Trump and former neurosurgeon Ben Carson by between 12 and 22 points in most polls. Mr. Cruz enjoys support from hard-line conservatives, but surveys find him in fourth place, behind his Sunshine State rival.
Ms. Gillibrand acknowledged that the field is still largely in flux.
"I think those two are tough candidates for different reasons, but who knows who will emerge on that side," she concluded.
The senator said that the instability and uncertainty in the presidential primaries was a result of a public appetite for the genuine feeling outsider candidates seemed to bring to the contests for both party's nominations.
"I think in politics, people are looking very much for authenticity, for raw emotion, for passion. And I think that's one of the reasons why Donald Trump is doing so well, as well as [Vermont Sen.] Bernie Sanders. I mean, Bernie is one of the most authentic guys you're every going to meet. His stump speech today is the same as when he ran for mayor, whatever, 30 years ago. He really cares about the issues he's fighting for," she said. "For grassroots voters, I think that's super appealing."
Ultimately, though Ms. Gillibrand predicted Ms. Clinton would triumph over Mr. Sanders in the Democratic field and over either Mr. Rubio or Mr. Cruz in the general election.
"Nobody beats Hillary," she told the Observer after the event.