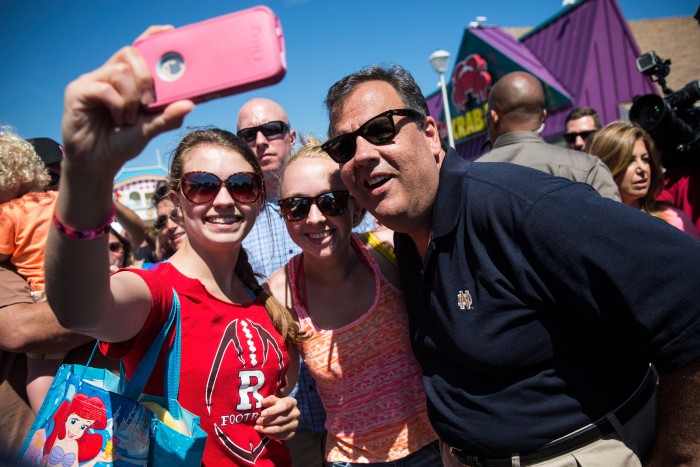 2016 Republican presidential candidate Gov. Chris Christie has plummeted among his own party's preferences in his home state of New Jersey, according to today's Rutgers-Eagleton Poll.
Similar to national polls, 32 percent of New Jersey Republican and GOP-leaning registered voters choose businessman Donald Trump for their party's nomination. Trump tops the list for the second straight Rutgers-Eagleton Poll. For his part, Christie's New Jersey GOP support has been cut in half since August, when he was in second place at 12 percent. With just 5 percent of Republican voters naming him, Christie now trails Dr. Ben Carson and Florida Sen. Marco Rubio, both at 13 percent, and Texas Sen. Ted Cruz at 6 percent. While tied when results are rounded, he comes in sixth in mentions between former CEO Carly Fiorina and former Florida Gov. Jeb Bush, each also at 5 percent.
All voters polled echo a general pessimism about "Candidate Christie," believing it is time for him to abort. Sixty-seven percent think Christie should end his campaign for president, while 27 percent say he should continue to run. Only 9 percent say Christie's prospects have improved in the past few months; the rest are split between whether his chances have remained the same or worsened, showing little difference since April.
According to the poll, Christie's decline is at least partly due to Trump, say some voters: 32 percent think he would be doing better without Trump in the race, although 59 percent say Christie would be doing about the same as he is now. But asked to name reasons why Christie ranks so far below other Republican candidates running for president, Trump's candidacy is far down on voters' lists. Instead, they mention Christie's performance as governor (12 percent) or his overall attitude and character (11 percent) as the main reasons he is not gaining traction.
"Other Republican candidates have been led by Trump in their home states' polls, but virtually all still come in second or third," said Ashley Koning, assistant director of the Eagleton Center for Public Interest Polling at Rutgers University. "Christie no longer has any home state advantage. The voters who know him best blame not his competition but what Christie himself is doing – or not doing – for New Jersey."
Former Secretary of State Hillary Clinton continues to lead the Democratic field here, with almost half of all voters naming her as their top choice. Vermont Sen. Bernie Sanders follows far behind, at 19 percent, while Vice President Joe Biden, not yet a candidate, comes in third, at 10 percent.
Results are from a statewide poll of 935 adults contacted by live callers on both landlines and cell phones from October 3 to 10, 2015, including 781 registered voters reported on in this release. The registered voter sample has a margin of error of +/-3.9 percentage points. The GOP subsample of 273 voters has a margin of error of +/-6.6 percentage points, while the subsample of 367 Democrats is +/- 5.7 percentage points. Interviews were done in English and, when requested, Spanish.