Back then, when Broadway still terminated in Giando's on the Water and little else, there wasn't a gourmet emporium serving bourgeois tower dwellers artisanal euphoria. Back then, you could still open a savings account at the majestic Williamsburgh Savings Bank and a street preacher played the same coarse songs on the corner of Havemeyer and Broadway under the clatter of the M. Back then, Diner was a baby.
---

DINER 

85 Broadway, Brooklyn, NY
(718) 486-3077
dinernyc.com
★★
(2/5 stars)

---
It was a beacon, baby, for every Brooklyn newbie like myself or Manhattan voyeur itching for a fix of golden light, hipster froideur and a grass-fed burger. Actually, when I moved there in the mid-aughts, it wasn't really a baby but already a geezer. At least in restaurant years. But like certain choice stories whose retelling enriches rather than diminishes their pleasure, Diner, which opened in '99, hadn't lost its revelatory novelty. It was the Ellis Island of Williamsburg, welcoming each wave of self-styled pioneer as if he or she newly discovered it.
By 2006, Diner, together with its sister restaurant, Marlow and Sons, which opened in 2004, was like the showroom of what would become Brooklyn Cool. One could see tucked into the booths in the narrow car the full range of this year's models: A.P.C.-clad Yale MFAs, tote-carrying architects, skinny-jean hipster weirdos who smelled lovely, Malcolm Gladwell. In the mornings, eating granola at Marlow, in the evenings, sitting outside, drinking wine, the 11211 demimonde gathered and I, a Goncourt wannabe, chronicled their conversations on a Tumblr called "I Saw You At Diner."
A decade later, opening the same metal door into the cramped space, bumping into the same waiting person on the other side and mumbling the familiar apology, Diner's beat-up light fixtures seem to pour out amber, preserving all on which their glow falls. Nothing has changed. Well, nothing within Diner's walls has changed. But in that way it's like the scene in Labyrinth where Sarah (Jennifer Connelly) discovered a perfect replica of her bedroom in a trash heap. That is to say, everything has changed.
There's a certain amount of charm and comfort to be derived from the steadfastness of Diner's schtick. Happily, the magic of that cheeseburger—in particular that one majestic moment in the trajectory of the cheeseburger's journey from plate to mouth in which a few french fries cling to the congealed Swiss cheese cataract on the patty's surface like desperate evacuees from the embassy rooftop in Saigon—remains fully intact. For many New Yorkers, me included, the Diner burger ($15) was our first exposure to a grass-fed burger blend. In a burg burgeoning with burger-eating burghers, the Diner version continues to be the Bethlehem to which we all slouch. Once the bun was made by Amy's Bread, now it is by She Wolf; once the 80 lean/20 fat blend was supplied by outside purveyors, now it is a product of Marlow and Daughters, Diner's sibling butchery—but, largely, it is the only constant on the ever changing menu. It remains, in itself, a wonder of proportion: the puffy bun's absorptive capacity calibrated to sop up just the right amount of burger juice; the acidity of pickled onions creasing the rich fattiness of the meat just so. These are the best 12 bites of burger this side of the East River. Some things never change and some things never should. But for the rest, eh, evolving a little bit might be a good thing.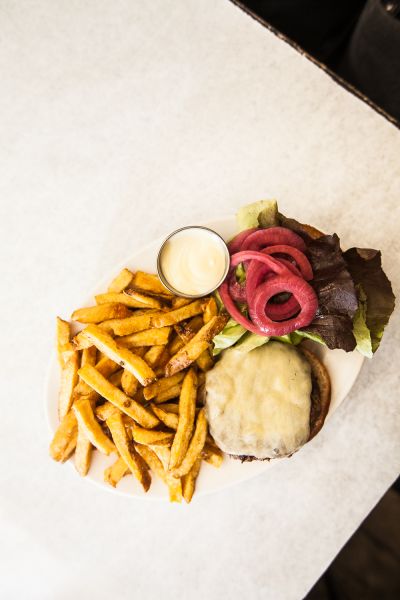 Diner's stubborn resistance to change—or, perhaps, its ignorance of the fact that it should—is maddening. The allure of a restaurant, like the allure of a person, is an amalgam of ever-changing factors. Historically, Diner's attraction was three fold: the food, the restaurant's relationship to the neighborhood, and, quite simply, the lack of alternatives. Today, only one of those things remains untouched. The kitchen—now helmed by Ken Wiss, who carries on the original chef Caroline Fidanza' 's emphasis on simple, seasonal and flavorful ingredients—reliably turns out solid doubles. Dinner at Diner could be a perfectly grilled whole porgy stuffed with lemon, bay leaves, thyme and rosemary ($30) and so fresh it still seems resentful of its demise, or generous serving of beef neck ($25) to which the normally onerous term unctuous truly applies. Appetizers ranging from a few perfect summer tomatoes on top of a cloud of yogurt flecked with chili-spiced chickpeas ($13) to rings of delicata squash fried and dusted with parmesan so they taste like Corn Puffs ($12), rarely disappoint. On the other hand, they rarely wow.
Perhaps 10 years ago, this was enough. Perhaps 10 years ago it was charming if, when ordering a Manhattan with a brandy-soaked cherry instead of a twist, the waitress, beautiful like they always are and tingling with hauteur, said, "I'm not sure we have them," and explained, "We're a local restaurant focused on seasonality and it's not cherry season." Perhaps I would overlook when she described a delicious soup special of sweet potato with brown butter ($11) and then simply wrote "Soup" on the table-top parchment that serves as the menu. It's a power move that seems willfully vague, as if everything would soon be subpoenaed.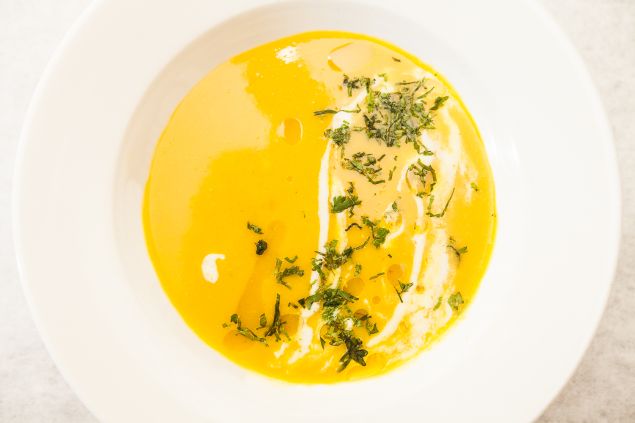 Perhaps this seemed all more tolerable because there were few options in that stretch of Williamsburg. But—and largely thanks to Diner—now there are many. Some even, like Reynard's, are owned by Diner's owner, Andrew Tarlow. Some, like Pies 'n' Thighs and Saltie, are run by Diner alumni. There's a Michelin-starred joint down the block (Meadowsweet), Mexican street food, Luger's, of course, and Motorino.
But more than the immediate competition, Diner is operating in a different paradigm. Between 1999 and now, Danny Meyer occurred. Now a savvy diner expects the restaurateur to consider things like ergonomics (Diner's creaky green metal chairs are perfect for Parisian parks but terrible for sitting) and service (Meyer would shit a brick if confronted with the nonchalant mien of Diner's staff).
Neighborhoods are worth preserving, neighborhood joints are too. But look around: nothing remains of Williamsburg circa 1999 but facades and nostalgia. Everything's gone condo. Everybody got rich. Diner is no longer the cool kid on the block, slouching and sneering like Paul Rudd in Wet Hot American Summer. It's got good genes, a lot of talent and great bone structure. But it's time for the restaurant to grow up and make nice.