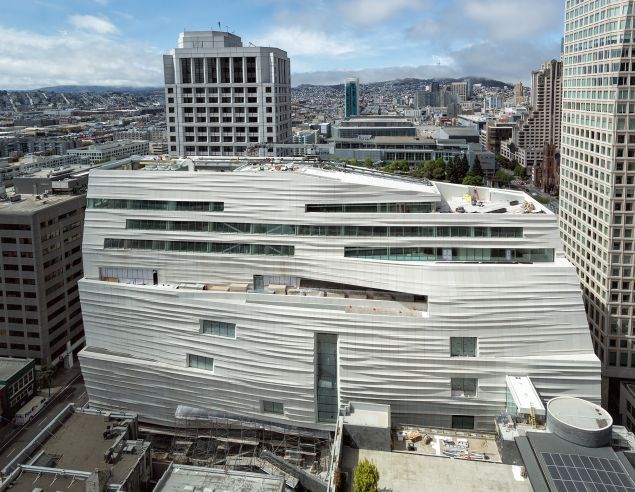 For the past two-years, the San Francisco Museum of Modern Art has been closed to complete an ambitious expansion–a 235,000-square-foot, ten-story addition. Now, the museum has announced that it will be wrapping construction and plans to re-open to the public May 14, 2016.
SFMOMA's expansion, by Norway-based architectural firm Snøhetta, is meant to be "integrated seamlessly" with its existing iconic building. Designed by Swiss architect Mario Botta in 1995, the 225,000-square-foot museum is recognizable for its red, stepped facade and central black and white striped tower atrium.
The combined square footage of both buildings, old and new, will make SFMOMA the largest Contemporary Art museum in the country. (For comparison, the new Whitney Museum in New York's Meatpacking district is 200,000 square feet.)
"This expansion enables us to tap more fully into the energy all around us, in a region known for its special creativity and beauty, while greatly increasing the presentations of a collection that includes remarkable concentrations of artworks that can be found nowhere else," said SFMOMA director Neal Benezra in a statement.
When it opens, the museum's new wing will house 260 of 600 artworks promised in a 100-year loan from the Doris and Donald Fisher Collection, prominent contemporary art collectors and co-founders of The Gap. The museum will also add over 3,000 new acquisitions to its collections from multiple donors.
When it opens its doors in May, visitors will greeted by American sculptor Richard Serra's rolled steel work Sequence along with a suspended, 26-foot-wide untitled mobile by Alexander Calder in the lobby gallery.
Its second floor will house works from the permanent collections and works from the Fisher Collection, which will also be shown on the fifth and sixth floors. The fifth floor will be home to a brand new outdoor sculpture terrace and a site-sepcific work by Dutch artist Claudy Jongstra.
One of the shining features of the new SFMOMA will be its Pritzker Center for Photography, on the third floor, which is touted as the largest space of its kind devoted the medium, and will include gallery space as well as facilities for research.
The fourth floor will eventually be dedicated to special exhibitions, but for the museum's inaugural show it will showcase new contemporary acquisitions, with works by Francis Bacon, Richard Diebenkorn, Diane Arbus and Jasper Johns as well as notable works of architecture and design.
As if SFMOMA doesn't have enough to celebrate, it has also announced that it has met its capital campaign goal of $610 million, effectively tripling its endowment. Admission to SFMOMA will be free for anyone 18 or younger. Guess that booming tech industry has its perks.