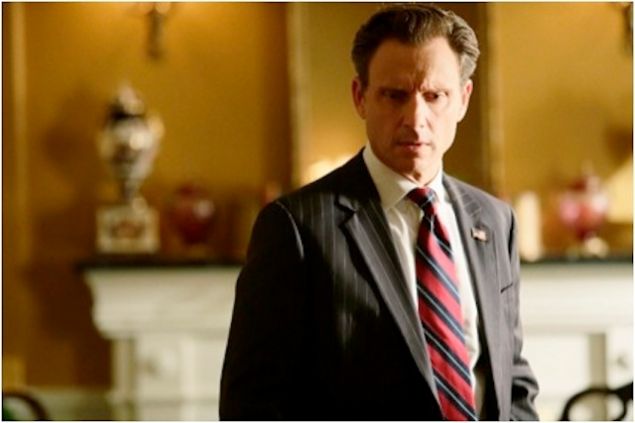 This week at The White House, Olivia debates if claiming Fitz is a good look, Abby spends valuable time begging for validation, and Fitz is a straight white male and expects to keep on getting his way.
Following Olivia's shocking "yes" from last week, it's up to Abby to handle the scandal this time around. Right as the footage hits all major news outlets, Fitz and Mellie happen to be in the middle of an interview bold-faced lying about their "happy" relationship. Abby scrambles to get them out of there and they peep the footage as a trio. Fitz gets that dumb dewy-eyed look he often sports when Olivia claims him in public and all Mellie can do is clench her teeth and fists.
Olivia shows up to The White House dressed as an ampersand and is met with the usual round of slut-shaming administered by Mellie. Abby tries to take control of the situation, suggesting a few approaches they can take and casually slipping in the fact that Noah Baker is bullying her for a story. She and Olivia engage in a passive push and pull for power, but for Olivia, it's just a reflex. Abby is low key inept and everyone knows it, so when it comes to suppressing the urge to "fix", Liv can't do it. They settle on going through with an honest interview, in which Fitz owns up to the truth. Mellie storms out and Fitz has a chance to mack on Olivia for a bit. In the First Lady's chambers, Mellie has her shoes off for some reason and has called in Cyrus to "serve his duty" but also, to undermine Abby. He kicks Abby to the curb and he asks Mellie for her list of demands. Initially, she asks for the beheading of both of them but after the air returns to her brain, she simply demands the presidency.
Back in the Oval, Fitz and Olivia are boo'd up on the couch when Elizabeth informs them that they must negotiate with Mellie for the interview to happen. Fitz clearly does not understand the concept of negotiation, shouting, "She'll get nothing and she'll like it!" He makes an empty threat to fire Elizabeth after she tries to reason with him even though he really has no reason to be this worked up. Fitz is ready to move to #vermont with Olivia, we get it, but his tunnel vision makes it impossible to root for him. Eventually, Olivia gets him to calm down and be reasonable, and they prepare to go to battle with Team Mellie.
Quinn is in a frizzy-haired frenzy at Pope and Associates, trying to put together a game plan that no one asked of her. Jake shows up and takes his jacket off (God is good) and reminds them that Olivia knows what she is doing and is following the very rules she taught them to get herself out of this situation. He suggests that instead of being busybodies, they do nothing and get drunk instead, even though he only brought one bottle. I went to college, sir. We're gonna need a bigger handle.
Cyrus is back and as conniving as ever, reminding Elizabeth and Abby that Fitz is now Mellie's bitch and must comply with her demands. "The First Affair" (Cyrus' rude branding for Olitz) must not appear in public, get married, or interact with Fitz and Mellie's children without Mellie's consent. Cyrus refuses to interact with Elizabeth directly and demands Abby pass along the requests to Fitz, and she actually does it. Fitz has a fit about Mellie's insistence that they be discreet, because he is a presidential fuck boy and has no respect for the mother of his children and brother (all shade intended). Olivia notes that Cyrus is using Abby as a power move to cause a wedge in between Olivia and Abby, launching Abby off into a spectacular and uncalled for meltdown. Olivia says she lied to Abby about being back with Fitz to protect her, but Abby and everyone else with a brain knows that its because Abby is not that great at her job.  
Cyrus brings the accepted list of demands to Mellie with a pep in his step, but she flat out rejects it. She wants more, so Cyrus goes to Fitz for some light groveling. Cyrus suggests the only way to move forward is for him to take Mellie back until the end of his presidency and as Olivia considers it, I'm having déjà vu. This has already happened. Like, several times. Most recently, I'm remembering the season three premiere, "It's Handled," when Olivia's name gets leaked to the press as Fitz' mistress. That time, Pope & Associates ended up reframing the headlines and leaking a tape that made some lady named Jeannine look red-handed, and it was fine. The pattern is always the same; each time Fitz and Olivia get close to being exposed and having to own up to their dirt, some outside force stops it from happening. Whenever Olivia claims she wants to "choose Fitz", she always ends up getting out of it by reminding him that he's "married" and they "can't". What, then, is the point of their affair if we know whatever progress they make will regress when shit gets too real? What is the purpose of the back and forth, and when will one of these characters stand up and break the cycle?
This time, Olivia's cold feet are brought on by a drunken Mellie monologue, during which she reminds her that she'll be living in Fitz' shadow for literally ever. She offers her a mason jar full of moonshine (don't you sometimes forget that Mellie is a Southern Belle?) and tells her about how no one cares what she will or will not want once she is in the White House. Also, she mentions it will be impossible to run Pope and Associates as First Lady. Loving Fitz publicly will mean forfeiting everything she has worked for her entire life, and Olivia is clearly not sure if she is prepared for that. Why, I shout to myself, is this even a conflict right now? Is this not the premise of the entire series? Olivia has had five seasons to wonder if he is worth it or not. Why has she not decided yet? Does Scandal think we aren't paying attention?
When Olivia announces that she is "calling it" to Fitz because Mellie somehow broke her with just a few sentences, I am not surprised. They'll do the interview as planned and Olivia will have to wait. Fitz apologizes to Mellie for the hundredth time and swears to support her bid for the presidency, but she barely believes him, as he never actually sacrifices for her. Funny. Earlier, Liv said the same thing. Back in the Oval, Cyrus begs for his job back and makes a weird face while doing it. Fitz is not down, so Cyrus goes over to tell Mellie that in agreeing to do the interview, she got played once again.  Mellie shifts gears and pulls out of the interview at the very last minute, leaving Team Fitz scrambling. Abby pleads for them to let her fix the situation and Olivia backs her, mostly because she's been a crappy friend and feels obligated.
As Abby takes the podium, Olivia already knows what she will say because it's somehow exactly what Olivia would have said as The Fixer. This time, Olivia is her own Jeannine, and she will be painted as the floozy who pursues men in power. In a way, this is sort of different than the last time. They aren't denying the affair altogether, but they are still absolving Fitz of direct blame. The women on this show put in work to cover his ass, and its time he does the same for them. He holds Liv in his arms as Abby feeds the press the Monica Lewinsky storyline they have been jonesing for, but even now, they still can't really be together.
In the end, Mellie takes off with Cyrus pouting like a woman-sized infant, and Jake pays a visit to Ronan in prison after news of the Louvre burning hits the news cycle. Mellie is still scorned, Olivia is still the mistress, Fitz still has lost nothing, but change is on the horizon.