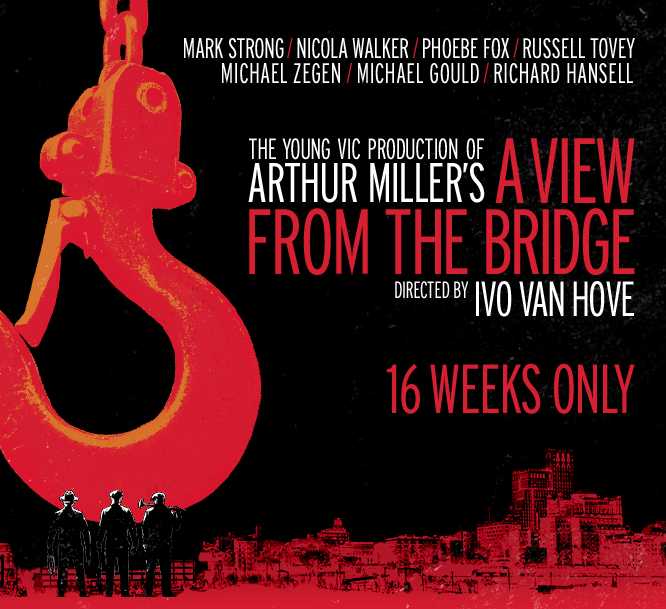 David was calling. I was in my usual jumbled state, 6:30 pm, tonight, having begun a pieceof writing I had been chasing around the apartment since early morning. I answered:
"David!"
"I got tickets to A View From The Bridge, Lyceum Theater, on the stage," he said. "On the stage, these tickets. 45th st. Meet me there at 7:30, not a minute later."
"Oh my God. Oh my God."
"Stop saying Oh my God. Get moving."
"Oh my God."
He hung on me and I kept saying, "Oh my God."
That's how much I wanted to see this play, and that's how unlikely I thought it was I could actually see it. Never mind the first night of previews, never mind stage front tickets.
I'm not one of those people, usually, but tonight I was.
I never see plays. I hardly ever leave this bastard apartment. The men who call usually need something. A place to crash, or perhaps my undivided attention when they have figured something out about the Lizard People or some other conspiracy. Or they want me to pick up the phone and explain why I'm such an emotional cripple. That's why it's become my policy to not answer my phone.
The director is Dutch–Ivo Van Hove.
Everything he does with this production is baffling, until it starts to work. You're holding onto the seat in from of you. You're barely breathing. You're hearing every word. You're
not thinking about the set, or the acting. The set is a box, lit from below, with nothing in it.
Nothing.
Brutal.
It builds, slowly. He uses percussion in a way I never dreamed possible; A single drum.
The actors are barefoot. There's nowhere to run, hide–there are no stupid lamps or 1950s sofas or even clothes from the era. Stark is an understatement.
You're being crucified emotionally by Arthur Miller, and Ivo Van Hove, who has actually removed a few lines (according to David) who said, "I'm not sure Arthur Miller would have allowed that were he alive."
That doesn't mean it's not brilliant.
Nicola Walker, as Beatrice, is sensational. She was my favorite, along with Michael Gould, who is perfection, as Alfieri.
"He did not miss a single beat–his phrasing was immaculate. He's a Shakespearean actor," David whispered to me right after it ended, as Alfieri's closing words collapsed us like helpless children.
Miller's play about a Brooklyn longshoreman in the 1950s who rules over his small family with an iron fist, and develops an unhealthy obsession with his wife's niece Catherine, who he raises as his own, is more Greek, more classically tragic than Oedipus Rex, built on a spiral of lucid emotional catastrophe. Pre-modern, utterly ancient. You're delivered from the hell of electronic era indifference, anhedonia, and New Age reasonableness in just under two hours, as the cast huddle into a conjoined organism at the climax, soaked in blood.
In the climax, when Eddie is murdered, Alfieri delivers the majestic, devastating mercy speech.
Listen:
Alfieri Most of the time now we settle for half and I like it better. But the truth is holy, and even as I know how wrong he was, and his death useless, I tremble, for I confess that something perversely pure calls to me from his memory – not purely good, but himself purely, for he allowed himself to be wholly known and for that I think I will love him more than all my sensible clients. And yet, it is better to settle for half, it must be! And so I mourn him – I admit it – with a certain . . . alarm.
The curtain falls. I noticed I was crying.
The hype is well deserved. It's a masterpiece.
"Nobody ever staged this play like this, this powerful, this stark–nobody ever did anything like this with this play, ever," David whispered said, as we exited the theater.
"Is this what people were like, before email? Before texting?" I wondered. "Did they have feelings they didn't sublimate? Passions they didn't mock and deny? Were they like people?"
We agreed Arthur Miller was a rare genius, a Greek Jew if ever there was one. A last guardian of human despair, before it was done away with entirely by technology.
"By opening night," David said, "Catherine is going to learn to feel more, and stop screaming so much. That would be my only criticism."
I snuck a photo of the stage floor soaked in blood. The blood we never bleed anymore.
Arthur Miller's A View From The Bridge directed by Ivo Van Hove opens at the Lyceum Theater on Nov 9th