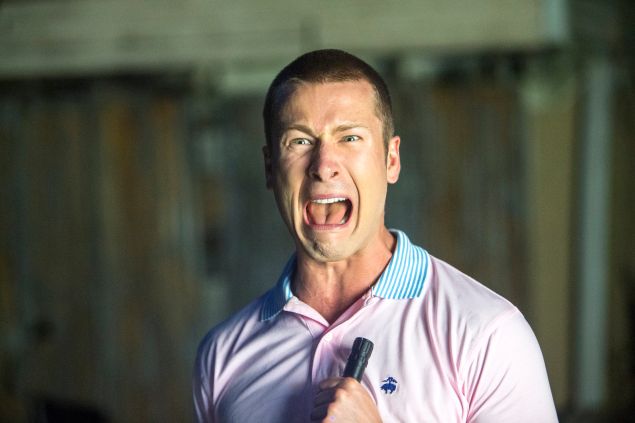 You know what I love about Scream Queens? The fact that so many things happen during each episode. Seriously. Last night's episode was stuffed with feminism, power struggles, murder—even necrophilia! Ryan Murphy, what's wrong with you? You're a strange, strange man.
"Haunted House" found most of its dramatic conflict in Zayday's bid for Kappa presidency. Looking to dethrone Chanel (and cure sickle cell anemia—not quite sure how the two are related, but this is college, anything can happen! Reach for the stars, kids!), Zayday announces her candidacy in traditional slasher/horror fashion: by setting up an elaborate haunted house, in a real haunted house. The house belonged to a wailing woman, who was said to have lost her children and spent most of her days mourning.
Zayday seems to ignore that there is a serial killer on the lose, but that's okay. Well, it's not. By the end of the episode, she's been kidnapped by the Red Devil himself (or herself, tvDownload doesn't discriminate).
This is, of course, before Zayday realizes that the "fake" dead bodies in the house are in fact real. The bodies of Ms. Bean, Mandy (Jennifer Aspen—more on our dearly departed Mandy later!), Shondell, Chanel #2, and Coney are found scattered around the haunted house. It appears the Red Devil has been using the shack for dead body storage. How quaint.
However, Zayday isn't the first person to discover the bodies aren't just a clever Halloween ploy. No, here is where our necrophilia comes in. I never thought I'd ever use the phrase "here is where our necrophilia comes in," but there's a first time for everything, I suppose.
Remember Chad's secret–not–so–secret obsession with dead bodies? Well, it appears his sexual attraction is shared by Hester. We know this, because Hester finds Chad in a graveyard, and promptly tries to seduce him. There are some really horrific innuendos. I felt embarrassed for myself, and for the dead people surrounding the couple. They're already dead, don't subject them to this too.
When Chad reveals that, "the only time I feel something is when I think about chopping up a dead body," you'd think Hester would flee. But no, her quest to become Chanel has led her to Chad, and she refuses to be scared off. Instead, she sets up a later meeting for the two, determining that the graveyard isn't scary enough for their rendezvous. Love is love, man. I'm not one to judge.
However, when the two meet up at Zayday's haunted house hours before its opening, they discover the dead bodies and (finally) flee.
Meanwhile, Pete and Grace are determined to track down a student, Mandy, who dropped out a mere three credits shy of graduating twenty years ago—they suspect she might have been involved with the bathtub baby birth.
Sure enough, when Pete and Grace visit Mandy in her isolated trailer, she greets them by asking if they want to ask about the Kappa house. Straight forward. I approve. And although that saves maybe, ten minutes of screen time, I would have liked to see Pete and Grace keep up their ploy for just a little bit longer. They come as Kate Hudson and Matthew McConaughey from How to Lose a Guy in 10 Days. Pete's impression is surprisingly good. When he says, "once you find the meaning, you don't need the words, you know what I'm saying?" I could've sworn he was spitting truth a la Rust in True Detective.
Mandy quickly reveals the truth of the bathtub baby: Dean Munsch covered up the death after realizing that a dead sorority sister under her watch means that her ambitions for a promotion are threatened. She coerces the girls into burying the body and dropping out of school. Maybe they just should've taken Ms. Bean's advice—she suggested that they cut up the body and make sausages out of it, to be served at Kappa house. I don't mean to belittle death, but Ms. Bean totally deserved to get her face fried off for that one.
Mandy explains that the out of the remaining witnesses, one killed herself, one was institutionalized, but one "is doing pretty well on Fox News." All's well that ends well!
Except for Mandy's murder by the Red Devil. And for Grace's sneaking suspicion that she might be the bathtub baby, and her father might be the murderer. To be fair, she's got a lot of evidence. And by a lot, I mean none. As in, her father tells her nothing about her mother's death, claiming that all of her belongings (including Grace's birth certificate) were burned during a fire. Grace gets mad and is all, "if you're killing people, I probably won't ever talk to you again!" Which, in my opinion, is a little melodramatic, and also probably unsafe, because if he was the murderer, he could totally also just murder her too, because she's being pretty sneaky as of now. #cahoots
And as for the feminism? Chanel, Chanel #3, Chanel #5, and Hester beat a jock senseless after he makes a sexist remark to the group. It has nothing to do with the plot. It's just a slow motion scene of Emma Roberts and Lea Michele mercilessly kicking some other student. Thank you, I suppose, for the tiny flash of feminism. Amidst mini–skirts and lots of sexualized ladies. It's the least you could do, Scream Queens. Until next time.