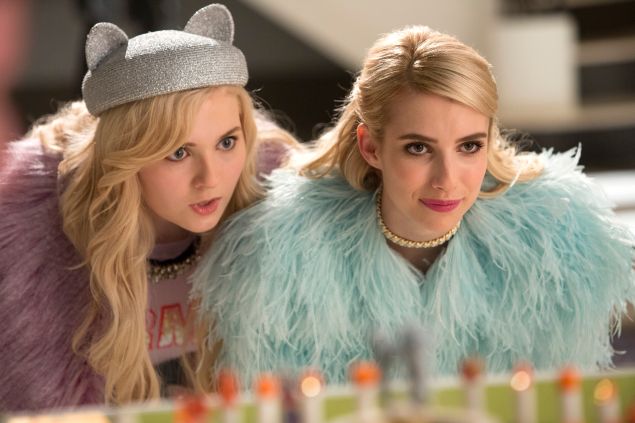 Scream Queens isn't any ordinary show. It doesn't do just one Halloween episodes. It does three. That's right, we're officially two–thirds of the way done with Scream Queens Halloween trifecta.
Chanel has grown increasingly concerned that her presidency will be stolen from Zayday. Which is strange, considering that Zayday has been kidnapped by the Red Devil. A more valid concern would be, "where's Zayday?" or, "why is someone trying to kill us?" But alas, Chanel's main point of concern is her role as president. To keep it, she's constructed an elaborate plan (since when, I would like to know, has a Ryan Murphy character ever created a plan anything less than baffling? If someone could show me some numbers on that, that'd be great). Her scheme follows as such: throw such a successful Halloween party that no one would dare throw her out of office. Fair enough.
And while that might sound ridiculous (because it is ridiculous), there's something charming about Chanel's party. Namely the dozens of jack–o–lanterns. Oh, and the The Shining inspired maze, complete with knee deep snow. Chanel #5, after infuriating Chanel by dressing up in the same Halloween costume (to be fair, they both choose Jackie Kennedy. It's a classic look. Who can blame her?), is forced to go light the candles in each of the pumpkins. The Red Devil shows up, and one of Chanel #5's male escorts is killed, and left to freeze in the snow. It looks a little like this.
I think Dodger, the frozen frat boy, gave a slightly more compelling performance than Jack Nicholson, but I'm not one to split hairs.
However, Chanel isn't just mad about the Jackie Kennedy debacle. That would be trite. She's also angry because she was arrested as a murder suspect in Ms. Bean's case. She spends just about a minute in jail, forming her own prison clique in the meanwhile. It's like Orange is the New Black, but with more murder and less lesbian sex. Chanel #3 posts Chanel's bail, and she's released before her hair can get Piper–level greasy. It's a shame. Chanel would've made a great prison wife.
Instead of Chanel, however, it appears that Zayday makes a wonderful prison wife. For a short while, anyway. After getting kidnapped by the Red Devil, Zayday reveals that he wasn't all that bad. He sent her gifts down the narrow chute in which he kept her, and eventually releases her from confinement, preparing a dinner date for them both. It's sweet, until Zayday stabs his hand with a fork and runs away.
However, Grace doesn't know Zayday escaped. So, using "Find My Device," Grace, Pete, Denise, and Gigi track Zayday down, and find themselves in the Red Devil's lair. Fun fact: he rents from a very nice old lady, and pays his rent on time. Besides the murdering, he seems like an ideal tenant. And actually, there's very little evidence of murder (besides the axes and chains, but there's basically no blood). And he hasn't murdered his landlady, which leads me to believe the Red Devil might have a heart.
And while he might indeed have a heart, he also has night vision googles. Which he uses when he cuts the lights and attacks Denise and Gigi. Fortunately, Gigi tases the Red Devil. Unfortunately, he gets away. Fortunately, he and Gigi are working together, so she knows where he is anyway! Yes, it seems that our favorite traumatized sorority lawyer (she's the only one I'm aware of, but I assume more sorority lawyers are traumatized in one way or another) is working with the Red Devil himself. She's also officially dating Wes, and may or may not have called out a hit on him. Relationships, am I right?
And, before I wrap things up, a few stray thoughts on the episode:
The Red Devil is seen holding a puppy. Clean and loves animals? Sounds like a winner to me.
Grace walking in on Gigi and Wes hooking up is the most uncomfortable I've been in a long time. And I've watched Emma Roberts act.
Denise proves, time and time again, that she is the most quotable character. This episode was no exception, with her yelling, "I am not Steve Harvey, people, and this isn't Family Feud!" You don't need any context for that. It's great on it's own.
Scream Queens finally came out with an opener, and it is…it's not great. It's a lot of screaming. Chanel #3 wears her ear muffs in a bathtub, which seems impractical. Everyone seems scared.