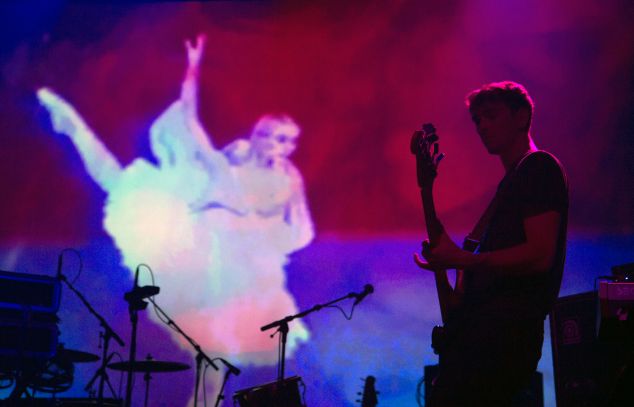 Inside the pristine, modern gallery of Chelsea's Dream Downtown, musicians and DJ's nurse hangovers at a continental breakfast. Musicians hurriedly pile up plates, salivating over the promise of a proper meal, hobnobbing with record label representatives and college radio promoters while waiting in line for croissants. The daytime programming for College Media Journal's 35th annual Music Marathon conference is about to begin. "This is better than a California breakfast," one DJ tells me, "that's just orange juice and cocaine."
Under the banner of "CMJ Networks," CMJ began as a trade publication for college radio promoters in 1978. The publication soon earned a reputation as the only large opportunity for 450-plus college radio stations to network and share buzzed-about artists, for labels to target and reach specifically distinct demographics of budding listeners, and for all businesses to brand their artists in appropriate markets.
That's the new secret weapon of live music promotion—digitizing scenes and turning them into ultimate 'you had to be there' moments.
Outside of college radio, CMJ's Music Marathon is the corporation's crown jewel. For five days each autumn, CMJ packs the conference in New York with industry panels, speakers and presentations by day, and live music showcases each night. Bored college radio kids and talent scouts frequent the 64-plus music venues hosting CMJ shows during the day, too—several afternoon showcases, hosted by booking companies, labels and other LLCs, get the festivities going early.
Like much of the music industry, CMJ was on the verge of bankruptcy two years ago, the college radio stations under its umbrella faced with the potential of losing their main artery to the industry. That's why Adam Klein, founder and CEO of Abaculi Media, bought the struggling company last year with plans to turn it around.
Wielding a doctorate in strategy and change management from Harvard, Klein's modus operandi with CMJ was the same as his missions at Hasbro, MTV, Ask Jeeves, EMI Records and eMusic. He runs companies for two to three years and ushers in a heavy structural transformation, putting a new team in place to go with it. But when Abuculi bought CMJ, Klein changed the music and live concert promotion businesses, too.
'If a promoter's ever evoking something emotional to you, it's probably a manipulation tactic,' says Caroline Shadood.
CMJ's path to such change, Klein tells me, is all about using technology to create new experiences for music fans. By offering free Wi-Fi, a company can monitor how big the shareable footprint is for that artist or that show—mining real time data from the crowd. That's the new secret weapon of live music promotion—digitizing scenes and turning them into ultimate "you had to be there" moments. The second phase brings new technologies. Concertgoers can toggle through different camera views of a stage on their smartphones, view a close-up of a drummer's kick or a synth player's fingers through a proprietary app, courtesy of the complimentary Wi-Fi. No matter how far back you are in the crowd, you're getting a front-row experience, all conveniently presented on a screen that fits in your pocket.
"You work with audiences and data to create engaging experiences," Klein says. "You've got to have deep insights to how audiences respond and react to these different situations. So… that's the game, you know?"
At the Dream Downtown, those experiences are all focused on the official CMJ app. Attendees make schedules of what bands they want to see, export those schedules to social media, map out their routes between venues, and even take photos superimposed with the CMJ logo within the app. While attendees play with the thing and schmooze over breakfast, an "export music market development initiative" called Sounds Australia features two of its signature Aussie import acts in mini-sets off in the corner. "Shout us out on Twitter, guys!" pleads the MC.
'I prefer not to work directly with the artists,' says Jessica Weber. 'On the business side, I appreciate the buffer.'
Soon after the Aussies quiet down, an Ask Me Anything panel begins in the center of the room. While the moderator begins reading questions submitted online, five prominent college radio promoters educate a room full of musicians looking to increase their audience, DJs looking to increase their number of listeners, and label folks looking to increase their revenues. That these promoters stand at the epicenter of college radio, what might just be the last locally based, traditional promotion mechanism in the business is all but lost.
Asked what the purpose of an ad chart is, Doug Blake, the owner of promotion and marketing megalith Pirate Promotions explains the ad chart determines how well a record will do in the future. "If I think a record will get 100 ads and it only gets 40 ads, I may have to rethink my strategy going forward," he says. "Maybe the record isn't as good as I thought."
Another online question reveals that promoters rarely take other industry people's opinions into account—especially those of other promoters. Caroline Shadood, the director of radio for the experimental electronic-leaning Mute Records, smiles as she drops some hard truth on the audience. "If a promoter's ever evoking something emotional to you, it's probably a manipulation tactic," she says.
Soon the time comes for attendees to approach a mic at the center of the room and ask questions, a glut of college kids hungry for insider knowledge about how to increase their station's reach. How do you do get more listeners in a small town without an infrastructure for music? What advice would you have for an emerging artist who can't afford to hire a promotion agency? Will you come to my band's showcase at Rockwood Music Hall this afternoon?
Standing in line with such aspiring impresarios is an older man in a porkpie hat. He introduces himself as Bob Boilen, host of NPR's veritable new music institution, All Songs Considered. His honest question for the panel is, how closely do they work with the artists they promote? The answers are varied and revelatory. Most of the panel tells him that it depends, but Jessica Weber, owner of artist development agency co-sign, has one flat response.
"I prefer not to work directly with the artists," she says, citing their awkward conversation and difficulty maintaining composure as hurtful to her promotional strategizing. "On the business side, I appreciate the buffer."
Car Seat Headrest, the newest signees to Matador Records, had considerably higher vibes than the sterile, unimaginative rawk that preceded them.
Having witnessed enough of the business, I head down in the LES, where every venue is hosting one CMJ show or another, and make a beeline for Pianos. Memories of my undergraduate days at the venue in 2008 were exhumed upon arrival, when Oxycontin-breathing NYU kids would frequent, selling buffet-style intellectualism disguised as skinny jeans. This was the day crowd, present and engaged, happily snatching up the swag earplugs and Kanine Records stickers. My friend Michael met me there that afternoon, insisting I stay patient and not leave during the first band's set, though they were better dressed than they sounded.
He was there for Car Seat Headrest, the newest signees to Matador Records and a considerably higher vibe than the sterile, unimaginative rawk that preceded them. CSH frontman Will Toledo plays songs with a wry, engaged assuredness, sitting on the middle of some playground seesaw between Interpol's Paul Banks  and Jonathan Richman on either side. The sparse but precise rhythm section of Andrew Katz's drums and Jacob Bloom's bass on "Times to Die" elevates Mr. Toledo's youthful indie-slacker shtick to a place of maturity over a powerfully simple, breezy groove. "All of my friends are getting married, all of my friends are right with God," he sings with conviction one notch above deadpan. Mr. Toledo is enunciating, projecting and bringing the dynamic heft, all while completely focused and calm, maybe even Zen. His words, in turn, are felt all the more sincerely.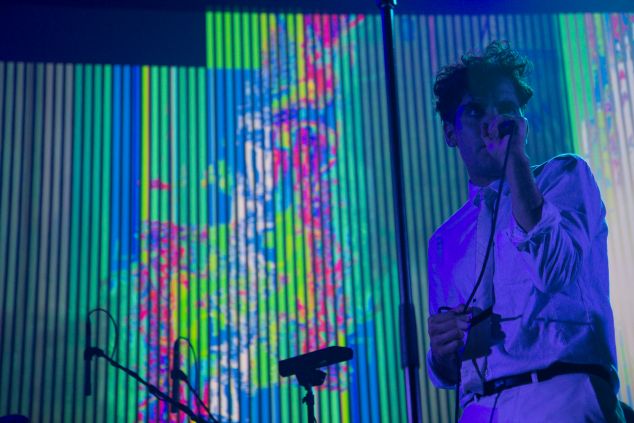 A quick jaunt uptown to retrieve my photo gear and then it's downtown to Webster Hall, dubbed "America's Friendliest Venue" by no one ever. Neon Indian will debut a partnership with Microsoft to enhance the visual displays of his live show. Using five Kinect sensors originally designed to capture movement and motion for Microsoft's video game systems, a plethora of constantly evolving, multicolored visual patters will be generated in real time around Neon Indian front-man Alan Palomo's movements. The software designer gives interviews at a press preview for the technology, something about "bringing the physical into the virtual," but everyone's more interested in snapping unobstructed views of the tech and seeing Mr. Palomo do a sound-check. In a strange coincidence, Neon Indian also has a new album out later this week.
'If it's smart sponsorship, it's actually an experience, a way of being,' said Adam Klein.
CMJ owner Adam Klein made sure I knew about this event when we spoke, as it fit in line with his two greatest strategies for audience engagement—applying new technology to a live show and hosting sponsorships instead of advertisements.
"[We] work with sponsors, not with advertising, because advertising is an awful experience," Mr. Kein says. "If it's smart sponsorship, it's actually an experience, a way of being. Audiences are smart, but also they're very available for new experiences."
Neon Indian's set later that night did turn out to be quite the visual experience, nothing one might not see in an arena stage show, but impressive for the size and scope of Mr. Palomo's psychotropic Caribbean disco. This software could reasonably be a fairly inexpensive, mobile tool for emerging touring artists to increase the aesthetic pull of their act. Whether or not that creates something truly engaging, though, is ultimately between an artist and its audience. And whether or not that heavy aesthetic emphasis is a good thing depends on what the fans of that artist value, too.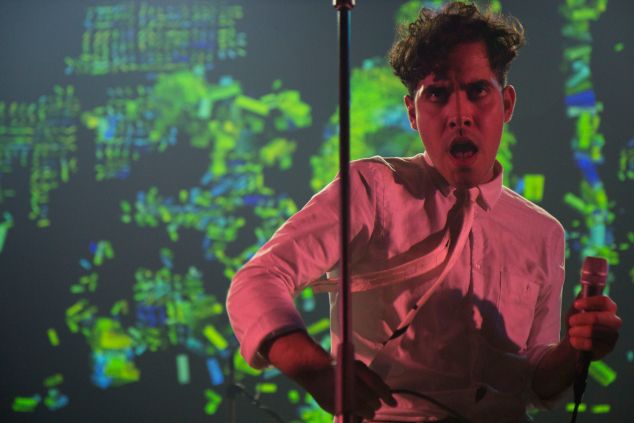 It's back to Chelsea's Dream Downtown the next morning for an International Networking Breakfast in the PHD Penthouse Lounge. There's only one elevator going up to the penthouse, and you can tell the breakfast will be better than the day before because hotel staff checks for CMJ credentials both before you get on the elevator and once you get off. A buffet of scrambled eggs, applewood smoked bacon and home-fries accompanies the continental fare of pastries, fruit and yogurt from yesterday, so this reporter decided to stay and listen, eating his way through the first presentation of the day. The American Association of Independent Music, a nonprofit that represents about 35 percent of the market share of labels and streaming services, explains how it works with the International Trade Administration. A2IM is intended to export U.S. artists to foreign markets, explains senior director Jennifer Masset. "The US Department of Commerce is looking to invest in artists who will bring a return on that investment," she says.
A panel follows, "Surviving the Windfall: Managing Large Sums of Cash for Your U.S. Campaign," and foreign promoters trade stories about getting their touring acts to be more frugal. Things get interesting when Kyria Kialkis, managing director of A&R for Montreal-based Indica Records, criticizes the travel conditions for touring bands in the U.S. She insists that the accommodations are shit, the people are mean, and the venues where a band will be well received are spread too far apart. It's just not cost-effective for a band to come stateside, hit the East Coast, the South, and drive out West. Her comments feel urgent, welled up and arrived at.
'This is better than a California breakfast,' one DJ tells me, 'that's just orange juice and cocaine.'
One American promoter named Adam was quick to shoot her down, though, claiming that young, fledgling bands from other countries come to CMJ hoping to "get discovered" all the time, but wind up lacking the experience and the hype to entice anyone but close friends or compatriots to their shows. He says the foreign bands that do well at CMJ first release a short EP or two, let some momentum build around their recordings, then plan a trajectory of showcase appearances accordingly. But in the end, Adam just winds up plugging his promotion agency. Get in touch with a stateside promoter of his stature when your artist is ready, he says, and we'll talk.
Meredith Graves, the frontwoman of Perfect Pussy who played multiple showcases at the festival, wrote an enlightening three-part CMJ diary for Village Voice (she also writes the awesome column Malfunction for Observer). In part one, "Your Band is Bad Unless it's Good," Ms. Graves suggests that such shitty festival trips are not exclusive to foreign bands. "If you're from out of town, your band is competing with every other band in the known universe for a floor to sleep on, but your drummer is allergic to cats and there's not enough room, so two of your bandmates are crashing with a distant relative up in Harlem while the rest of you are sharing one foldout couch in Bushwick," she writes, before listing  every possible thing that can go wrong (and maybe has) on tour. "The sound guy is doing 14 shows this week and does not care if your precious monitors are set to your liking… and if it hasn't already been made clear, you are not allowed to complain about any of this, because we have the best job in the world."
Back to Brooklyn, for a few hours, to rest. The problem with memory foam is that once your body makes a groove, pulling yourself out of it becomes so much more difficult than just waking up.
Animal Collective's Panda Bear, real name Noah Lennox, evokes Brian Wilson purging at an Ayahuesca ceremony. Playing the final show of his sold-out, three-night run at Bowery Ballroom that evening, Mr. Lennox is by no means an "emerging" artist, and the inclusion of his shows as official CMJ showcases are proof that his loopy, trippy pop still pulls in the college crowd—just as it did for this reporter 10 years earlier.
As black and white lines of projection move left and right, the strobes move up and down, creating a sensation of depth and dimension while locking in with the waves of song.
Mr. Lennox might seem like karaoke, too, had he not exercised so much control over his sound. Twiddling knobs on the rack-mount mixer console that accompanies him onstage, an elevated panel of buttons and cords, he tears through the majority of his latest LP, Panda Bear Meets the Grim Reaper. The hip-hop break-beat of "Mr. Noah" cuts his clipped harmonic vocal oscillations in perfect step while the screen behind him projects the cartoon image of the Grim Reaper, soon morphing into cherries, gummy worms, and Grayskull from Masters of the Universe. But the real trip of the night are the strobes, taking Mr. Lennox's live show to another plane entirelly. As black and white lines of projection move left and right, the strobes move up and down, creating a sensation of depth and dimension while locking in with the waves of song. Nobody should ever actually play Panda Bear's music for Brian Wilson, lest it unnerve some deep concealed trauma in Mr. Wilson's acid-humbled psyche.
Before Mr. Lennox returns for the encore I hightail it back to Brooklyn, where Detroit post-punks Protomartyr will headline the Sub Pop/ Hardly Art showcase at Knitting Factory. Though Protomartyr went through the CMJ motions in 2014, they returned this year as a powerhouse, thanks in no small part to a well received set at Pitchfork Festival and an early NPR stream of their fantastic sophomore LP, The Agent Intellect. At 35, vocalist Joe Casey is 10 years older than the rest of his band, but doesn't use the platform to try and pass himself off as young and hip. Instead, Mr. Casey is content to revel in the wisdom he's gleamed from the life he's lived. Dressed in a nondescript suit and collared shirt, he doesn't seek a rock star pose or any exaggerated, emotional posture—muttering his words with quiet indifference will do. On my favorite Agent song, the angular, slinky "Pontiac '87", Mr. Casey confesses, "that kind of grace knocked me on my knees, don't tell anyone that's what I wanted." The lyrics present an opportunity for some maudlin, cathartic explosion, but even then Casey plays it cool, while the band rips through the chorus with an energy he doesn't even try to match.
Sleeping in the next morning was not only welcome but necessary, and a trip to Chelsea didn't make sense. Instead it was back to The Knitting Factory for an ATO Records showcase, headlined by a new project from Brittany Howard of the Alabama Shakes. As the opening sets unfold, it becomes clear that ATO had booked the afternoon to showcase a variety of talented, powerful women. Brooklyn's Margaret Glaspy brings out a fantastic band that fleshed out the lo-fi sparsity of her early recordings. Singer/songwriter Jessica Lea Mayfield takes command of her acoustic guitars to recall a longing and arrived-at self-awareness of someone who's been performing for 20 or 30 years. She's an old soul who subverts any stereotypical gendered assumptions that she needed to be a naïve, vulnerable woman for singing about love. A trio of sisters named Joseph come next, folksier still, executing three-part harmonies over inspirational lyrics. Such music might sound like a Starbucks download when described, but the power and range that Joseph display live cannot be captured in prose.
Such music might sound like a Starbucks download when described, but the power and range that Joseph display live cannot be captured in prose.
Perfect Pussy's Meredith Graves wrote a second diary entry about her "Cracking the Glass" panel at Dream Downtown the day prior. "It was meant to gather a group of female 'innovative industry disrupters' to discuss direct action tactics meant to 'overcome adversity and empower more women to take similar steps' to become leaders in the music industry," she wrote. Suffice it to say, the questions Ms. Graves received rattled her, not because they were themselves sexist, but because the majority of questions she heard from young women asked for advice on how to deal with the pervading sexism of the industry. "The panel, which mostly allowed questions from presumably female audience members, turned into 'why is having a body so hard' and 'how can I survive men' quicker than you can say Equal Pay," wrote Ms. Graves.
After the panel, she concluded, "I don't ever want to sit on a panel of female experts ever again and talk about 'work-life balance' and pink tablecloths in the break room. I want to talk about instating systems of community-based mutual support and accountability to elevate literally anyone who isn't a cis male into leadership positions in separatist groups that purposefully exclude men."
No word on whether Ms. Graves was at this all-female ATO showcase, but it could easily be seen as emblematic of the standards she expects from a show. Not one disrespectful cat-caller or day-drunk bro hollered at any of the performers, which is sadly not the norm these days. Part of this might have had to do with the intellectual, coffee-shop crowd—Bob Boilen, host of NPR's All Songs Considered, stood next to me, and we laughed over his open-mic question to the college radio promoter panel days earlier while drinking Hoegarten. He was excited to see Brittany Howard's new garage project, Thunderbitch. The record sounded to me like ACDC liberated from the male gaze, I told him. "All balls, no cock," he said.
'All balls, no cock,' said Bob Boilen.
The Knitting Factory's curtains were drawn, and when they finally opened, Ms. Howard was seated on a motorcycle in the middle of the stage, costumed in whiteface and a biker's outfit, complete with wig. Visually evoking Meatloaf in Rocky Horror Picture Show, her set channeled all sorts of classic rock and roll, un-apologetically bluesy garage, much crunchier and much simpler than her Alabama Shakes songs. Commanding the all-male band made up of Nashville's Clear Plastic Masks and Fly Golden Eagle, Ms. Howard's voice was the most powerful instrument of all, while the freshly spray-painted white letters of "THUNDERBITCH" smelled like fumes from the back stage wall, and her whiteface began to run during the hour-long set.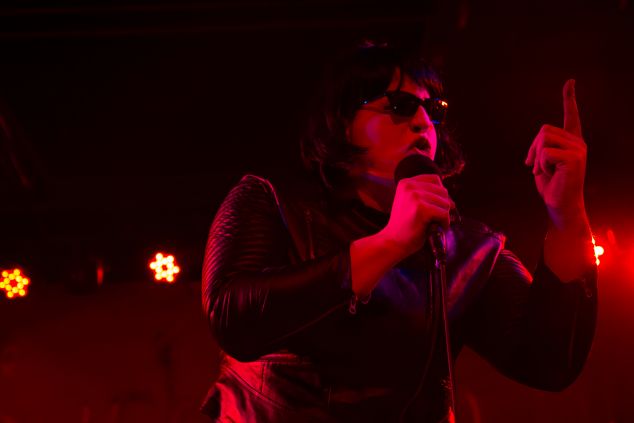 Saying goodbye to Mr. Boilen is tough. He's  off to Silent Barn, where a band called Eskimeaux that put out his favorite record of the last year is playing a showcase hosted by their label Epoch Records. Mr. Boilen wrote about that show, shouting out Epoch artists Todd Slant and Florist in particular, in this much more succinct piece on his CMJ discoveries. It sounded cool, too, but you can't be everywhere at once.
This is certainly the case when Thunderbitch finish around 7, as I wanted to see great jazz revivalist Kamasi Washington over at Le Poisson Rouge in Greenwich Village. His wonderful, three-hour masterwork (appropriately titled The Epic) came out of Flying Lotus' Brainfeeder label last spring, highlighting Washington's virtuosic grasp of the saxophone as a spaceship, channeling hard-bop and free-jazz into a capsule and launching them to sonic planets otherworldly. Much of the public has already heard what he's capable of on Kendrick Lamar's landmark second LP, To Pimp a Buttefly. I deeply regret missing both of his two CMJ appearances. Thankfully, Meredith Graves was there.
Missing Mr. Washington's set is not in vein, though, as it leads to my discovery of two more rising bands, both coincidentally with powerful front-women taking rock music into fresh spheres.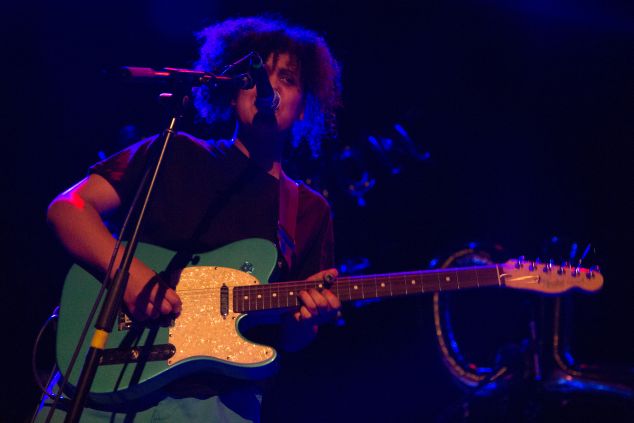 Over at Music Hall of Williamsburg, London's Shopping play earnest, angular post-punk, the blunt apathy of indecisiveness recalling Gang of Four, and their mastery of a punchy pop hook recalling early B-52s. On their debut Why Choose? this all sounds so snarky and un-apologetically British, it's almost pompous. But in person, Rachel Aggs smiles as she bounces around the stage, whipping her hairdo into a tornado and doing calisthenics as she strikes her guitar. It gives the songs even more energy than on the hyperactive recordings, and Shopping defy you to not dance to it.
Sheer Mag, who one Noisey writer appropriately likened to Fleetwood Mac and Thin Lizzy, are already earning a reputation as the best rock band in America that you haven't heard, and certainly act like it on stage. Tina Halladay has the whole room wrapped around her fingers as she hits those high notes, holding her own above the thick, dual-guitar riff party. On "Fan the Flames" she sums up the submissive vibe of any urban renter's relationship with their landlord through belted, high-pitched yells: "That's the man you gotta give it to, we pay him our rent to have a hole in our roof/ and when our neighbors burned, it was only because of telephone chords!"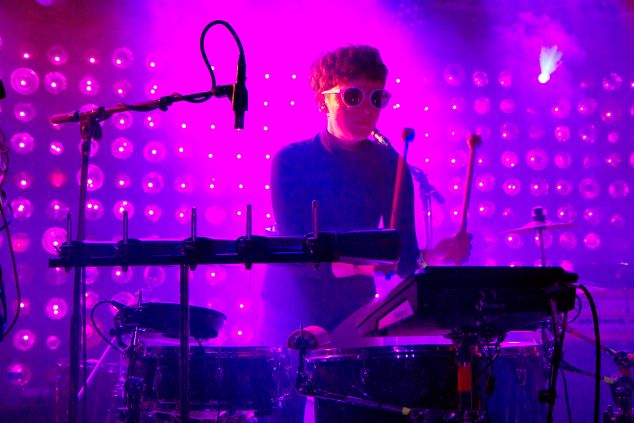 Over at Baby's All Right, the final showcase of the evening begins a little after midnight, a marathon to stay awake for the headliner Palehound. Liverpool's Stealing Sheep do just fine at keeping our attention with their six-plus synthesizers, standing drummer and array of cowbells. Best described as a futuristic dance act, their aspirations are perhaps too widescreen for the small stage at Baby's. The whole set both looks and sounds too cluttered, as if the band's expectations outmatch all that they are juggling. They might just be that foreign band touring the U.S. prematurely that Adam, the rotund promoter from CMJ's International Networking Breakfast, was referring to.
Countering Stealing Sheep's complicated sonic mess is the simple, urgent guitar pop of Ellen Kempner's Palehound, who headline the evening well after 2 a.m., her fifth of six CMJ shows. Palehound's Dry Food is one of the best albums this year because it doesn't reinvent any wheels so much as the axis that those wheels spin on. Ms. Kempner sings "Healthier Folk" with a self-deprecating Valley Girl charade only to subvert it later, transforming between acting like a dumb kid and an enlightened, if not debased, adult. "Easy", meanwhile, with it's finger-picked rhythm rising above a layer of cartoonish white noise, is hands down the most beautiful love song of 2015.
Putting the quality of your songwriting and performance above creating a spectacle was my main take away from the week.
It still would have been nice to see more shows at CMJ. Eternal Summers, Downtown Boys, Diet Cig, and Dilly Dally were all on the list, too, but due to the enormous futility of trying to be everywhere at once during the festival, it fast became obvious that even planning to hit everything was problematic, exhausting and unrealistic. Maybe that's the difference between a "festival" and a "marathon."
Truths emerged from the netherworld between CMJ's daytime programming and the showcases I did see, though. Putting the quality of your songwriting and performance above creating a spectacle is important. That spectacle may be an ornate set-up, nice outfits, or a free breakfast, but it can't polish a turd. Technology might increase audience engagement, sponsorship might be a tool for reaching financial nirvana, and women might someday be able to hold a fruitful discussion among an oppressive industrial male patriarchy, but in the end, it's the simple and direct moments of connection between an artist and an audience that foster sincere engagement.
The CMJ 35th Anniversary tote bag promotes the festival as "35 Years of New," and with the heavy emphasis on college radio promoters and their millennial marketing, this makes perfect sense. But being "new" doesn't mean an artist will necessarily last—to do that, they mustn't act averse to sometimes sounding a little older.