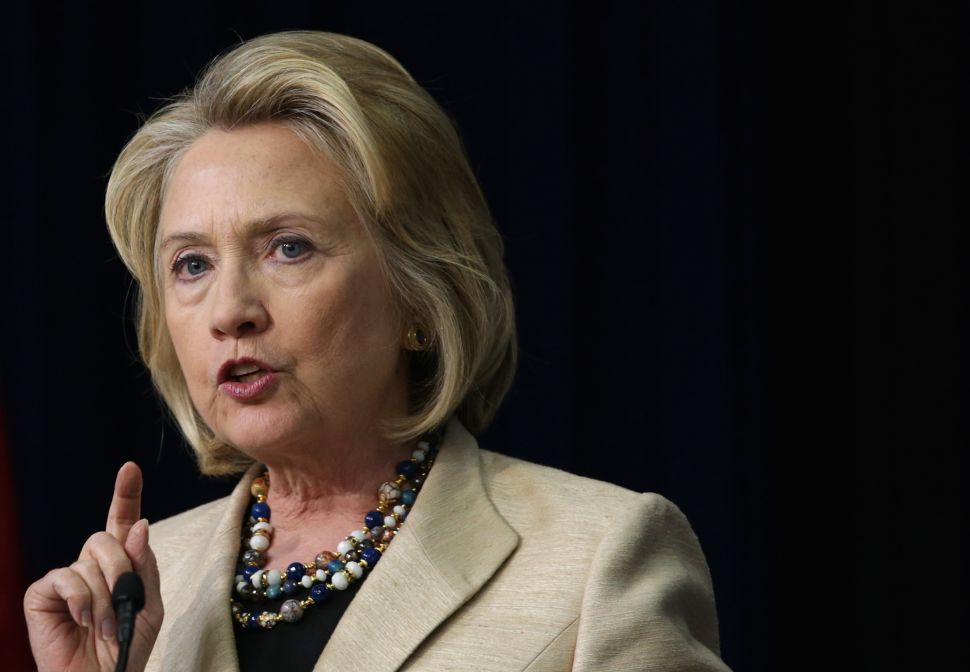 Republicans had one last chance to pin the tragedy that occurred in Benghazi, Libya in 2012 on former Secretary of State Hillary Clinton. Four Americans—including a U.S. ambassador—were murdered during a terrorist attack on the U.S. embassy.
Republicans may be able to pat themselves on the back and send out fundraising emails about how they damaged Ms. Clinton's reputation and hurt her presidential chances. But the fact of the matter is that even though voters are most likely to describe Ms. Clinton as "dishonest," a "liar" and "untrustworthy," she's still the Democratic frontrunner and leading the Republican frontrunner, Donald Trump.
To be fair, Ms. Clinton is losing in head-to-head matchups against other leading Republicans: former Florida Governor Jeb Bush, former pediatric neurosurgeon Ben Carson and former Hewlett-Packard CEO Carly Fiorina. (Vice President Joe Biden beats all top Republican challengers in such matchups, but, of course, he isn't running.)
But these are preliminary polls during a time when Ms. Clinton's candidacy is being hampered by an email scandal. Expect the polls to change drastically once the GOP field is narrowed down and the mainstream media circles the wagons around the likely Republican nominee.
One can already see how the media will treat the 2016 election given its coverage of the first Democratic debate. Despite post-debate polls and focus groups finding that Vermont Sen. Bernie Sanders won the debate, numerous media outlets declared Ms. Clinton the clear winner. Slate declared her the winner and claimed she had a "surprisingly spectacular performance."
No, she didn't. She appeared competent, but she didn't "wow" anyone. The fact of the matter is that Ms. Clinton simply has to show up and not fail, and she will be declared a winner. And so it goes with the Benghazi hearing. Outside an outright admission from Ms. Clinton that she personally ignored Ambassador Christopher Stevens' request for more security and/or an admission that it was her decision to blame a YouTube video for the attack, the former secretary of state was always going to be seen as the winner of the hearing.
Ms. Clinton began the hearing by appearing emotionless as committee Chairman Trey Gowdy, R-S.C., described the four men who died during the September 11, 2012 attack. She flipped through her pages of notes as Gowdy opened the hearing, and she looked irritated to be present.
When pressed on her lack of emails regarding the danger in Benghazi in 2012 leading up to the deadly attack, Ms. Clinton was able to sidestep the issue by saying she didn't conduct business over email. While thousands upon thousands of emails released by the federal government contradict her claim, it was an answer that will allow the media and the public to move on.
Multiple Democrats also asked leading questions that allowed Ms. Clinton to provide answers that would make her look better. For example, Rep. Adam Smith, D-Wash., asked Ms. Clinton about how a lack of a budget for embassy security—the implication being Republicans were to blame—helped produce the attack. Ms. Clinton, predictably, agreed.
Yet in May of last year, former MSNBC host Ronan Farrow made a similar claim about inadequate security funding, and had his statement ranked "mostly false" by the fact-checking website PunditFact. This was in part due to the fact that funding for embassy security had increased since 2008.
But don't expect the media to include that nuance.
It wasn't a slam dunk for Ms. Clinton, of course. Ms. Clinton was asked why Ambassador Stevens, whom the former secretary of state described as a "friend," never asked her personally for more security, despite making 600-plus requests to the State Department. Ms. Clinton responded to the question by saying Amb. Stevens did not have her personal email address.
Rep. Jim Jordan, R-Ohio, had perhaps the most explosive exchange with Ms. Clinton when he asked why the former secretary of state appeared to first blame the Benghazi attacks on a video, but blamed it on terrorists less than an hour later in emails to her family and the president of Egypt. Ms. Clinton continued to insist that the intelligence was muddled in the beginning, despite the terrorist narrative being pretty clear early on, days before national security adviser Susan Rice told the national media that the attacks were the result of a video.
Committee chairman Gowdy also provided a poignant observation when he questioned how former Bill Clinton aide Sidney Blumenthal had "unfettered" access to Ms. Clinton whenever he wanted for whatever issue he wanted, but Amb. Stevens did not. At issue were emails sent to Ms. Clinton from Mr. Blumenthal regarding Libya that were sent along by the former secretary of state, sometimes on the day Amb. Stevens requested enhanced security.
Late into the evening, Rep. Martha Roby, R-Ala., asked Ms. Clinton about going home the night of the attack, and whether she was alone the entire night. Ms. Clinton let out a boisterous laugh about being home alone.
"I don't know why that's funny," Ms. Roby said, before reminding Ms. Clinton that she was laughing about a period in time when four Americans were dying.
But in a move that will hurt Republicans, Ms. Clinton was able to spend several hours describing in detail a foreign policy knowledge that other presidential candidates have not matched. No other candidate has had hours to use specific phrases and buzzwords showing knowledge of an important aspect of being president. Other candidates have only had short interviews or the debates to show their foreign policy bona fides.
Ms. Clinton just received hours to not only discuss foreign policy—whether or not her foreign policy was disastrous—but also appear sympathetic as she recited carefully rehearsed and worded statements regarding those who died in Benghazi. There were times when the typically cool Ms. Clinton appeared almost on the verge of tears. The committee just made her look sympathetic.
None of this matters. Ms. Clinton had answers that sounded plausible to those who won't do any additional digging, and that works to her benefit. The politicization of the committee has also already damaged the investigation in the eyes of the American people. The committee didn't uncover any new information that will result in firings or arrests, and the media will give Ms. Clinton a pass.
Just 30 minutes into the hearing, CNN's "breaking news" email included a quote from Ms. Clinton about how she told the committee she "took responsibility" for the attack and "launched reforms" following the deaths of four Americans. As the hearing was winding down, NBC's Andrea Mitchell described Ms. Clinton as "poised" and "steady" while Republicans "missed an opportunity" to get to the "root cause" of how the tragedy came to pass.
The hearing didn't even need to end for the mainstream media to declare Ms. Clinton unscathed. Republicans had one last great chance to get some answers from the former secretary of state, and they failed.