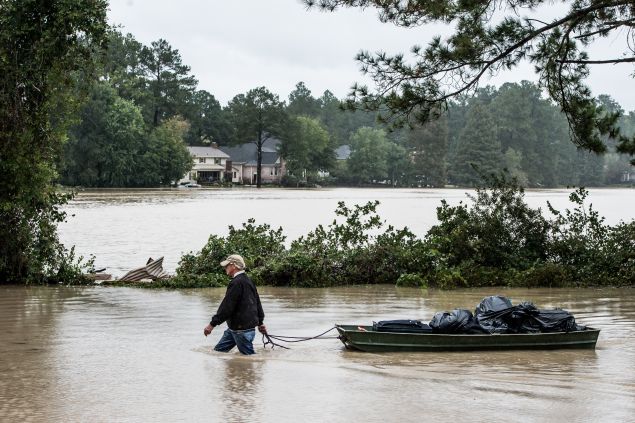 Storms precipitated by Hurricane Joaquin hammered South Carolina this week, with many areas receiving over 20 inches of rainfall between October 1 and October 5. Record flooding has undermined the integrity of much of the infrastructure of the state, contaminated water supplies, and inundated thousands of businesses and homes. The death toll is currently at 15, and the damage is estimated to total at least $1 billion.
"While the rainfall is over, we now have the problem of all the water that fell in the northern watersheds draining, making way into the rivers. As that water moves south, there's the potential for river flooding. In Columbia, for example, our main river, the Congaree River, has yet to crest, and as you go further downstream the crest will be delayed for a few days, so we're still in the middle of it," said Susan Cutter, Director of the Hazards & Vulnerability Research Institute at the University of South Carolina, in a phone interview with the Observer. "Individuals have started to go back into affected areas, to clear out any of the flood damage, ripping out carpets, putting out furniture in their front yard to dry out because the weather has been great for the past few days. The insurance adjusters are starting to see clients. FEMA has set up their registration and disaster assistance hotline and registration system, which allows individuals to receive individual assistance once their registered. The recovery process will go on for months, if not years."
President Obama signed a declaration of disaster Monday night, ordering federal aids to supplement state and local funding toward recovery efforts. As individuals begin to receive assistance, search and rescue operations are undergoing for survivors and fatalities, as well as the inspection of infrastructure to determine whether roads or bridges have been compromised.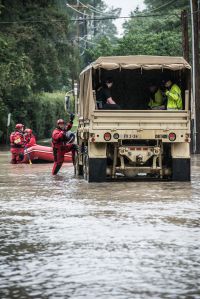 Ms. Cutter added that caution should be taken in the recovery process to rebuild smartly, rather than quickly. She explained, "What you don't want is this rush to rebuild and rebuild in the same place, in the same way. That's a hard thing for individuals and communities to wrap their heads around because they want to get back to normal as quickly as possible. One of the lessons is, if you are in a flood prone area, care should be taken to not rebuild in this area, and if that means purchasing the land from the landowner, that's something that should be done by federal and state authorities under part of the recovery and the mitigation that will take place."
Several South Carolina residents were without power and running water until yesterday, and some areas still lack access to potable water.
"We were landlocked for a while. All the roads around us were shutdown, covered in water, for a couple of days until we managed to find an escape route and even then we had to travel several miles to go around the interstate just to get to other side what was still flooded," Tim Mousseau, professor of biological sciences at the University of South Carolina in Columbia, told the Observer.
According to the Weather Channel, "The official statewide 24-hour rainfall record was exceeded in several locations and the unofficial state record for 5-day total rainfall, which had stood for 107 years, has been surpassed at more than a dozen reporting sites."
Much of the state is under a boil water advisory, and some Columbia residents will likely be without water for another couple of days. At least 11 dams have failed or been breached throughout the state, with the National Guard and other public agencies working diligently to stabilize affected dams and other water sources that are still under threat.
"As far as I know, the scale of this event is extremely rare," added Mr. Mousseau. "People are talking about it as a '1,000 year event,' but that's not really the right way to think of it. It's really a one-in-a-thousand kind of chance event. The water levels around the city reached historical records. It's a rare event to receive this much rain in this widespread of an area."
The enormous rain storm is the sixth of this magnitude in the United States to occur since 2010; others include major flooding in Tennessee in May 2010, heavy rainfalls in New England and Mid-Atlantic states from Hurricane Irene in 2011, flooding in Colorado in 2013, a deluge in the Baltimore-DC area in 2014, and in Nebraska earlier this year.
The National Oceanic and Atmospheric Administration defines a '1,000 year rainfall' as rainfall that has a 0.1 percent chance of occurring in a given year. Many scientists believe the term is misleading as, in most cases, only a hundred years of data is available to make predictions. It's also difficult to directly link the South Carolina flooding to climate change, but the abundance of extreme weather events in the past few decades correlates to the warnings given by scientists on the consequences of global climate change induced by the burning of fossil fuels.
"It seems one of the predictions of what we're coming to know about the impacts of global climate change are the expectations of increased frequency of catastrophic events, and this would certainly fall into that category," Mr. Mousseau explained. "One all by itself wouldn't be revealing, but clearly there has been a pattern of large storms over the past few years, which is consistent with the predictions based on the current state of knowledge in regards to global climate change."