I went ghost hunting inside a church first built in 1799 on a Saturday morning, and—despite the fact that I never left sunlight—I had a weird experience: the single most annoying electronic device that I have ever encountered.
The device was the P-SB7 Spirit Box. It's an AM/FM radio that spins through channels without muting the static, so users hear a lot of white noise mixed with snatches of broadcasts. The idea is that somehow ghosts can manipulate the random sounds and static to speak to the living. An experienced ghost hunter deployed a box during a recent meetup with the Brooklyn Paranormal Society at Saint Marks Church In-The-Bowery, just as the mood started to get a little weird. It ruined the mood.
"We're the only group based in Brooklyn," Anthony Long, the group's organizer and leader, told the Observer during the post-investigation hang out session. "And we're the only group doing it drunk." Mr. Long says he likes to ghost hunt drunk because it's said to increase your chances of being possessed, and he wants to have that experience.
It's hard to tell if the priority of the group is paranormal or social, but the latter part was more convincing than the former. My experience with the meetup support a hypothesis I've long held by: it's more fun to hang out with people around an activity. For example, a Philadelphia friend has been running a party every month or so, called Story Shuffle, where participants share true tales as each evening's capstone. Having an activity takes the stress out of meeting new people because it gives everyone something to talk about.
The shared weirdness made it easier to get to know the others on the meetup, despite the spirit box, which would wreck a good moment. 
That said, since I believe activity-based social events are better, I could just be writing you a report here from my own confirmation bias. Confirmation bias is the idea that we tend to see evidence that supports our preconceptions. 
In other words, if I think I'm going to have more fun at an event that's organized around a specific activity (in this case, ghost hunting), then I will have more fun. The reason may not have been the activity. It could have been the group, the place or my mood that day.
Scratch that: we met up at 9:30 a.m. on a Saturday. It definitely was not my mood. Also, because it was so early, it wasn't the booze. We didn't get into that till after, at a bar. Though at least one of our number arrived hungover.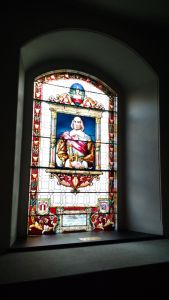 Thirteen people showed up to look around the old church, which has been said to have been haunted by the ghost of Peter Stuyvesant, an intolerant and stern man who governed part of our city in the final years until the place became known as "New York." The groundskeeper who met us there told us the story (that he didn't seem to put much stock in) of one time long ago when the bells started ringing inexplicably late at night.
He also said he's never experienced anything weird inside the church.
So here's the story of the strangest event of the day, and how the P-SB7 Spirit Box wrecked the mood to follow. As we went through two of the rooms on the main floor (we weren't permitted to go into the basement) and sunlight streamed in through the stained glass windows, two of the attendees started to chat about psychic experiences. I listened as the medium, who had started us off with a simple seance, chatted with another woman, Kelsey, about what she sensed as some sort of spirit that seemed to be following Kelsey around, protecting her.
We went back to the first room, which was said to sit above Peter Stuyvesant's grave, and we all gathered as a group there to try and talk to Stuyvesant.
One member of the group, a veteran spectral investigator named Ron Yacovetti, had come with quite a bit of gear. Before we got started, he got out a sound recorder, which he listened to through his headphones while taping. Plus, he set out his iPhone, which was running Ghost Hunter M2, a 99 cent iOS app that supposedly helps to sense spirits.
We started asking the ghosts questions and inviting them to speak to us nicely. Here's some of what folks said to draw him out:
Peter, your pear tree blew down.

Peter, do you still feel protective of this land?

Do you regret the last decade of your life?
And so on.
Suddenly, Mr. Yacovetti's iPhone made a thunder sound, which surprised him. It gave the group some encouragement, so they asked more questions.
One of the more religious members of the group was carrying around a candle and an icon, the theory being that these would attract a ghost of someone known to have been very religious. He had taken the time to learn a few Dutch phrases, and asked the ghost, "How are you?" in Dutch. One time, right after he did that, the iPhone made the thunder sound again, immediately, as if in answer.
Mr. Yacovetti later explained via email, writing, "The thunder sound is a setting it provides but the oddity wasn't the sound itself, but rather that I'd turned it off prior, and somehow, with it set to off, it made it anyway."
When that second thunder sound came through, the mood heightened. It seemed too much like a response. A few other participants said that they felt chills. It was getting odd in there.
That's when Kelsey got pushed. She fell forward, reporting afterward that something had pushed her. 
All attention went to Kelsey after the push. She had come wearing a variety of anti-religious jewelry, and theories started to fly that she was provoking the ghost. That's when the Spirit Box came out. Mr. Yacovetti wanted to try it to give the ghost a way to talk to us.
Here's how the spirit box works. These devices continuously spin through channels supposedly so fast that all you can hear are moments of sound from radio broadcasts, but not enough that you "should" be able to make anything out. In order to make sure we could hear anything the ghost said, it was turned up loud. All I heard was a grating string of random sounds.
I can't imagine anything more dissonant with the purpose we had gathered to achieve: a shared paranormal experience or, at least, a shared creepy mood.
What you hear when a spirit box is on is a bunch of crackly static interspersed with moments of broadcast from different radio stations as the tuner passes them. The idea is that it's going so fast that you shouldn't be able to make anything out, but I could definitely make out pieces of words even before we asked it any questions. It was just one of several pieces of technology folks were using, but it was the only disruptive one.
Once the spirit box was live, the questions turned banal. Such as, what's the name of the church?
If I had been a ghost, I would have lost interest.
Yet, when Mr. Yacovetti asked the ghost who it had pushed, several people said they heard the device say, "Kelsey." It definitely made some kind of sound following the question. So did it answer?
The question takes us back to confirmation bias. The device makes a bunch of random sounds, many of which are bits of voices, so if your brain is listening for a word then you are likely to hear it.
Mr. Yacovetti said he's reviewed the tape since, and he still thinks it said the woman's first name, but  he granted that he still needs to slow it down and perhaps enhance it to decide. In that way, the technology, he said, is a way of verifying the experience. 
We spent another hour or so wandering around the grounds after that, and I chatted with a number of the participants broadly about what they thought. Some also came to me to ask me if I thought. I kept my responses vague. At most, I said that I thought the second thunder sound was interesting. Three different participants volunteered to me that they didn't buy the push.
That said: I'm not inherently opposed to paranormal investigation. Mr. Long, for his part, is skeptical. "There's a lot of bullshit out there," he said during the Sangria-soaked brunch that followed the investigation. His goal, he said, is to do better experiments.
For example, getting drunk is one of their experiments. Mr. Long admits he enjoys a drink, but there is a reason he's encouraging meetup members to hunt ghosts while drunk. "People assume that what they are told is accurate. Like, you shouldn't drink because you are more likely to be possessed. We're testing that out."
Mr. Long and his cohorts are currently in talks with production companies about taking a show to networks, a sort of ghost hunting show meets Drunk History. He is confident a series based on their investigations could be picked up. He said, "We want real proof, and we're willing to do whatever it takes to get that."
If you've ever considered going on a ghost hunt, this is a good group to do it with. Just head the other way if anyone wants to try a Spirit Box. Better yet, snatch it from their hand and smash it to the ground.
If they get mad, just say you'd been possessed.