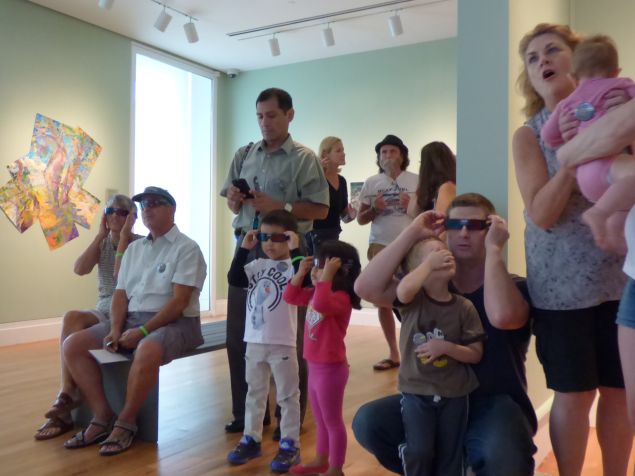 What was old is new again. The Staten Island Museum in Snug Harbor reopened last month in its new home—an architectural marvel that unites contemporary design and history in a destination museum brass says should attract all New Yorkers to the oft-overlooked borough.
"Building A," which once served as a dormitory for sailors, has been transformed into a modern space with exhibits about the Ice Age, pop culture in the roaring '20s, and the history and landscape of Staten Island from the 1700s to present day. But the newly renovated building's successful opening month is just the beginning for Snug Harbor, as the Museum is already looking ahead to its next development project.
Museum interim president Cheryl Adolph said that the opening of Building A has been a milestone—one that she hopes will encourage New Yorkers from every borough to visit.
"Whether you're interested in art, architecture or preservation, we have a broad range of programs. The architecture alone should bring people here from all New York City," Ms. Adolph told the Observer. "It's also about people who come from other parts of the world and country who want to learn about the history of Staten Island."
The LEED Gold building was designed by Manhattan-based Gluckman Tang Architects. The $31 million renovation took has been in process since June 2011.
And although they demolished the derelict interior, the redesigned building mixes some of the original architecture with contemporary elements. Although the majority of the interior and exterior was removed, the team salvaged one historic staircase as well as the original roof and exterior walls. The team successfully restored the facades, the cast iron staircase and the original wood windows.
And the Museum is already looking at the planned redevelopment of Building B. According to Ms. Adolph, Building B will show off the Museum's diverse collection of archaeological objects as well as its extensive science and history archives.
"There will be twice as much to see," Ms. Adolph said.
Although the new building is not set to open for at least another seven years, Ms. Adolph said the design phase should be launched within the next year.
"The goal is to have everyone see our cultural heritage and help us build momentum for the next phase of development," she said. "We want the Museum to be the anchor of Snug Harbor as a cultural destination for the entire city."