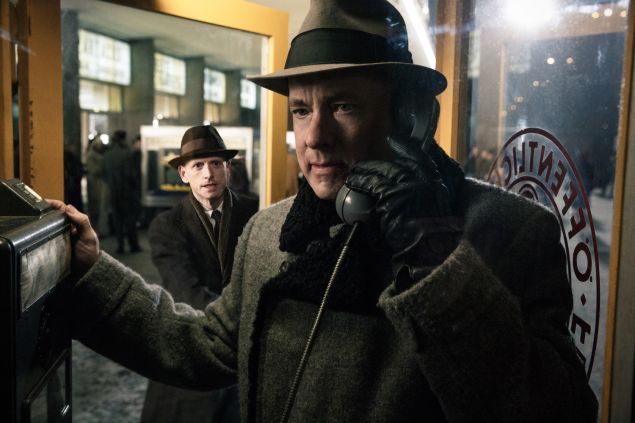 A lot of people like complicated, cold war espionage thrillers, but with few exceptions, I'm not one of them. I understand war and battle sequences, and I totally get the Nazis. What I don't always understand is secret agents in business suits and Humphrey Bogart raincoats who slink around in rain-soaked back alleys, spying on each other for reasons that are never clearly explained, in foreign countries where nobody speaks English, yet the good guys always manage to have the correct change for phone calls and hail taxis without telling the drivers where they're going. So I dreaded Bridge of Spies, with nobody more all-American wandering around East Berlin than Tom Hanks. I should have known better. The director, after all, is Steven Spielberg, who knows how to make logical movies and has a special affinity for narrative coherence. It's a riveting film and I understood every word.
---

BRIDGE OF SPIES ★★★
(3/4 stars)

Written by: Matt Charman, Ethan Coen and Joel Coen
Directed by: Steven Spielberg
Starring: Tom Hanks, Mark Rylance and Alan Alda
Running time: 142 min.

---
The year is 1957, U.S.-Russian hostilities are in full swing after the execution of the Rosenbergs, and in Brooklyn, a Soviet spy is arrested for stealing classified American military documents and passing them to the Kremlin without registering as a foreign agent. Tom Hanks plays Jim Donovan, the attorney drafted by the F.B.I. to represent him in court. A former assistant prosecutor at the Nuremberg trials, Donovan is chosen because he stands for good old-fashioned integrity and justice, and therefore seems like the perfect choice to save the Soviet spy Rudolf Abel (played without his usual hyperventilating histrionics by stage actor Mark Rylance) from the electric chair. Donovan's law firm thinks it's his patriotic duty to prove that even a spy gets an honest defense on American soil. Ignoring the verdict of guilty on all counts, Donovan risks the cost to his family and firm, following the letter of the law to pursue an appeal all the way up to the Supreme Court, despite the threat posed by both vigilantes and cops.
Suddenly, there's another, more important reason to save Abel. When heroic U-2 pilot Francis Gary Powers is captured behind Communist borders, it seems like an opportune time to negotiate an East-West trade—swapping Abel for Powers. Just as the state department, the CIA and the Pentagon want to save face by sending Donovan to negotiate the swap on Russian soil, the plot switches gears again when another American, a naïve Yale economics student named Frederic Pryor, is captured on the wrong side of the Berlin wall and jailed. Powers is held by the Soviets, Pryor is in the custody of the German Democratic Republic and Donovan takes it upon himself to demand the release of both men, saving two lives instead of one.
All of this takes place in a frozen winter landscape where officials from two governments play hardball and Donovan's top coat is stolen by a gang of East German ruffians while he's fighting a debilitating cold, all of which gives Mr. Hanks a chance to be vulnerable in a sympathetic Jimmy Stewart role.
The screenplay by Matt Charman, with a polish by Joel and Ethan Coen, condenses a lot of confusing spy talk into a shrewd narrative that culminates on the infamous Glienicke Bridge, where the outcome is never in doubt. I mean, it's a Tom Hanks movie, so he has to emerge a hero. He does it masterfully, abetted by Mr. Spielberg's customary finesse and attention to detail, and supported by a fine cast that includes the wonderful German actor Sebastian Koch as the East Berlin lawyer, seedy Mikhail Goreyev as the lawyer for the KGB, a wasted Amy Ryan as Donovan's wife and handsome Austin Stowell as Powers.
Filmed in Poland, Germany and New York, Bridge of Spies is a solid chapter in the Spielberg filmography, and another reason why his self-assured ability comes in handier on the screen than John le Carré's when it comes to telling a good yarn in terms even a head-scratching novice like me can understand and enjoy.