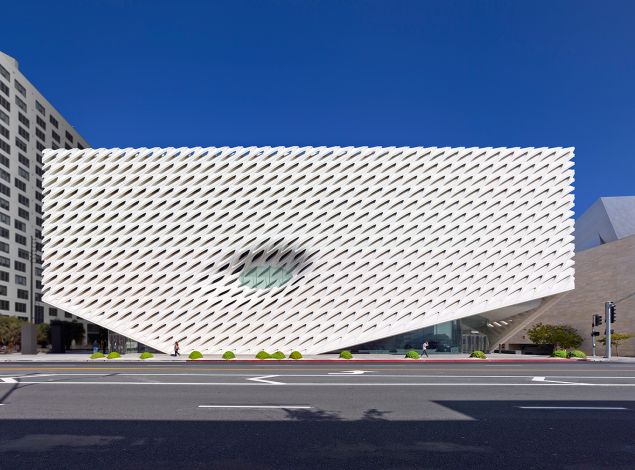 While Angelenos love the new Broad Museum so much that tickets are already sold out through the end of the year, not everyone is happy about L.A.'s newest contemporary art institution.
A subcontractor, Seele Inc., who was responsible for the complicated construction behind its distinctive white mesh facade, is seeking $6.9 million in expenses from the Broad Collection, reports Curbed LA.
And while construction for the facade was initially slated to cost $29.3 million, with designs indicating it would be made of concrete, plans ended up being changed; steel and glass-fiber was used on the exterior instead, and the building's timeline was pushed back months.
In the end, costs rounded on $34.8 million, and philanthropist, businessman, and prominent art collector Eli Broad ended up suing Seele Inc. in June for $19.8 million for the delays and additional costs. According to The Los Angeles Times, the lawsuit detailed that Seele's original contract with the Broad Collection paid the company no more than the agreed upon $29.3 million, regardless of extra costs or work time.
The Broad Museum finally opened September 20, and the total cost of the Diller Scofidio + Benfro-designed building came to a whopping $140 million—$34.8 million of which went to creating the museum's exterior.
According to Curbed, the latest filing from Seele Inc. will be tacked on to the Broad Collection's original lawsuit, though the case is still pending with the Los Angeles Superior Court.