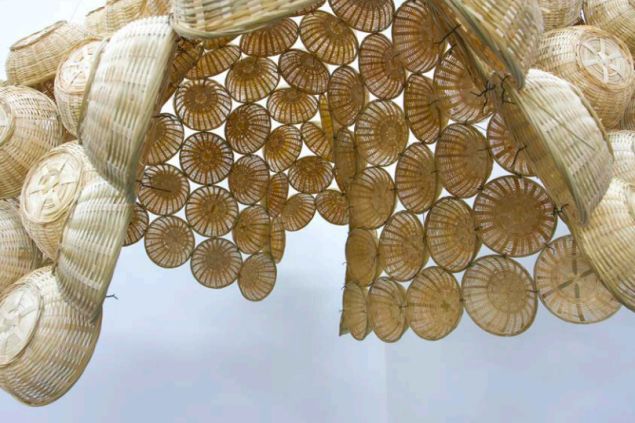 A slew of superstar curators, including ones from the Tate Modern, the Pompidou and the Rubin, are now on board for the upcoming Dhaka Art Summit. The huge biennial of South Asian art, now in its third iteration, will be held in the capital of Bangladesh February 5 through 8, 2016.
The Dhaka Art Summit also will be free and open to the public, a rarity among international art events and a new policy for Dhaka in 2016. The exhibition has also expanded beyond film, performance, sculpture, painting and drawing to include architecture, experimental writing and a historical exhibition for the first time.
Samdani Art Foundation Artistic Director Diana Campbell Betancourt will be joined by Daniel Baumann (Director of the Kunsthalle in Zurich), Beth Citron (Curator of Modern and Contemporary Art at the Rubin Museum of Art), Aurelien Lemonier (Architecture Curator at the Centre Pompidou), Nada Raza (assistant curator at Tate Modern) and Amara Antilla (assistant curator at the Guggenheim Museum, New York) as curators of the show.
The show will include solo works by Lynda Benglis, Tino Sehgal, Shumon Ahmed, Tun Win Aung and Wah Nu, Simryn Gill, Waqas Khan, Shakuntala Kulkarni, Prabhavati Meppayil, Haroon Mirza, Amanullah Mojadidi, Sandeep Mukherjee, Po Po, Dayanita Singh, Ayesha Sultana, Christopher Kulendran Thomas, Munem Wasif, and Mustafa Zaman.
"Rewind," a show advised by Mr. Ahmed, Ms. Antilla, Ms. Betancourt and Ms. Citron, will feature the work of 12 South Asian artists active prior to 1980. "Architecture in Bangladesh (1947-2017) – The legacy of Muzharul Islam," curated by Mr. Lemonier, will honor the "humanistic modernity," of the late Mr. Islam, who brought powerhouse American architect Louis Kahn to Bangladesh.
In the realm of the written word, Dhaka will include inventive programming such as a recreation of Dial-A-Poem, an interactive poetry project by John Giorno, a contemporary of William Burroughs, where residents can call in and hear poetry for free. Dial-A-Poem will be available in all of Dhaka.
Bangladesh, formerly East Pakistan, has been democratic for more than four decades and has a rapidly growing national art scene.