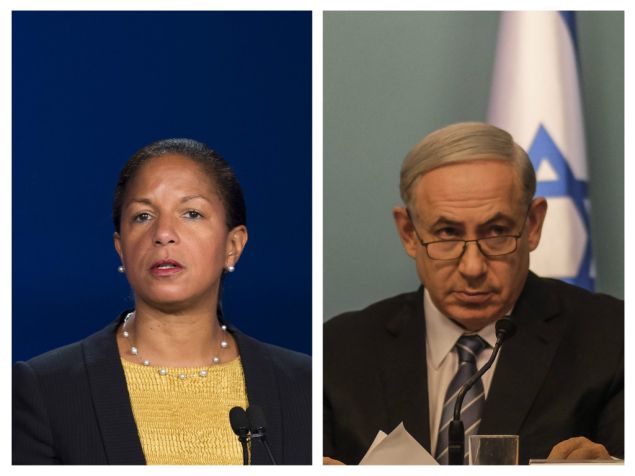 Fraudulent allegations of racism are serious, below the belt, and wrong. Those who make them should take responsibility and apologize. If what Dennis Ross says about Susan Rice and her accusations against Prime Minister Netanyahu are true, it's time for her to do a public mea culpa.
Back in February of this year, my organization, The World Values Network, took out an ad in The New York Times that highlighted Susan Rice's inaction during the Rwandan genocide while serving on President Clinton's national security team. She and her colleagues stood by and let 800,000 men, women, and children be massacred. Our ad linked Rice's response to this genocide with her condemnation of Benjamin Netanyahu's address before Congress. During that speech, Netanyahu, the leader of a nation that experienced the world's worst genocide, was asking the world's most powerful legislature to take Iran's annihilatory threats against Israel seriously.
I later apologized to Ms. Rice for the ad because of the perception of it being a personal, rather than a policy critique.
I stand by that apology.
The job of a communicator is to communicate effectively and when we fall short we must take responsibility for our failures. I issued an apology that clarified my belief that Ms. Rice truly wants to stop Iran from acquiring nuclear weapons, and will stand by her pledge that she will take dramatic action on any future genocides and never be a bystander to wholesale slaughter again. Nonetheless, I reiterated my strong disagreement with her overall approach in dealing with Iran and her overly sharp criticisms of Israel and my conviction that her stance towards Netanyahu's concerns was unfair and inappropriate.
Now, following a string of revealing interviews and tell-all books by former members of President Obama's administration, there is a new book forthcoming by former Obama senior adviser Dennis Ross, Doomed to Succeed: The U.S.-Israel Relationship from Truman to Obama. The book provides new details into the behind-the-scenes diplomacy vis-a-vis the US, Israel, and the Iran agreement.
Some of the book's criticism gives new insight and details into Susan Rice's approach toward Mr. Netanyahu and how she herself let things between them get very personal.
That Rice ordered her subordinates to withhold information about the negotiations from Israel, Iran's principal target, is deeply troubling.
In November of 2013, Mr. Ross was in Jerusalem and met with Prime Minister Netanyahu who had just gotten off the phone with President Obama. The call had left the Israeli Prime Minister feeling alone and completely unassured with regard to Mr. Obama's plan of action for Iran. Mr. Ross describes how, "Only a week earlier, Israel's Iran team was briefed on the status of the talks, but National Security Adviser Susan Rice had not authorized the Israelis to be briefed on the actual state of play in the negotiations." This call had convinced Netanyahu that the Obama administration had caved to pressure and was going to engage in serious appeasement of the murderous Iranian mullahs.
Mr. Ross tried to convince the Israeli Prime Minister that this couldn't have been Obama's intention, and asked John Kerry to call and try to reassure Netanyahu.  But what Mr. Netanyahu needed was clarification from Mr. Obama himself.
Mr. Ross pointed out that had Tom Donilon still been national security adviser, he would have called his Israeli counterpart on the spot, and if necessary had Mr. Obama call again to reassure Mr. Netanyahu.
However, neither Ms. Rice nor Mr. Obama ever made a follow up call to ensure that Mr. Netanyahu understood their position. Mr. Ross then reveals how, "Instead, Rice, reflecting her generally more combative mind-set, would say to Abe Foxman, national director of the Anti-Defamation League, that in reacting to the Joint Plan of Action, Netanyahu's posture was outrageous. In her view, the Israeli leader did everything but "use 'the N-word' in describing the president."
Mr. Ross explains that Susan Rice is part of the faction within the White House that sees Israel as "more of a problem" than a partner. His conclusion is that the entire diplomatic process surrounding the Iran talks "damaged our relationship with Israel far more than we needed to."
These new allegations from a high-ranking Obama insider are shocking. That Ms. Rice ordered her subordinates to withhold information about the negotiations from Israel, Iran's principal target, is deeply troubling. Implications that Susan Rice does not see Israel as our closest friend and ally, or the possibility that she would do anything to keep Israel in the dark or strain ties with the Jewish state due to a "combative mind-set" are disturbing in their own right.
But what I find truly outrageous are her insinuations that Mr. Netanyahu is some sort of blatant racist who harbors prejudicial malice towards President Obama.
Mr. Netanyahu, like the vast majority of Israelis, believes that Iran will acquire nuclear weapons as a result of this feeble Iran deal. He has a responsibility to challenge the administration, especially when that same administration chooses to withhold information about an agreement that could potentially seal the fate of the Jewish state.
SEE ALSO: Hashtag of Hatred: Anti-Semitic Social Media Campaign Shames Palestinians and Google
That Mr. Netanyahu is motivated by racism in his relationship with President Obama is malarkey. And it's a serious libel. In fact, Mr. Netanyahu presides over one of the few countries in history that performed an airlift rescue operation to save Africans facing persecution and death, when the Jewish state saved thousands of Ethiopians and brought them to Israel in 1991.
Over the years Israel has taken in over 90,000 Ethiopians who today live as full and equal citizens in the Jewish state. Mr. Netanyahu himself, in response to Israeli-Ethiopian protests against forms of discrimination said, "I cannot accept this. Not in our country. Not in the Jewish state. I have set up a special ministerial committee to deal with these issues. One principle is clear: There is no place for racism and discrimination in our society."
That Ms. Rice would make this heinous charge of racism against Mr. Netanyahu and turn things personal is deeply disappointing. And given this revelation I have to ask, does my friend Abe Foxman, who publicly condemned our ad by saying there was "no justification for this incendiary personal attack," adding it was "not only an ugly distraction from the real issue, it is reckless," not believe that Rice's personal attack on Mr. Netanyahu is unacceptable? Did it take Dennis Ross to reveal Rice's accusation that Bibi is a racist?
Mr. Foxman, to whom Ms. Rice's comments were made, should condemn them, now that they have been made public. It is worth noting that Mr. Foxman brought out Susan Rice to deliver a huge public ode to him at his farewell dinner this summer as he left the stage at the ADL. He may feel he owes her. But he can still respectfully dismiss her ridiculous allegations.
Ms. Rice has every right to promote the Iran deal if she thinks it's good policy. But playing the race card against a Jewish Prime Minister who believes it endangers the survival of his people, who have themselves experieced centuries of bigotry and slaughter, is outrageous.
Perhaps Ms. Rice will now follow the example I set in my own relationship with her and apologize to Prime Minister Netanyahu for uncalled for personal attacks. Saying he all but used the N-word is insulting and beneath her dignity. Apologizing would be the right thing to do and may help in revitalizing the relationship between the Israel and America which is so precious to both nations and vital to the security of the world.
Shmuley Boteach, "America's Rabbi," is the international bestselling author of 30 books including his upcoming The Israel Warriors Handbook. Follow him on Twitter @RabbiShmuley.