New York City foodies, fashionistas and film critics, your time is now.
On Saturday, October 24, Susan Rockefeller will launch her new jewelry collection, titled Food for Thought, Food For Life, along with a 20-minute educational film in conjunction with Food Day.
The annual movement, which inspires thousands of events across the country, evaluates our food system and encourages happy hour at the salad bar. Thanks to activists like Ms. Rockefeller, Food Day exposes the good, the bad and the ugly eating habits many Americans (myself included) tend to practice.
The film and jewelry collection are meant to promote a more beneficial food system and encourage sustainable agriculture. "Looking at the complexities of what goes on in the world, many people will say it seems overwhelming. But we all eat, and there's a power in personal choice," Ms. Rockefeller told the Observer.
The collection, which includes honeycomb bracelets and pitchfork necklaces, is elegant and message-inspired. According to Ms. Rockefeller, "You look and feel best when there's a certain sense of simplicity. The accessories are simple enough to mix and match for a layered look."
Like writer Stefanie Sacks, Ms. Rockefeller cheekily asks what the fork you're eating and whether or not it contributes to your personal health. She hopes the collection will spark important conversations about conscious food consumption and the impact it has on the environment.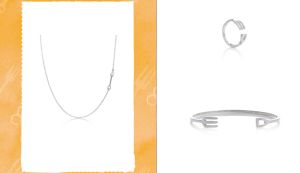 In collaboration with Sabin Metal Corporation, Ms. Rockefeller made all of her accessories out of recycled metals. "We went to the factories in North Dakota and upstate New York. Some of these metals were part of catalytic converters, so these facilities melt them down to get precious metals. Sterling silver accessories are available to order from the collection. Anyone who wants gold can request it," she told the Observer.
The film, which shares the same name as the jewelry collection, focuses on empowering the healing nature of agriculture and connecting people to farmers. On Saturday, it will be available to stream online at www.foodforthoughtfilm.com, so anyone can host a screening without licensing fees.
Ms. Rockefeller, who first started filming about a year ago, was inspired by the increasing number of obese and diabetic Americans.
"We were lucky to get a generous grant from the Ford Foundation, and already we have non-profit organizations and companies that want to use the film," Ms. Rockefeller explained.
Along with film partner Stone Barns Center for Food and Agriculture, a non-profit four-season farm and education center, Ms. Rockefeller encourages people to take a closer look at food and the land that it is tilled from.
"It's about learning and understanding what the land has to tell you."
"I'm on the board of Stone Barns, so many of the people that I interviewed for the film were part of the conferences we hosted. Stone Barns provides a vision for what is possible. I want to look at the national landscape and promote the growth of more localized food," Ms. Rockefeller explained.
The film includes cameos from important farm-to-table leaders, such as organic pioneer Fred Kirchemann, guerrilla gardener Ron Finley and renowned chef Dan Barber.
In terms of her own diet, Ms. Rockefeller considers herself a flexitarian. "It depends on where I am and where the food is grown. I also consider animals to be part of the equation, because it's important to make sure your food is grown humanely."
Over the summer, she harvests her own gardens in Long Island and Maine. During the year, when she travels, she keeps an eye out for local food. "I used to be a member of a CSA, which was a wonderful way to support local farmers. But now people can get fresh produce around markets all over the city," Ms. Rockefeller admitted.
She will also host a marketplace on Sunday, October 25th in Brooklyn alongside farmers and organic vendors. In addition to her jewelry collection, film, and food conversation moderated by Brian Halweil of Edible Magazine, the market place at Pioneer Works will host pumpkin painting and activities for children of all ages.
Ms. Rockefeller, hosting more of a Food Weekend than a Food Day, hopes people realize that even small changes can mean big things for the planet. "It's about learning and understanding what the land has to tell you."