Looking for something spooky to serve this Halloweekend?
There are pumpkin cocktail recipes galore, but instead, consider trying something scary or sweet.
With drink ingredients on hand, it's simple to create classic Halloween effects reminiscent of ghosts, blood and eerie full moons. But if fright isn't quite your forte, opt for a candy-inspired boozy beverage this Halloween.
The Qui-nut Butter Cup
2 oz. Qui tequila
1/2 oz. crème de cacao
1/2 oz. hazelnut liqueur
1/2 oz. dark chocolate syrup
1 tbsp. unsweetened peanut butter
Pinch of salt
Ice
Garnish with chocolate syrup and a mini peanut butter cup
Combine all ingredients in a blender. Drizzle chocolate syrup on the inside of a chilled martini glass and pour blended mixture to the top. Garnish with a mini peanut butter cup on the rim of the glass.
Grey Goose Diabolique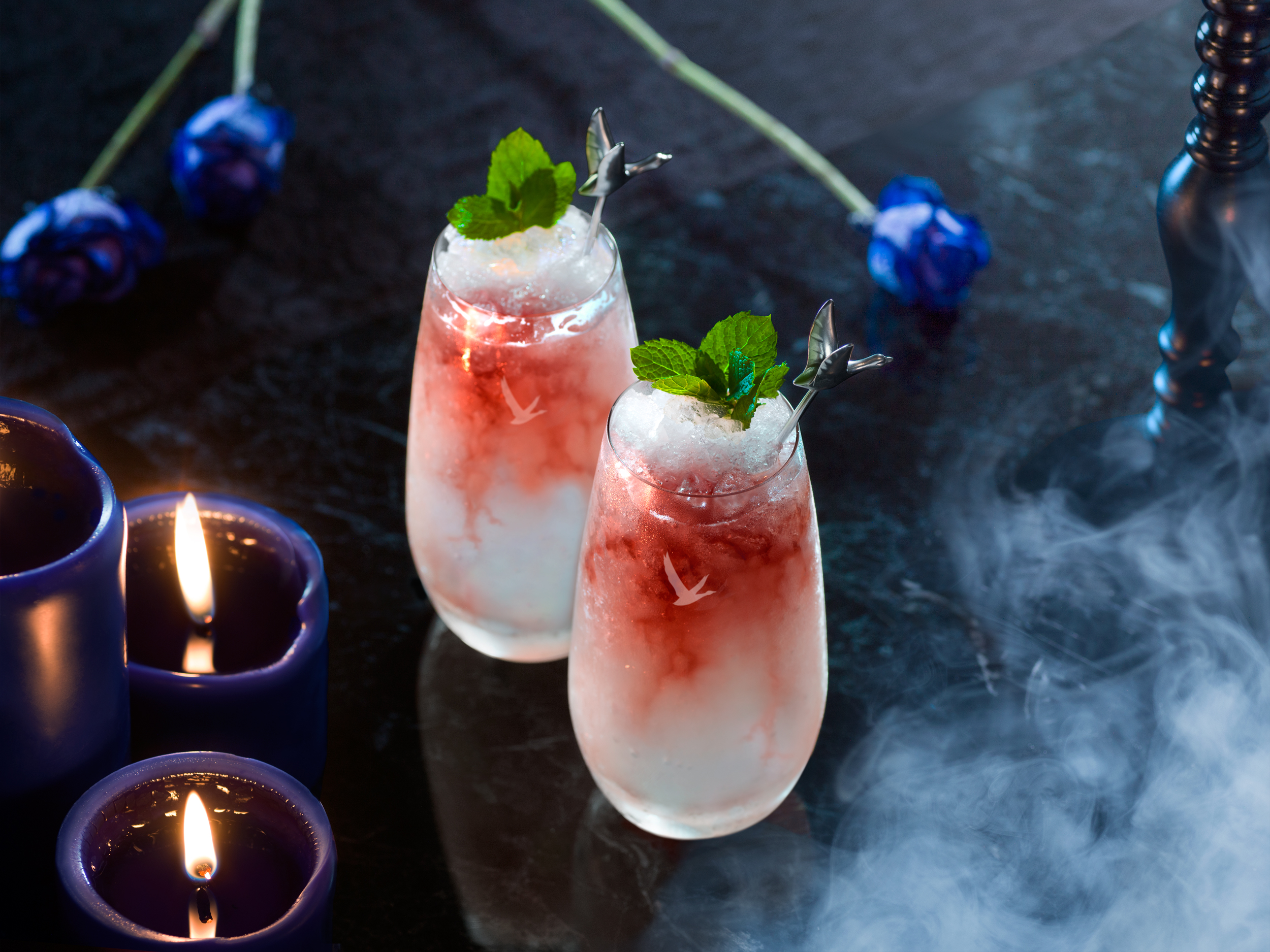 1.5 oz. Grey Goose Le Citron
1/3 oz. Cointreau
1/3 oz. fresh pineapple juice
3/4 oz. fresh lemon juice
1/2 oz. crème de mûre
Ice
Garnish with a pineapple slice and mint
Build all the ingredients apart from the crème de mûre in a mixing glass. Top with cubed ice and shake. Strain into a highball glass, then add a cap of crushed ice. Drizzle with crème de mûre and garnish.
Blood Orange Margarita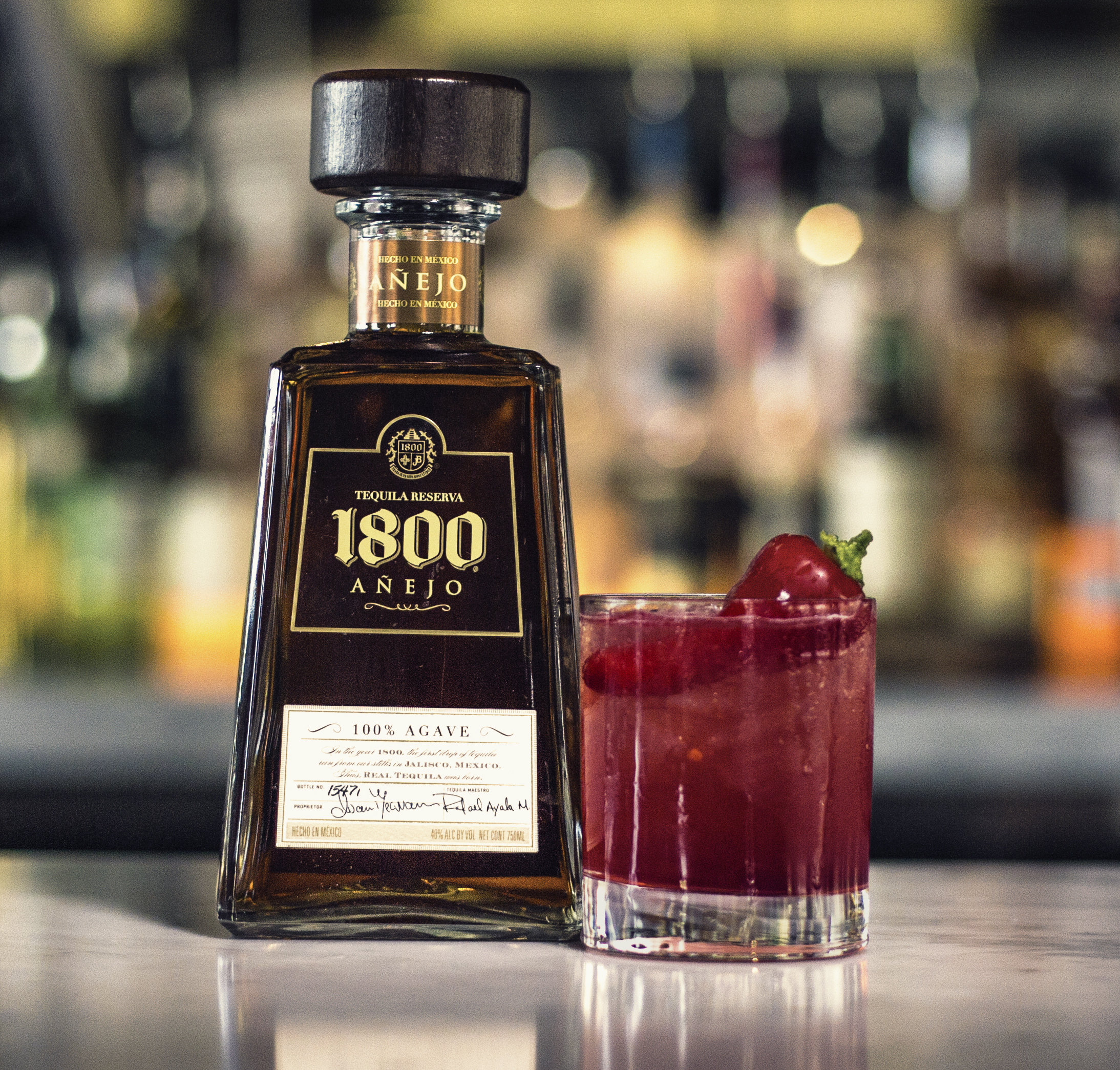 1 oz. 1800 Añejo tequila
2 oz. blood orange juice
Splash of agave
Garnish with chili pepper
Combine ingredients and serve over ice with garnish.
Maker's 46 Haunted Old-Fashioned
4 oz. Maker's 46
1.5 oz. pumpkin syrup*
8 dashes Angostura bitters
8 dashes orange bitters
Splash of soda water
4 orange peels, squeeze oil from zest into tin
Garnish with candy corn
Shake all ingredients with orange peels and then strain into pumpkin filled with fresh ice. Add orange peels for decoration and top with a splash of soda water and garnish. 
*Pumpkin syrup: Remove seeds from a whole pumpkin and cut into slices that can be juiced. (A small pumpkin will yield approx. 1 cup of juice.) In a saucepan over low heat, combine 1 cup pumpkin juice and 1 cup organic evaporated cane sugar with 2 whole cinnamon sticks. Heat until sugar is dissolved, let cool before using.
The Harvest Moon
1.5 oz. Hangar 1 Mandarin Blossom Vodka
3/4 oz. Amaro Montenegro
1/2 oz. fresh lemon juice
1/4 oz. honey
2 dashes grapefruit bitters
Orange zest garnish
Combine ingredients with ice, shake and strain. Garnish with orange zest and orange peel.
Jack's Lantern
2 oz. elit by Stolichnaya
1 oz. apple cider
1.2 oz. fresh lemon juice
3/4 oz. allspice spiked agave*
Shake all ingredients with ice and strain into an ice-filled highball or double rocks glass. 
*Allspice agave: Take 1 cup agave nectar and add 1/2 cup allspice powder. Mix until blended. 
Red Lady
1.5 oz. Nolet's Gin
1/2 oz. Combier
1/2 oz. Clear Creek Oregon Cranberry Liqueur
1/2 oz. fresh lemon juice
1/4 oz. simple syrup
Garnish with fresh grated nutmeg
Shake and strain into a coupe glass and garnish.
The Monster Mash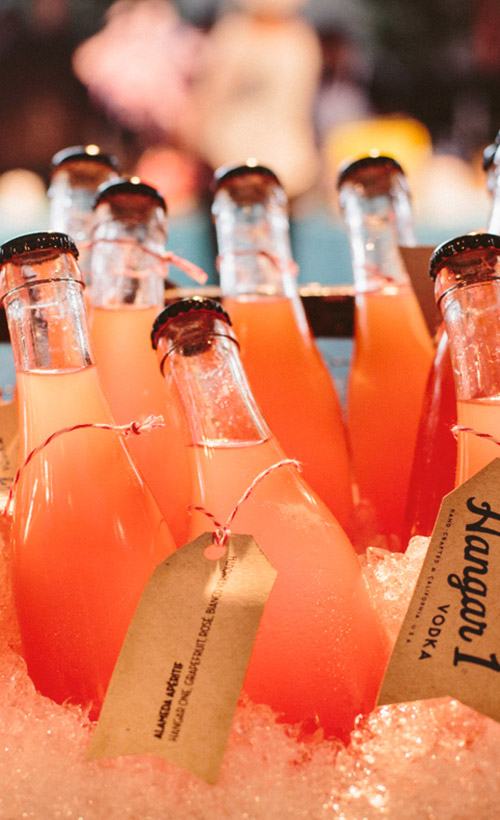 1 oz. Hangar 1 vodka
1 oz. fresh grapefruit juice
1 oz. Unti rosé
1/2 oz. bianco vermouth
1 oz. seltzer water
Combine ingredients and serve in personalized bottles.
Pinnacle Halloweenie-Tini
1 oz. Pinnacle Caramel Apple Vodka
1 oz. apple juice
Shake and pour into glass.
The Black Widow
2 oz. Diplomatico Reserva
1/2 oz. Amaro Lucano
1/2 oz. honey syrup*
2 dashes Angostura bitters
Garnish with an orange peel and grated allspice
Stir all ingredients and strain into a chilled coupe glass.
*Honey syrup: In a small pot over medium heat, combine 1 cup honey and 1 cup water and stir lightly until dissolved.
Lemon Lime Sour Critters Shots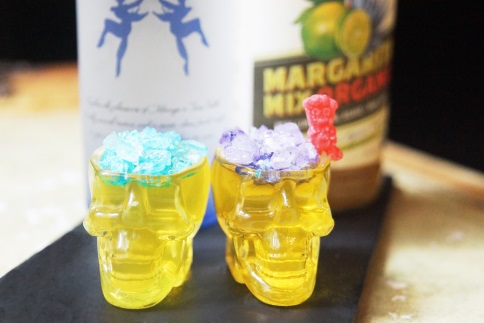 Makes 12-14 Jell-O shots:
5 oz. Ménage à Trois Vodka
5 oz. water
5 oz. Tres Agaves margarita mix
1 packet gelatin
Garnish with lemon lime rock candy for "brains"
Mix all ingredients until smooth. Pour into a silicon mold in the shape of your choice. Add 1 Sour Patch Kid to each mold and set in refrigerator until it becomes a gel.
The Frankenstein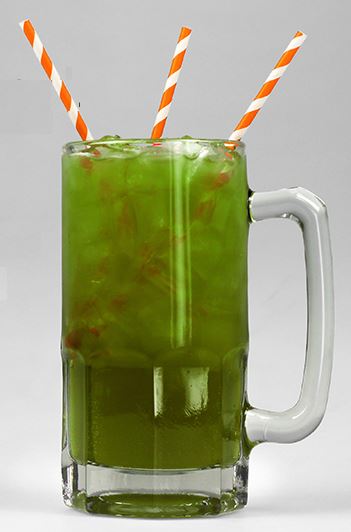 1 oz. UV Blue
1 oz. UV Citrus
1 oz. UV vodka
3 oz. lemon lime soda
3 oz. orange soda
Serve over ice.
Blood of Innocence
1 L Caliche rum
1 bottle of Martini & Rossi prosecco
16 oz. Ruby Port
12 oz. Curaçao
12 oz. fresh squeezed orange juice
12 oz. unsweetened pineapple juice
8 oz. fresh squeezed lemon juice
8 oz. light agave nectar
1 large block of ice
Garnish with 1 cup sliced strawberries, 2 cups large lemon slices and a handful of mint leaves
In a large punch bowl, combine the Caliche, Port, Curaçao, fruit juices and agave nectar, stir until well incorporated, refrigerate for at least 4 hours. When ready to serve, add the ice and garnishes to the bowl, gently stir in the prosecco. Serve in small punch cups.