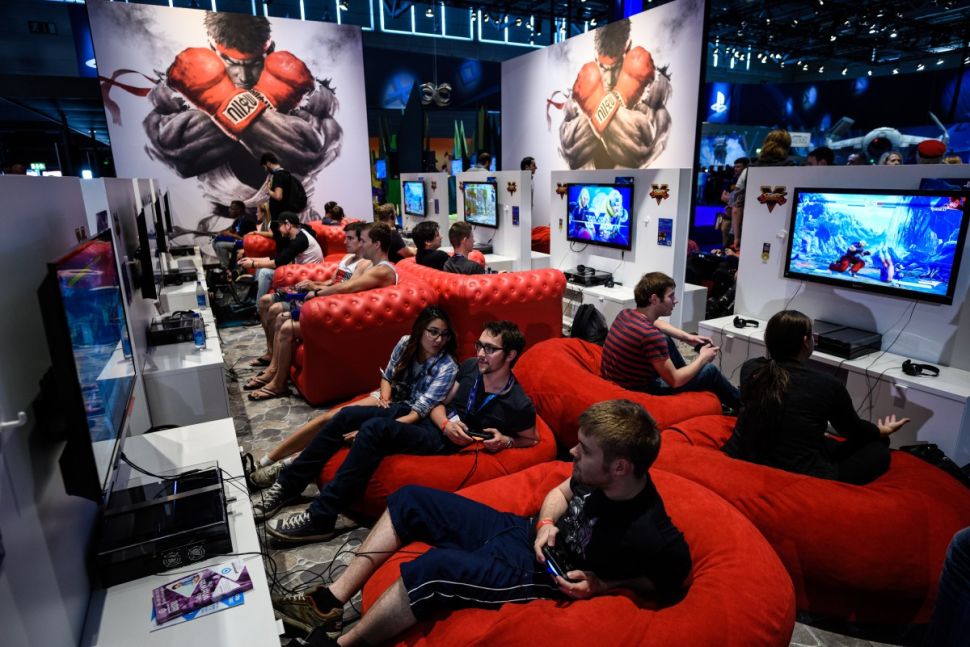 Is violence a topic on which the two sides facing off about the culture of video games could come together? Probably not, which is too bad, because folks on both sides denounce threats against public events on the topic.
In the latest, largest case of threats silencing a conversation about gaming, South By Southwest (SXSW), cancelled two panels on Monday around the online culture surrounding videogames, citing threats of violence, as Jezebel (and many others) previously reported. For anyone who still thinks videogames are kids stuff, the industry broke $100 billion in annual revenue in 2014, according to Statista, putting it right alongside the beer industry. That's grown-up business money.
Online video game communities and beer drinkers have something else in common: Most of the time, everyone gets along, but when they don't, it gets surly, even scary. However, if there's a bright side to the recent controversy, it's that a commonality appears to have emerged between the harassment camp and those advocating for more free-for-all discussion about issues in games (broadly speaking, GamerGate). Both groups get threatened with violence as a matter of course.
They both get doxxed. Venues that host either one are beset with aggressive warnings. Obviously, it's not good that they are both promised violence, but addressing that could be a starting point for the two groups to communicate with each other (about something, if not their core issues).
"Ultra PC language has become a strange form of self-censorship. Yes, it opens the conversation to previously disenfranchised voices, to an extent; however, it also limits free discussion," Nick Robalik, a "SavePoint" panelist and developer at Pixel Metal, via email.
Caroline Sinders, one of the organizers behind a cancelled panel, "Level Up: Overcoming Harassment in Games," wrote the Observer, "To our knowledge, no other conferences have cancelled over threats against any of us or panels before." While Perry Jones, the organizer of the panel in line with GamerGate, "SavePoint—A Discussion on the Gaming Community" wrote the Observer, "I respect their decision, and hope that our community will respect it as well and will be cordial when engaging with SXSW and their team."
Mr. Jones added that the group has always had an alternative plan, to hold a parallel event somewhere in Austin during the conference. However, one of the panelists, adult film star Mercedes Carrera, wrote the Observer, saying, "At the moment it hasn't been decided as to whether I will be attending #SXSW next year, although I'd still love to attend."
Brianna Wu, a prominent critic of sexism in games and the industry commented on Twitter after the announced cancellations:
While Ms. Wu was not slated to be part of "Level Up," she told CNN Money that had reached out to SXSW to offer suggestions around security, but her offers were not well received.
That squares with the account shared with the Observer from Ms. Sinders, who first alerted us to the GamerGate panel early this month. More on that below. Via an email from Ms. Sinders, another panelist, Randi Lee Harper, wrote, "We had talked to SXSW prior to this about safety concerns at our panel, and they seemed unconcerned at the time."
Those criticizing exclusionary behavior online aren't the only ones who get threats, however. When journalist Michael Koretzky organized an August discussion in Miami sponsored by the Society for Professional Journalists, called AirPlay, about issues raised by GamerGate, part of the day was cancelled due to bomb threats, as Milo Yiannopoulos, a Breitbart columnist and participant in the panel for team GamerGate attested during the events on Twitter:
The conversation didn't stop entirely. Many of the participants continued the conversation outside, as multiple redditors attest.
While the threats did manage to cut that conversation short, they proved to be empty. Members of both panels wrote the Observer that threats tend to be no more than words, yet it's not the first time a threat of violence has cancelled a related event. So far, no actual threats of violence have been carried out against either side.
Still, Mr. Koretzky doesn't fault SXSW for the cancellations. He wrote in an email, "I can't argue with SXSW's decision—AirPlay was just one little event, SXSW is a huge operation with huge risks."
GamerGate is a disperse cause. The Observer went to one place online where the community converses, its Reddit forum, Kotaku In Action, looking for any insight we could glean on the threats. We were told, over and over again, that no one on there had any information about who might be threatening the event, but that no one on there supported it.
SXSW has not replied to request for comment about who might be behind the threats or which panel seemed to incite the most hostility; however, the conference has apparently offered to reinstate the anti-harassment panel "Level Up: Overcoming Harassment in Games," according to Re/Code, which also reports that the conference is considering devoting a whole day to intimidating online behavior. This as Vox and Buzzfeed threaten to pull out of the event and members of Congress weigh in.
Ms. Carrera offered her own opinion about where threats might be coming from. "What I do find curious, however, is that they are allowing a panel by Chris Kluwe, who in the past has personally thrown racist insults at me and is on the anti-#GamerGate side. Given that his panel was not allegedly threatened, I believe it speaks to who the originators of the threats may have been."
Mr. Kluwe, a former football player, debated Ms. Carrera on the David Pakman show in May.
SXSW has really flip-flopped with regard to GamerGate. For example, there's no longer a description of the GamerGate panel on any of the SXSW sites, because it has been cancelled; however, you can still find the anti-harassment panel, "LevelUp," because it went through the panel picker process where the public can vote. All the proposed panels that went through the full process remain up on that site.
14Gb of trolling: the Patreon hack.
It appears that "SavePoint" never went through the public process, so to see its description, readers have to go to a cached page. While the Observer was unable to confirm this with SXSW, it appears that SavePoint was granted an exemption to the process other panels went through.
In other words, SXSW at first went out of its way to represent the GamerGate perspective, only to change its mind and boot another panel that had gone through the process besides.
Mr. Jones declined to comment on whether this was the case.
He wrote that the SavePoint panel's plan was to deal with the gaming community, gaming journalism and where it's all headed.
The "Level Up" panel, for its part, describes itself as a design panel (design in the user experience sense, not in the aesthetic sense). Ms. Sinders wrote, "Our panel was a solutions based panel around general digital harassment in a variety of abusive communities (including online gaming arenas) and how to use design to stymie that."
SXSW can be forgiven for interpreting it as anti-GamerGate, though, since one of its supporting materials, a SlideShare by Ms. Harper, critiques the cause on its fifth slide, directly.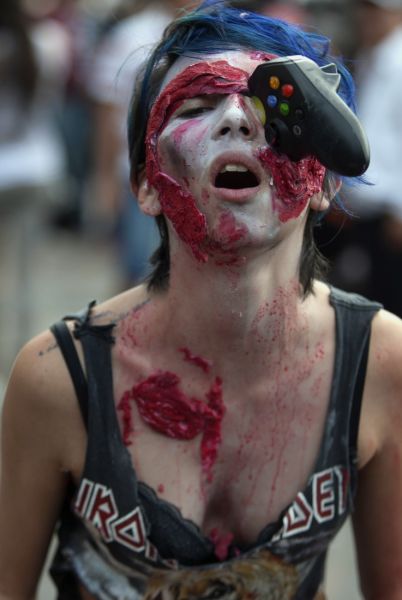 So the question is, can any ground be gained here. Whatever anyone believes about what each panel was really about, each one represents an entrenched position held by two large groups of people who oppose each other culturally and have very little use for each other personally?
It's hard to see any good coming from the present discourse.
Mr. Koretzky put it directly, writing, "Still, I believe the more people flinch at free-speech threats, the more they'll happen. At some point, we got to stand up to bullies and assholes—on both sides of the issue."
Ms. Sinders, whose family has been swatted, apparently because of her study of GamerGate's online discussions, wrote in one of her emails, "It really opens up a conversation that needs to be had in conference spaces. If conferences are going to to want to feature really in-depth talks on really hard issues, like harassment, (and these conversations need to happen), security needs to be a concern." When it doesn't seem that it has been, she wrote, "That's a lot of emotional negotiation on my part when deciding should I hold back or censor myself at an event that I have been invited to speak at."
So could that question, security, opposition to pranksters, threatmakers and trolls, be a common ground between the two camps?
Mr. Jones agreed that it could be, but added, "Though I fear the disconnect may be in one side claiming that their harassment has been 'far worse' than the others (and vice versa)."
Ms. Carrera took that same idea a bit further, writing, "Well, while that might be a worthwhile discussion, it's very difficult to have such a dialogue with people who use their victimization as a means to profit." She went on, "When you talk to anti-GamerGate their talking point is largely 'we are the MOST threatened/oppressed etc.'"
It sounds like the time isn't right yet for the two camps to open a six-pack and toast safe conversation together. Maybe someday that will be one way the beer industry can contribute to conversation about the one for videogames.
UPDATE: A previous version of this story inaccurately drew a connection between "Level Up" and the BlogHer conference. 11/2/2015 1:54 PM.