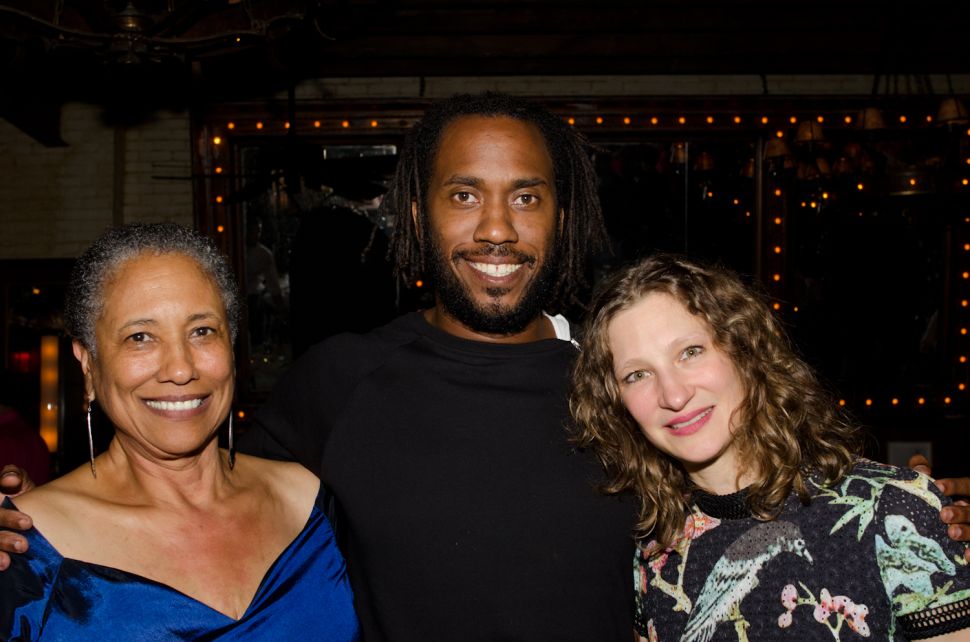 "Ask for Royce."
I did as I was told, and, at the bar inside downtown restaurant Dirty French, I was greeted by a tall, powerful and gorgeously dressed host/hostess. She recommended I get a drink, gratis, at the bar. "Don't mess up the place," she said through a wink, as I ordered my gimlet.
I had arrived on time, which in New York means that I was early, to a post-opening celebration for The Drawing Center's new Rashid Johnson exhibition, "Anxious Men."
The Brooklyn-based artist Mr. Johnson, who was born in 1977, is both a market and critical darling. His career blew up after his photography was included as part of the Studio Museum in Harlem's influential 2001 Freestyle show. Since then, he's been shown at the Whitney Museum of American Art and the Brooklyn Museum, among many others, and he has no shortage of collectors hungry for his work.
Some of them, mostly finance men, their wives and I hovered near the restaurant entrance, waiting for the man of the hour.
David Kordansky, Mr. Rashid's West Coast dealer, had flown into town from L.A. on Monday for the Frieze New York art fair selection committee meetings. "I never go out," he said. "But Rashid's my main man. Anything for him." The star dealer, one of those people who seem to consistently be dressed the way you want to be dressed, wore an oddly dapper charcoal fleece-and-slacks ensemble.
I complimented The Drawing Center show and he enthusiastically agreed. "I love the new work!" he said, but he wasn't the only one. "We were at the opening," chimed in a pair of uptown collectors near the bar "and we loved it." They each owned multiple Johnsons. They said it matter-of-factly, as if everyone should have multiple Johnsons at home.
But truthfully, everyone there seemed to like the artist's new work, which is always great for anxiety levels at these parties. Mr. Johnson's African shea butter soap on bathroom tile "portraits" were strong—and made for a nice escape hatch—from his previous abstract works. The swiftly scratched-and-smeared demon faces, drawn before the soap hardens, felt poignant—evoking either a beckoning, or an exorcism, of spirits. Perhaps both.
A jovial Mr. Johnson arrived and stopped to tell me the secret of life (well of showing art, anyway.) "The great artist Terry Adkins, who recently passed, told me before my first show 'always do something unexpected,' and so I always try to do something unexpected. That advice still rings true."
That element of surprise extended to the dinner, where the nonprofit 14+ Foundation was showcased, something different from the expected venal post-art opening affair.
Joseph Mizzi, co-founder of the charity group and co-host of the dinner, took time to explain that 14+, a cause which the artist and his lively mother Cheryl Johnson-Odim enthusiastically support, builds schools for children in Africa.
Indeed, the night also belonged to Ms. Johnson-Odim, the artist's beaming mom, dressed fashionably in electric blue. She contributed some writing to her son's catalogue, and noted she is very hands-on with the foundation, as is Julian's son Vito Schnabel. He co-hosted the event along with Rashid Johnson's other gallery Hauser & Wirth, Selldorf Architects (which announced it is building a school in Zambia for 14+) and, of course, The Drawing Center.
I was seated next to Candace Worth, a Drawing Center board member with 15 years as an art consultant under her belt. "Collectors love Rashid's work," she noted. "It's accessible and relatable while also serious and thoughtful—and he continues to combine surprising materials and media in interesting ways."
As the gin-smoothed evening wound down, it seemed as if an unspoken deal had been reached between the artist, his guests and the spirit world conjured up in his art. Industry, culture and charity came together and had gotten something done.
And hey, Royce, we didn't even mess up the place.