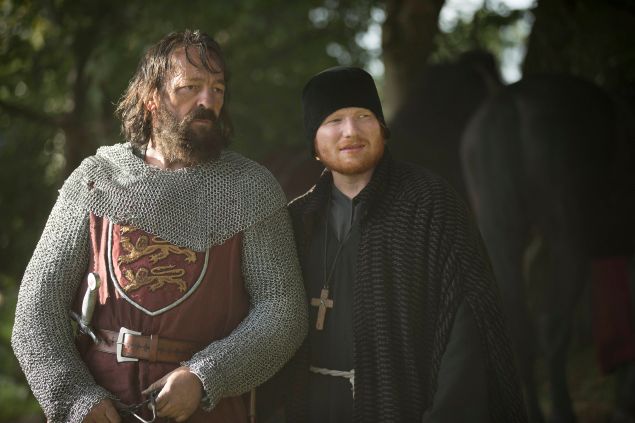 Hell yeah, the show is still running. We start with Wilkin Brattle's step-wife Jessamy happily telling him that his stepson will be a traveling punisher like him, because, despite Brattle's protests, it's their destiny. In the next scene, Baroness Ventris gets the royal decree that she's pregnant, so she gets to keep Ventrishire. After this is announced in town, Brattle tells Jessamy that he's going on a trip totally not related to generic rebel activity in the most unconvincing way humanly possible. He resembles famed shitty liar Lincoln Chafee in this scene:
Immediately after his shitty lie, Brattle and his pal get accosted by some menacing knights, who uncover their cache of weapons. The two village bumpkins destroy them in seconds. "We must take our revenge and leave!" rues Brattle, regarding the ancillary bodies he's piling up.
Elsewhere, the Baroness and her handmaiden go berry picking after the Baroness denies extra protection from her knights. Her handmaiden tells her one of them has a tiny nutsack and they giggle. I guess my greatest fear as a man is a big fucking joke to Kurt Sutter.
The guys who tortured the tattoo guy in the last episode (Ed Sheeran and his boss the archdeacon) plot on a trip to pursue the seraphim, which I guess is the name of the tattoo pagan guys. Continuing in the theme of vague supernatural crap, Annora puts some pomegranate in The Dark Mute's hands and says "They weel beegan their search at the caseel" to which The Dark Mute replies "yeah uhahhayes."
Brattle and Co. arrive at a rebel place where after being assured of safety in a somewhat ominous way, they're castigated for the fishing village attack a few episodes ago. We're threatened with more Baroness and handmaiden dialogue, but they get mercilessly kidnapped by the rebels we just met. It turns out they know each other. They have a past! They're half brother and sister! His name is The Wolf/Griffy (both are really stupid). They argue about the nature of rebellion, and while the Baroness is against the violent nature of it, she supports an independent Wales. After some begging, she agrees to give her useless brother money for his art project.
Jessamy, finally gets it drilled into her thick skull by Brattle that he's not really her husband.
Back in the supernatural crap realm, the priest who beat up a ton of rebels a few episode back and Annora exchange nonsense and bloody crap. Cool.
Jessamy tells Corbett that her husband's up to know good, leading to a tense talk with Corbett and Brattle. Brattle somehow has seen through Brattle's ingenious "we found your friends totally dead and we're different guys than the ones who killed them" ruse. He knows that he and his company are of the village who killed Baron Ventris. He offers them a deal, to be a force loyal to him that exist outside the law. If they don't become his Blackwater, they die. They can seek revenge, as long as they keep Leon Tell, the bowl cut knight, alive.
Brattle and Baroness Ventris have their most sexually forward conversation yet, as they admit they like each other. The episode closes with The Dark Mute darkly and mutely looking at a blade.
I remember when this show was announced, I thought it would just be Sons of Anarchy in 14th century England. I was totally right, but didn't know what that would truly entail. The confusing, hastily-fed overlapping plots of Sons of Anarchy sandwiched in-between musical montages of brooding and sexual psychosis weren't tied down by historical constraints and a bizarre supernatural plotline. Maybe it's my bad case of Jim Webb Fever, but I feel exhausted by all this.