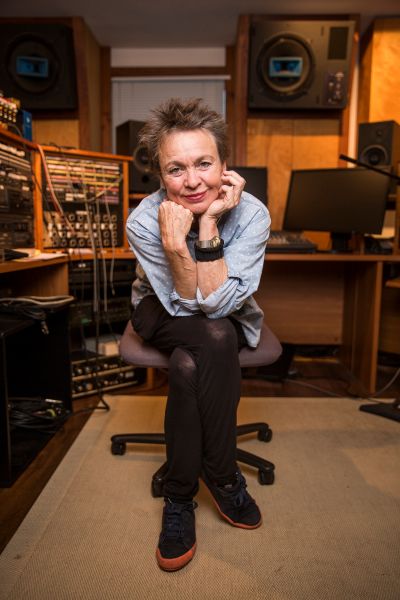 Heart of a Dog is Laurie Anderson's memoir in the form of a fantastical documentary film. The dog in question is the late Lolabelle, a rat terrier adopted by Ms. Anderson and her late husband, Lou Reed, who died in 2013. As did Lolabelle. The artist dedicated the film to Reed's memory.
Since the documentary's September premiere at the Venice Film Festival, Lolabelle has become the Benji of the independent film world—a star. Ms. Anderson hit the red carpets at the Telluride, Toronto and New York film festivals, and the movie is now playing at Film Forum (through November 3). If a dog's life wasn't bad with Ms. Anderson, a dog's afterlife seems pretty good, too.
The artist and musician's studio is on the far western reaches of Canal Street. In the documentary, we see the exteriors of the neighborhood—bleak building facades, empty streets—through the lens of surveillance cameras after the 9/11 attack as Ms. Anderson fled New York with Lolabelle for a calmer place.
The surveillance shots are one of a range of textures in the collage-like Heart of a Dog, which shifts from cloudy family photos to a hand-drawn imagined sequence of Ms. Anderson giving birth to her dog.
Today her low-lying building sits among dozens of new silvery monoliths. "Trump Tower on each side," she said.
Inside, up a creaky elevator, the atmosphere is like the collage overlay of her fragmentary film. A dog—a new one—races back and forth across a wide room, barking at anything that moves. The affable Ms. Anderson, hair tousled, eyes twinkling, is multi-tasking, signing hundreds of printed drawings from the film as she shifts among topics in conversation. The downtown star's meta-image is never too far away. When the drawings are done, hundreds of film posters await her signature. In the evening, there's a flight to Frankfurt.
"Isn't that just ridiculous?" she asked, holding a pen in her hand up for inspection, "and also, how fetishistic is this, to sign them myself, instead of easily giving them to Jim?" Her assistant, Jim, stood nearby.
Ms. Anderson, an energetic 68, was wearing a white T-shirt, on which "Luciano's Friends" was printed alongside a silhouette of Pavarotti. An homage to a fellow performer?
'It's a story about how stories work—how you forget your own story, how you repeat your own story, how somebody else's story gets plastered onto you,' she said.
Our conversation turns to yet another performer in the room: that dog, Little Will, a border terrier who rubs up against anyone for attention once he stops running. Ms. Anderson laughs a lot and talks to her dog as much as to anyone else.
She said she harbored no special attachment to dogs when a man who had just gotten divorced gave her and her husband Lolabelle. She credited Reed with convincing her to keep the animal that would share their life for more than a decade.
Reed has a flickering cameo appearance onscreen as a doctor. We also hear him sing his "Turning Time Around" over the film's final frames. If Reed was as awful as a recent tabloid-quoted biography suggests, we don't hear that from his widow in her memoir. (There's another Reed bio by Rolling Stone writer Will Hermes on the way.)
Ms. Anderson grew up outside Chicago, in Glen Ellyn, Ill. "As kids we had a lot of animals. We had every animal conceivable—dogs, cats, donkey, burro and a monkey." The squirrel monkey, an exotic pet for the Midwest, bit her brother, Thor, and died, Ms. Anderson explained. "My mother had to chop its head off and take it to Springfield to be tested," she recalled. Eager to get away from more animal mourning, I asked if her brother's name was really Thor. "It still is," she said, "we were Swedes and Irish."
Heart of a Dog draws on plenty of family history. "We were eight kids," she said, noting that her father was a salesman who eloped with the boss' daughter. Thinking of the many stories that she had to leave out, Ms. Anderson said, "it could have been a Balzac novel on film."
In Glen Ellyn, "winters there were deep, they were cold and deep," she recalls.
In Ms. Anderson's voice-over, as she remembers her days skating on the lake there, she also includes the haunting recollection of watching her younger brother fall beneath the ice. Faded and cracked photographs leave a lot of horror to the imagination.
"You're asked to look through a lot of lenses in this film—through a dog's eyes, through a surveillance camera, floating around without a body in the bardo (the Tibetan Buddhist realm between death and life). You're not identifying with a character in this film," says Ms. Anderson.
The film is just partly from the terrier's point of view. 'We did a lot of dog-cam stuff, but it was pretty boring footage: just people's crotches,' Ms. anderson said.
Of course, the main characters are Ms. Anderson and the late Lolabelle, plus supporting layers of friends and ephemera. "We did a lot of dog-cam stuff," Ms. Anderson said, "but it was pretty boring footage. It was just people's crotches." Ms. Anderson did manage to get some of that dog's-eye-view into the film, including an encounter with neighbor Julian Schnabel.
"We also shot a lot with drones for this film. We had five drones," she said, explaining that drones had been part of her live shows, although she never quite got them to work properly.
Some low-res drone shots, elegantly granular, are part of the mix of textures in Heart of a Dog. It was a low-tech enterprise, the star stressed.
"I shot a lot of it," she said, pointing past the stack of posters to a SONY 5D camera. "Hand-cracked eggs and house-made films—I did the animation, many hours of sound-mixing." She also drew the image of her late dog that she's signing—in black-and-white, suspended in the center of other figures in a scene that blends Tibetan cosmology with the tactile animal anguish of the work of artist Sue Coe. "I love Sue Coe," Ms. Anderson volunteered, as she signed another print of her Coe-inspired work.
It seemed a mystery that Ms. Anderson had waited so long since her last feature-length film, Home of the Brave (1986), to make another.
"I'm not a filmmaker. It's been a long time between novels, too," she said. "I did a concert film. I do a lot of films that are in shows, on multiple screens. But they're not narrative things."
A recent Anderson project in moving pictures was Habeas Corpus, at the Park Avenue Armory, a filmed visit with Mohammed el Gharani, who was arrested in Pakistan at 14 after the 9/11 attacks and spent more than seven years in Guantánamo before being released by order of a U.S. judge. Mr. Gharani appeared on video screens for the Armory audience during the three-day installation, speaking from a remote undisclosed location in West Africa.
In our interview, Ms. Anderson would not disclose where the former prisoner was. But Habeas Corpus could be called a film, she insisted. "In West Africa, it was basically a three-dimensional film project, building a studio and beaming this guy into the armory," she said.
In Heart of a Dog, she said, her spoken narrative was at the core of the visual experience. "Because I like stories, I think of mine as a collection of short stories." She explained that the film grew out of stories that she told in performances over the years. "So you could say that it started almost like radio."
"What it isn't is a story about getting to know me," she declared.
That seemed an odd way to view such a personal work. "I'm using my own life in this, of course, but I think of it as a story about how stories work—how you forget your own story, how you repeat your own story, how somebody else's story gets plastered onto you," she said.