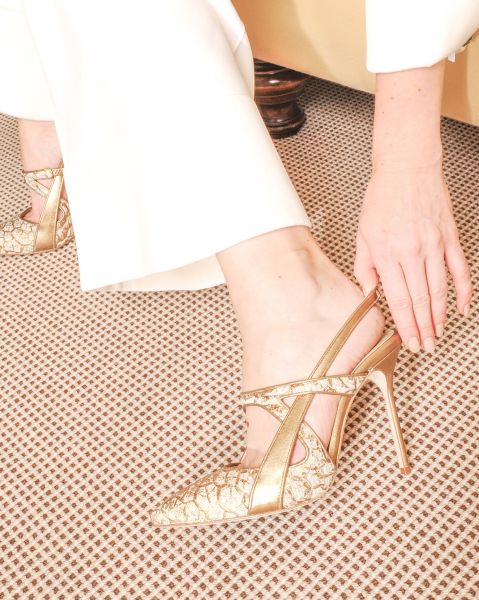 There is a story behind Sarah Flint's shoes that starts long before they pop up in a photo on Blake Lively's Instagram.
Ms. Flint's eponymous shoe line is an up-and-comer on the luxury footwear scene. A Massachusetts native with a lifelong dream of designing shoes, Ms. Flint studied at FIT, and then at Ars Sutoria, the famous Italian shoe design school. She launched her first collection in the fall of 2013, at age 24.
"I sold my first pair of shoes to a customer at Edon Manor boutique in Tribeca," Ms. Flint recalled. "She bought my Gustavia flats, a style I still carry today. It was an amazing feeling."    
Meanwhile, her fall 2014 collection made it to the Barneys on Madison Avenue, and by the advent of spring/summer 2015, her shoes had made it to Barneys' Boston, Chicago and online stores.
"I always imagined selling my shoes at Barneys, but seeing my name on a name plate on the floor of the Madison Avenue store was a surreal experience," Ms. Flint said.
Despite being new on the scene, her methodology is anything but. Handcrafted in a tradition-bound Italian shoe factory, Ms. Flint's flats, pumps, sandals and boots forgo flashiness in favor of simplicity and timeless elegance. The production process might be long and intensive, but for Ms. Flint, it is the only way to ensure top quality.
Her latest collection is filled with snakeskin, velvet ribbons, brocades, rich suedes and jewel tones. "It's almost medieval feeling," the designer said, "but very, very luxe."
The luxurious finished products begin, believe it or not, in her Manhattan apartment-turned-studio.
Whereas many designers start by sketching, Ms. Flint begins by experimentally constructing leather-working details with materials she has on hand. She started designing her Rosa boot, for instance, by twisting pieces of ribbon into a series of little loops. Sometimes she will try placing the handmade details on a last—the foot-shaped object that is the shoemaker's equivalent of the designer's dress form. Finally, she will take pencil to paper.
Next, Ms. Flint takes her sketches overseas to Richard Siccardi, the Ars Sutoria instructor she convinced to be her business partner after she graduated and conceptualized her shoe line. Together, they go through every detail of the collection, Mr. Siccardi telling Ms. Flint what he thinks might not work, or what could be done in a more creative way.
Mr. Siccardi sends the designs to a prestigious factory in the Italian city of Vigevano, where they enter the hands of a modalista—or pattern maker—who creates the collection's first samples.
Finally, it is time to try things on. Around a month after the patterns are submitted to the factory, Ms. Flint heads back to Italy to inspect the first prototypes. All are constructed in sample size 37, or a U.S. 6.5 or 7. Designers typically use fit models to test the prototypes, but not Ms. Flint—she is lucky enough to be a 37 herself.
The challenge sometimes lies in working with the modalistas, who more often than not come from long lines of Italian shoemakers with age-old ways of doing things.
"They really do know a lot because they've been doing this forever," Ms. Flint said, "but sometimes, to be innovative, you have to push it a little."
Eventually, the finished products get shipped to Ms. Flint's apartment.
"Usually, there are some things that are not what you wanted. Then you either decide: Is it good enough to sell, or do we want to make the corrections and sell it another season?" she explained.
Retailers place their orders—sometimes pressuring Ms. Flint to sell a shoe she is not 100 percent satisfied with. "A lot of times salespeople will push you to show it because they want that particular product. But then it doesn't sell anyway."
The whole process—from ribbon experiments to retailing—takes a year, at least. When the shoes finally materialize, Ms. Flint can hardly resist putting them on immediately. She points to the Sarah Flint shoe on her foot: the Camilla, a suede flat with velvet strings that tie around the ankle.
Despite churning out yet another stunning collection, there is one stamp of luxury Ms. Flint has yet to attain: getting her shoes in the hands—or on the feet, rather—of Kate Middleton.
"I love her style—she's timeless, elegant and confident," the designer mused. "We've sent lookbooks, but they just get returned in the mail."