When Brendon Babenzien hosted friends and press Wednesday night to debut his new Noah shop in Nolita, it felt like a house party. Guests were lounging on the comfortable, brown leather quilted couch, the crowd spilled out into the sidewalk when things got too warm inside and finished beer bottles lined the glass table. Sure, attendees were standing around a collection that included a sheepskin leather toggle coat, sea blue corduroy shorts and a sharp, striped double breasted blazer, but it was surprising that no one called out "party foul" when a beer was tipped over.
"I like to keep things pretty chill," the former Supreme creative director laughed. "It would be nice if it was more chill, less cleaning to do! We just wanted [the party] to be personal and not huge, that wouldn't make sense for me. It's a family business so we just wanted people we knew, and friends of friends." That meant the space on Mulberry and Kenmare was filled with longtime supporters of Mr. Babenzien's work at Supreme, including editor Jian DeLeon of Complex, as well as Ryan Babenzien, the designer's brother who mans his own shoe company called Greats. Sam Ben-Avraham, the owner of menswear destination Atrium and founder of Liberty Fairs and the PROJECT trade show was also present, as was Mr. Babenzien's wife, Estelle, who had an instrumental role in the 800-square-foot space.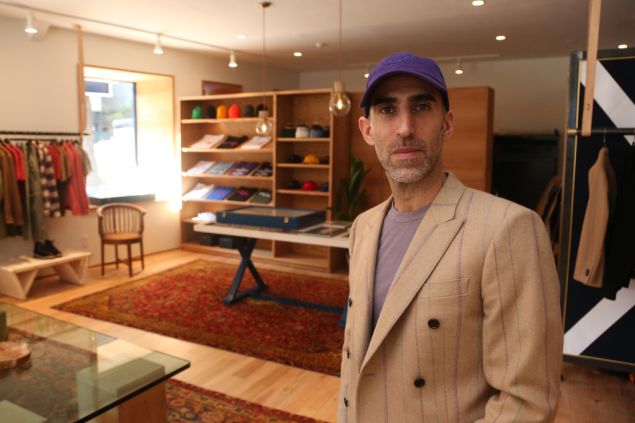 "My wife did all the interior and all the design, " Mr. Babenzien admitted. "We talked a lot about how I came up as a kid and how I worked in a surf shop when I was younger. That was a cultural center where people came and hung out. I wanted this to feel welcoming and not like you have to come in, buy something and get the hell out." In fact, when customers funnel into the store today, they may find themselves confused to find the space devoid of a cash register. Similar to Apple stores, all transactions at Noah will be completed over iPad.
What shoppers will find is racks dangling from leather straps, including pieces like that aforementioned toggle coat, which was a product of a collaboration with Schott.

"This is just something I really wanted honestly and I have a relationship with Schott," he said of the piece. "But it's not in the works do a ton of collaborations. If someone is doing something really well and we can't do it ourselves, we'll go to them." Also look out for low-impact beanies and T-shirts which retail at $48. The offering is rounded out with boot styles from Paraboot, bandanas from Shin Murayama and belts from Smathers & Branson. "We really want to highlight [those other brands] as much as we want to highlight our own because we think they are doing things really well," the Long Island-native said.
The designer says he doesn't have concrete plans for new releases, only launching product when it feels right. Fans should stay tuned to the brand's social media channels for news and keep their eyes out for a blog to be launched next week on the company's website.

According to Mr. Babenzien the blog will be an important endeavor: "I think there's so much behind the ideas, that [have] lead up to this that we want to share with people. We want them to understand why we do something or the music that inspired it. The website and social media are great vehicles to do that." In a sense, it is an attempt at welcoming everyone into the family.

Back at the opening party, Mr. Babenzien's wife had gotten everyone's attention to thank them for coming. "It's really exciting to see this finally happening!" she said. When she finished there was a bit of clapping and then cake.

Because at family gatherings, there's always cake.