Cocktail ace Julian Cox is the most prolific barman in Los Angeles. Mr. Cox created drinks programs at restaurants including Bestia, Republique, Barrel & Ashes and more than a dozen other hotspots—but until this month, didn't have his own bar.
To get to The Fiscal Agent—which officially opened October 21 above Barrel & Ashes in Studio City—one first must negotiate past a doorman, then through a dimly-lit alley and up a steep flight of stairs. Mr. Cox and his team of veteran bartenders (Nick Meyer, Dave Kupchinksy, Kristina Howald) are going for baroque in this 35-seat lounge, crafting wildly inventive concoctions that are at once brand new and familiar sources of comfort.
My companion ordered a Byrrh Bank with Byrhh, Diep9 Young Genever, Gran Classico and Amère Nouvelle. She picked it, she admitted, because she wasn't familiar with any of the ingredients. After one sip, she was pleased to report it was a badass Negroni variant.
It's like a California-cuisine version of a tiki drink. It's marvelous.
I started with the expertly-balanced sweetness, bitter notes and heat of the Tequila Para mi Amante, with strawberry, Vermouth di Torino, Tequila Ocho, acid phosphate and bird's eye chili. I followed with the Silly Rabbit: carrot, Denizen white rum, banana, coconut and kaffir lime foam—the first I've had a root vegetable in a tropical cocktail. It's like a California-cuisine version of a tiki drink. It's marvelous.
While there were 10 cocktails on the menu that evening—five shaken, five stirred—it is no surprise Mr. Cox and his friends have an arsenal of other staff-designed drinks to try. Whether you're at the bar or a cozy banquette, be sure to ask what's available off-menu.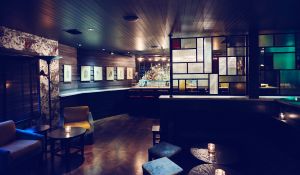 The Fiscal Agent is a collaboration with restaurateur Bill Chait, who's been working closely with Mr. Cox since the 2009 opening of Rivera (which has since turned into Broken Spanish). Mr. Chait also runs BBQ joint Barrel & Ashes as part of his rapidly-expanding restaurant empire, so it's no surprise that Barrel & Ashes chef Michael Kahakina made the food menu for The Fiscal Agent. The dishes are globally influenced and as boundary-free as the drinks. Peruvian scallops are served with cilantro, cucumber and nước chấm. Arancini feature preserved lemon, smoked tomato and crispy sage. Sweets include tiny and perfect chouquettes filled with pastry cream, chocolate and fruit.
In many ways, The Fiscal Agent already seems like the L.A. equivalent of New York's ZZ's Clam Bar. They're both intimate, exclusive hideaways on highly trafficked blocks. They're both operated by their respective city's most dramatically growing restaurant group. Both serve good food. Both showcase a crew of accomplished mixologists who can skew as traditional or unconventional as their patrons prefer.
Of course, ZZ's is in Greenwich Village, and the fact that what could become L.A.'s foremost cocktail lounge is in the Valley might seem odd to some. But it's not any more improbable than the fact that Barrel & Ashes downstairs is led by two chefs who use to run kitchens for Thomas Keller: Timothy Hollingsworth from The French Laundry and Rory Herrmann from L.A.'s Bouchon. With buzzworthy newcomers like Barrel & Ashes and Maradentro joining established but still evolving neighborhood favorites like Firefly, this stretch of Ventura Boulevard was making a case as the next Abbot Kinney even before Mr. Cox opened here.
Venice's Abbot Kinney was named "The Coolest Block in America" by GQ in 2012, and its two-three punch of Gjelina, The Tasting Kitchen and the Kogi truck that's often parked outside The Brig remains unassailable. But it's never had a bar as cool as The Fiscal Agent. Val party!
The Fiscal Agent is open Wednesday through Saturday from 7 p.m. until 2 a.m., with food served until 1 a.m.