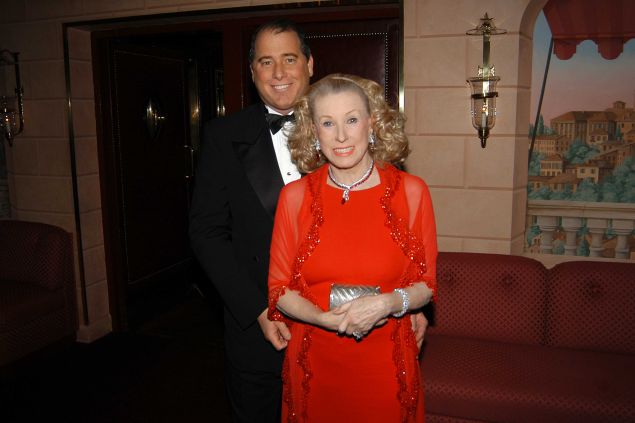 In 2009, 89-year-old socialite, heiress, philanthropist, and horse-racing enthusiast MaryLou Whitney sent out a Christmas card with her husband, a 50-something John F. Hendrickson, which included bits about one of their thoroughbreds, a self-mocking quip about the age gap between the couple, and a photo of the Sherry Netherland hotel, with the headline "We've moved back to NYC!"
It would appear that the couple did not put out such an announcement this year, as public record is the only notice we've received that they've parted ways with their one-bedroom, 1.5-bath unit at 781 Fifth Avenue; Gary and Nancy Dicrease purchased the co-op for $2.35 million.
The widow of Cornelius Vanderbilt Whitney, Ms. Whitney developed the same penchant for thoroughbred racing as her late husband and his family. She even has the distinction of being the only woman to have bred and raced a Kentucky Oaks winner.
Ms. Whitney owns a number of other homes, including a camp in the Adirondacks, a farm in country, a winter home in Florida, a home in her husband's home state of Alaska, and of course, her main residence, a twenty-one room mansion called Cady Hill, in Saratoga Springs.
The co-op's new owners, Mr. and Mrs. Dicrease, also hail from Saratoga Springs, per public record, so perhaps Ms. Whitney told personally sold them on the wonders of her city abode, as the apartment was never actually listed. However, the listing from 2009, when Ms. Whitney and her husband purchased the apartment for $1.8 million, promised a "wonderful grand parlor has exquisite gold leaf detailing," tall coffered ceilings, and a decorative fireplace with a carved Italian marble mantle.
It's unclear if Ms. Whitney and Mr. Hendrickson have opted for another apartment elsewhere in the city, but since Christmas is in just a few short months, perhaps the answer will soon be made clear via another cheeky holiday card.