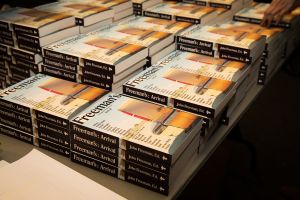 John Freeman makes me nervous. Writer, literary critic, former editor of Granta and former president of the National Book Critics Circle, Mr. Freeman has clout. And he gives good Facebook. For weeks he's been doling out juicy bits about the literary elite as status updates—stories of some of the world's revered writers and how they've arrived in the pages of Freeman's, a new eponymous literary magazine underwritten by Grove Atlantic (Mr. Freeman said that Morgan Entrekin, Grove's president, "didn't even blink" when Mr. Freeman proposed the risky venture of putting out a literary print journal).
I've been swallowing Mr. Freeman's posts whole like they're the last of summer's nectarines, gorging on the story about he and Israeli writer Etgar Keret at a bar in Japan; the goofy picture of ancient Greek scholar Anne Carson, hamming it up for the camera; and how Mr. Freeman met Jamaican contributor Ishion Hutchinson at a PEN event in 2010 that Mr. Freeman acknowledged he would've found boring otherwise. Mr. Freeman is not afraid to reveal that the self-assured geniuses of contemporary literati are, in fact, breathing human beings—and as it turns out, this is exactly his aspiration.
And how fitting that the theme of the magazine's inaugural issue, which was celebrated last week at The New School's packed auditorium, is that of arrival itself.
Upon arrival at the launch, I felt crushed by an affliction not uncommon to emerging writers here: the clammy desire that just one of the power brokers present gives me even the slightest acknowledgement that I exist. Before the event, I had asked Irish writer, Colum McCann, winner of the 2009 National Book Award for his novel, Let the Great World Spin, and one of Freeman's contributing writers, when he knew he'd "arrived." Mr. McCann replied that "a writer never arrives … If you think you've arrived, you've just disappeared." Gee, O.K. How then do young writers typically "arrive" or "depart" from New York's literary scene? "They generally arrive by bus and depart in a box," he joked.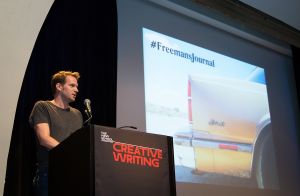 Great. But I want so badly to be seen. Women and men wearing tortoise-shell eyeglasses kissed hello as the auditorium filled fast (the event was sold out). Mr. Freeman, though, didn't seem fazed as he milled about the lobby with one hand languidly hanging from his jeans' pocket. His acolytes lined up to him to get a word in edgewise before festivities began. What's weird is that while Mr. Freeman doesn't seem afflicted by a desire to be accepted, he does seem to get what it is to want to be seen. He wants writers to be seen. He believes in the stories they tell, saying they're "what people are left with when things go bad. [Storytelling] is how people make sense of the world, it's how people narrativize their life. It's how people relate to one another."
Freeman's was created with this in mind. While the roster of writers included in the first issue is impressive—in addition to Mr. Keret, Ms. Carson, Mr. McCann and Mr. Hutchinson, you'll also find the likes of Haruki Murakami and Dave Eggers—and the stories they tell in Freeman's feel like hands reaching out from the ether to save the reader from everyday life, they connect. And the fact that so many of the contributors hail from other nations only amplifies that connectedness. Jamaican writer Garnette Cadogan, Icelandic writer Sjón, British-born Nigerian writer Michael Salu, and many more—"I don't think of that as, 'Ooh, I'm in the World Music section of magazines,' " explained Mr. Freeman, "I just feel like, these are the good writers."
Freeman's is very much like New York, a melting pot where folks can be themselves. And isn't that nice? "One thing that I think is peculiar about living [in New York] is that it's a city that's often celebrated more by the people outside of it than in it," Mr. Freeman said. "We're just in it, living. The world comes to you, living here."
The world has certainly arrived in the pages of Freeman's. After an evening of hearing from eight contributors during the launch, I felt better about wanting to be accepted. This vulnerability, after all, is what it is to be alive. Just as Mr. Cadogan said when the evening began, "Arrival is reaching a place but also trying to reach."
But what happens after arrival? Especially when, existentially speaking, one never actually arrives? After the launch, as I walked down Avenue of the Americas en route to a Village bar where the esteemed drank plain-old beer, I asked Mr. Freeman the corniest of questions: "Has Freeman's now arrived?" He said it won't for him until he sees someone who isn't a friend holding the magazine. Considering that Mr. Freeman knows everyone, that seems like a tall order.