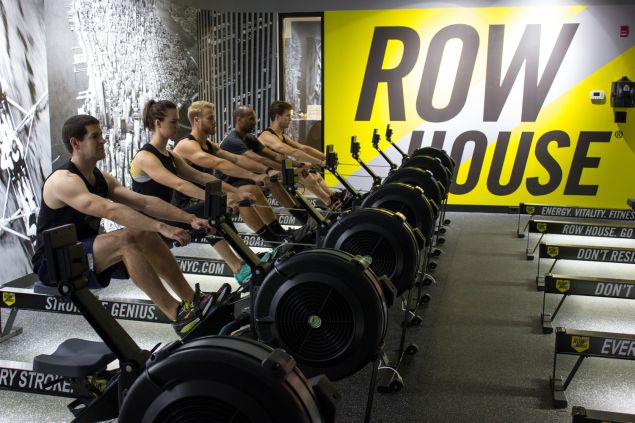 Just after noon, the women began trickling into the boutique workout studio—a sleek, high-ceilinged loft overlooking Fifth Avenue and Union Square. Clad in a rainbow assortment of trendy activewear, the clientele could easily be mistaken for the SoulCycle set. But this was no spin class—this was CityRow. Instead of stationary bikes, the group would be breaking a sweat on the rowing machines installed at intervals across the floor.
That particular class was "CityRow Flow," wherein athletes spent the first part of class on their rowing machines, and the latter on neighboring mats doing Vinyasa yoga. Other CityRow classes take interval-based rowing routines and incorporate weight training or restorative stretching.     
CityRow founder Helaine Knapp never imagined she would start a group rowing studio—or that she would get into rowing at all. "Rowing has a negative connotation—it's that dusty machine in the corner of the gym," Ms. Knapp told the Observer. "That's what I thought of, as a 26-year-old female in New York."
But when an injury sent the then-cycling addict in search of a lower-impact workout, some former trainers recommended she try rowing. Despite her initial hesitation, she tried it—and fell in love. "I couldn't get over the fact that rowing was so good for you," Ms. Knapp gushed. "Every single stroke uses 85 percent of your muscles, it's low-impact and it torches calories."
Then Ms. Knapp wondered: was there an appetite out there for a group rowing class, much like the spinning and boot camp classes she and her friends frequented? She created a website to assess public demand, promising herself that if she hit 300 sign-ups, she would start CityRow. She received 1,500, and CityRow opened its doors in January 2014.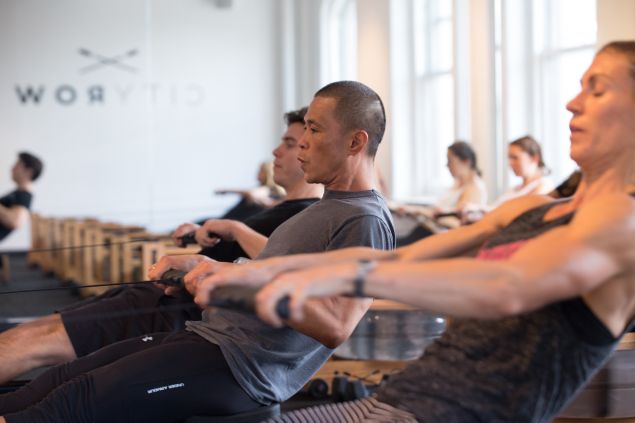 The fervor for group rowing classes has only continued to grow. Next month, CityRow will open its second location: a 2,700-square-foot space on the Upper East Side. Another boutique rowing hotspot, Row House, last week opened a gorgeous location in Chelsea, adding to its pre-existing studios in Columbus Circle and on the Upper East Side—and still has plans for further expansion.
The time is ripe for indoor rowing classes to hit their stride (or stroke, rather), Row House's founders, husband-and-wife duo Eric Von Frohlich and Debra Strougo Frohlich, told the Observer. The pair stood proudly in the lobby of their new Chelsea digs—the studio itself a dimly lit, club-like room where rows of athletes worked their ergs in unison, in-sync, or so it seemed, as an Ivy League crew team.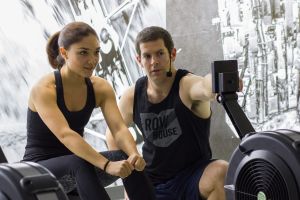 It was five years ago that Mr. and Ms. Frohlich first wanted to open a rowing gym, but at the time, SoulCycle and yoga were "taking up all the oxygen," Mr. Frohlich said.
Fitness trends have life cycles, and eventually, the couple sensed the cycling craze was growing stale. "People went through that period," Mr. Frohlich said, "and then asked, 'Now what? My body's not getting the results I want.' "
When it comes to delivering a true full-body workout, spinning pales in comparison to indoor rowing, the Row House founders attest. While the former mostly targets the lower body, rowing works nearly every muscle with every stroke—from the legs working to propel the body backwards, to the arms and back working to pull the handlebar toward the chest, to the core working to keep the body stable. Mr. Frohlich, a former spinning instructor, knows it firsthand.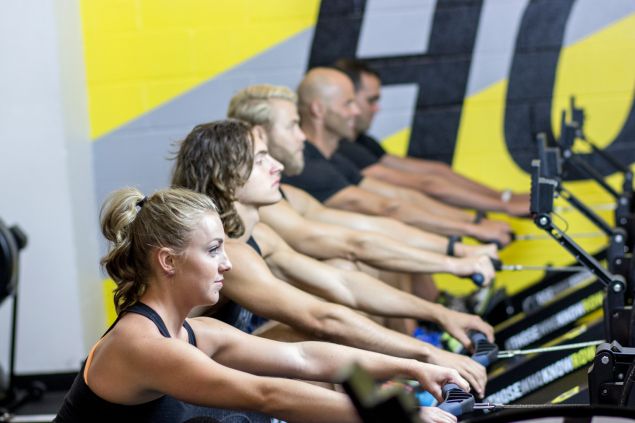 "When I was teaching a lot of spin classes, everyone was attributing my level of fitness to cycling," he said in an earlier phone call. "They were thinking, 'You're in amazing shape, it must be the cycling.' But that was just a piece of it." After class, he would have to explain that he was supplementing his cycling workouts with CrossFit, kickboxing and other sports.
To their credit, spin studios have put forth an effort to make their workouts "full-body." Today, most incorporate short strength-building sessions at the end of class—though they usually consist of tired, panting riders half-heartedly attempting bicep curls with tiny hand weights.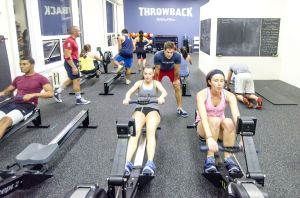 "Everyone turns their attention down when they do that part," Mr. Frohlich said. "It all gets thrown out the window when you pick up your little three-pound weights."
"[Row House] is a full-body workout," Ms. Frohlich said over the phone, "because the entire duration of the class, you're working your full body."
That efficiency factor is the reason Brian Gallagher and Ryan Wilke incorporated rowing machines into Throwback Fitness, their boutique Midtown workout that combines middle school phys-ed class with '80s and '90s nostalgia. Guided by "coaches" wearing whistles and tall socks, participants play dodgeball, jump rope and row on the ergs positioned in the center of the room.
"We think it's the most effective machine you can use, and offers the most bang for your buck," Mr. Gallagher told the Observer. "It's a strength-building and cardio machine wrapped in one."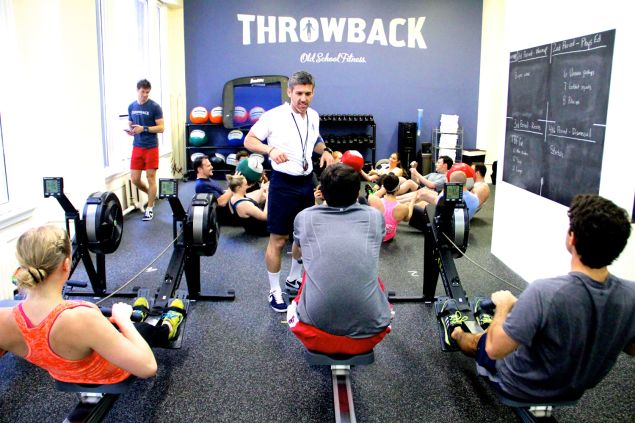 At Throwback Fitness, attendees can expect to pair up with a fellow athlete for a gym class-style relay: as one partner rows, the other might do push-ups, sit-ups or jump rope. When the rower canvasses a pre-determined number of meters—trackable via a small screen on the front of the machine—the partners switch spots.
"It's a full-body movement and is the most physically taxing of the machines used for improving aerobic conditioning," Mr. Gallagher said. "It also provides a great way for us to track the competitive element in our classes."
The rowing machine has not always been gym-goers' most clamored-after piece of exercise equipment, as CityRow's Ms. Knapp pointed out. Does Throwback Fitness get many clients who have never used a rowing machine before, we asked Mr. Gallagher?
"We see a lot fewer than we used to," he said.