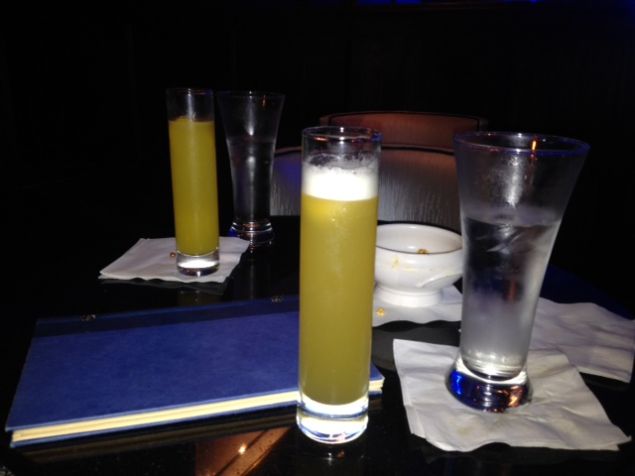 The Algonquin is not one of my usual haunts. In fact, I don't think the Algonquin has been anyone's usual haunt for quite some time. But its status as a favorite of a long-dead but highly illustrious literary crowd—Dorothy Parker, George Kaufman, Sinclair Lewis, et al.—and reputation for expertly-made classic cocktails in a clubby, comfortably old-fashioned atmosphere have endowed it with an allure rare for the Midtown bar scene.
And so I recently suggested it as a fitting place to celebrate a friend's birthday. If memory served us right, the drinks would be stiff and the prices steep, but we reasoned that, after all, a special occasion or an expense account was necessary to justify $22 cocktails.
Walking in, it became clear that despite the abundance of Al Hirschfeld drawings and be-vested union waitstaff, the "Blue Bar" had largely ditched the traditional vibe. We debated whether the blue bar was bluer than it had been before—the entire room was hued an aggressive neon that would have evoked a nightclub if not for the stodgy furniture and late middle-age crowd. (The hotel did go through a major overhaul in 2012 but the bar's interior hasn't been changed more recently, a Marriott spokesman told us). The menu provided another surprise, this one pleasant—the majority of cocktails on the now pared-down list were a mere $17. Still expensive, to be sure, but it's basically unheard of for any Manhattan institution to lower its prices.
The arrival of our drinks—I ordered an Algonquin (rye, dry vermouth, pineapple) and my friend a Matilda, a concoction of vodka, cointreau, orange and lime juices topped off with champagne—provided the evening's third surprise: they were served in elongated high ball glasses, which resembled nothing so much as part of a beer flight of Shock Top. Mine, a shaken cocktail, even left a beer-like residue of foam on the walls of the glass, threatening to wreathe my upper lip every time I took a sip. We confirmed with our server that these were in fact cocktails, our cocktails.
I gazed around the room of business travelers and tourists to decide where to settle my envy, but saw nary a martini glass. Some patrons were even drinking from mason jars. What the hell was going on?
"My job here is to keep this place viable long-term. If you only cater to the silver-haired older crowd, then your crowd will be gone in 10-20 years. If you only cater to the younger crowd, the older people won't come in anymore," executive chef Jon Lovitch told of us of his recent reforms to the glassware and bar menu when we talked a short time later. "I wanted to take a legendary bar and take it from a hotel bar to one that is trendy."
Mr. Lovitch credited a canvass of trendy bars with his decision to abandon traditional glassware for mason jars, stainless steel mugs and wine glasses crafted from beer bottles with the tops cut off. "If you go to these bars, alcohol is coming out in the most random things you've ever seen—wine in rocks glasses, martinis in mason jars, beers in things that look like lightbulbs. Getting away from stemware is a very nouvel 2015 trend. I knew I was going to get my ass kicked by my customers, but that it would stick and create an identity all to ourselves; 1,500 bars do good Ketel One martinis. How are you going to differentiate? By the glassware."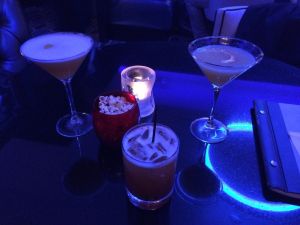 And get his ass kicked he has. Mr. Lovitch, a Kansas City native who previously helmed the food and drink program in the Brooklyn Bridge Park Marriott—he assured us that we would not find edgy glassware at any of the hotel's other franchises—said that while he's seen some very positive feedback in person and online, neither the long-time bartenders, waitstaff or clientele have embraced the mason jar trend with much enthusiasm.
"I had one guy tell me, 'I won't drink here anymore unless you give me a rocks glass,' " he said of one client's response to being served whiskey in a mason jar. But the bartender had actually used the wrong glass—whiskey on the rocks is supposed to go in a steel julep cup. When the drink was transferred, "he was like, 'Okay.' "
So did he come back?
He did! But he demanded his rocks glass again. "And I had to break his heart and tell him I'd gotten rid of the thing."
Mr. Lotvitch also got rid of the martini glasses.
"I've gotten a few comments on Yelp that are really supportive, others are like, 'You really can't serve me wine in a normal glass?' " he said, arguing that no one during the prohibition era was drinking from stemware anyway.
Mr. Lovitch said he's also trying to phase out major brands like Maker's Mark and Absolut in favor of more local spirits like Widow Jane. Nor will you find Amstel or Bud Light on the menu—they keep a few bottles in the back for people who insist, but waitstaff have been directed to discourage customers from ordering them. He claimed that the Algonquin is now Coney Island Brewery's biggest bar customer in the city.
He's also made the bartenders use jiggers to stop heavy pouring—"they told me, 'the customers like it, they're not going to come back.' Bullshit,"—which has cut costs, but he said that the drinks were "expensive for no good reason" before; now all the cocktails are priced between $13 and $19. (Oddly, one drink not phased out is the $10,000 martini served over a diamond, whose glassware is, if you feel that you just must have traditional stemware, customizable.) "Literally no one has $20 cocktails except the Plaza."
And for all the complaints, Mr. Lovitch insists that after a year of so, the clientele and staff have finally started to come around to his way of doing things.
"In 25 years in food and beverage management, it might have been one of the hardest things I've ever done," he said. "There was not a single bartender that embraced it—'you have to change it back, the guests hate it, it's stupid.' Typical New York City union bartender. The first time they saw a mojito they thought it was dumb, ginger beer was dumb, black beer coming out of the tap was dumb. The older ones are still WTFing me, but overall they're all coming around."