In the fall of 1973, five American designers showed up their French contemporaries in a historic fashion showcase that would come to be known as The Battle of Versailles. Some 40 years later it seems those brands are getting new leases on life.
"In terms of American fashion, it's a very special time," Chris Benz told the Observer on Tuesday afternoon at the press preview for the Bill Blass relaunch that he's helming. "There [are] ebbs and flows in the industry and it just so happens that all of these batons are being passed at the same time." With Peter Copping installed at Oscar de la Renta, Decade's Cameron Silver manning the Halston rejuvenation and Public School designers Maxwell Osborne and Dao-Yi Chow directing DKNY's new chapter (the brand itself a phoenix arisen from Versailles participant Anne Klein), it is a special time indeed.
Mr. Benz, himself, is a special designer. He started off a fashion wunderkind. Nicknamed the Prince of Color, the Parsons graduate gained early recognition after snagging a coveted CFDA scholarship as a junior in school. Roles at Marc Jacobs and J. Crew led to the founding of his eponymous line in 2007, which saw the young ingenue through five years of business. That fruitful half-decade included appearances on Gossip Girl and Project Runway as well as seeing his range stocked at retailers like Saks and Neiman Marcus. And then he quit.
So what did he move on to? "I was renovating a house in Brooklyn," Mr. Benz said, while simultaneously showing off a cerulean blouse with a navy collar, trimmed in small ruffles. "I'm actually still renovating it [and] I'll probably be renovating it for the next 40 years. I was, you know, thinking of opening a bar in Mexico, that sort of thing," he said, hinting at his momentary thoughts of retirement. But Bill Blass President and COO Stuart Goldblatt had other plans. Other renovations to be specific.
"When I was approached about doing this project, it sounded uninspiring," Mr. Benz admitted. "But once I understood the business plan and how [Mr. Goldblatt] wanted to launch in the most modern way, I was really excited."
A year later and that excitement has turned into a full-fledged brand, stuffed with candy colored womenswear spanning apparel, shoes, accessories and fashion jewelry. "We're giving the customer a little potpourri of everything" Mr. Benz explained. "We want the customer to decide what she wants from Bill Blass."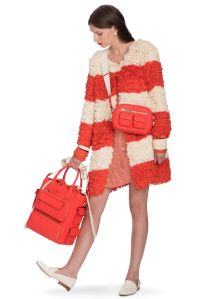 The approach might sound like that of an upstart and that's entirely the point. After years of being battered about as Blass changed owners and creative directors, it lay dormant. That fact meant that for this new start, Mr. Benz had no production schedule to juggle, no distribution partners to please and for the most part, a blank slate. What he decided to create, while expansive, is not a wardrobe. Instead, it is a range of the most delectable pieces to infuse something new into already bursting closets. "It's all about creating the cherry on top of her outfit," Mr. Benz said. "It's not about the perfect black cashmere sweater, when there's a million black cashmere sweaters that will probably be better. It's about creating very specific, special pieces." But of course, those cherries come at advanced contemporary prices.
Available exclusively online come November 2, shoppers will find slip-on shearling sneakers for $248 in mustard and teal, handbags for around $700 and a ready-to-wear range that starts at $78 and tops out at $2,000, for beaded dresses. Mr. Benz put it succinctly: "It's as accessible as it can be."
For his part, the designer points to a sequined jersey as one of his favorite pieces from the launch. "It's really the most humble thing," he said. "It's the most obvious interpretation of what American sportswear really is."
Moving forward fans can expect the brand to release new pieces online on a monthly basis, alongside editorial content to help spark styling ideas. While Mr. Benz has no plans to "wedge ourselves into an already exhausting schedule," he didn't quash the idea of doing an event of some sort.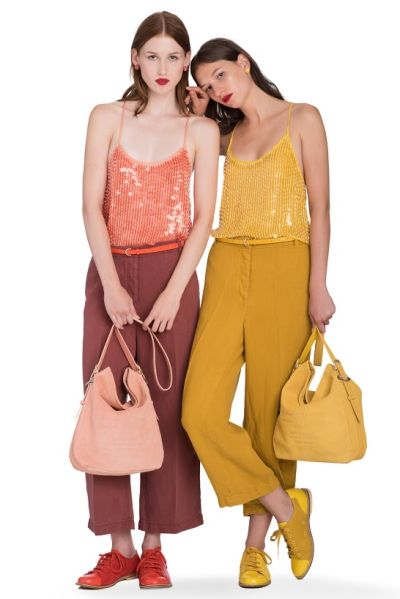 "Trunk shows are great and having shopping parties all over the world would be great, too," he said. "I could see us doing dinner party with models and people could shop right there, as opposed to waiting for six months." That's definitely a dinner party we'd be interested in attending.