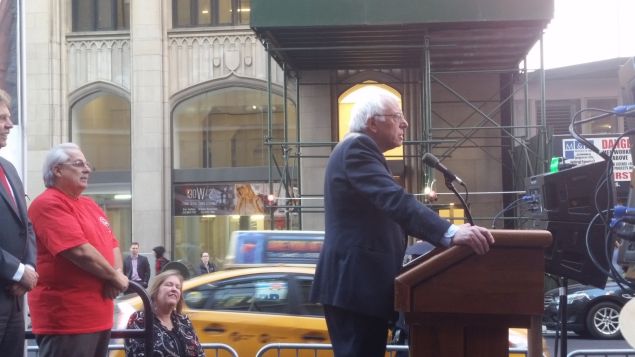 Sen. Bernie Sanders of Vermont made a surprise appearance in Manhattan today on behalf of unionized communications workers, telling the crowd that Verizon, the company they are bargaining with for a new contract, has a "greed" that knows "no end."
"All over this country, Verizon is a metaphor. You've got corporate America making huge profits. Their CEOs get huge compensation packages and then with all of their money, what they do is they hire lawyers in order to make it harder for workers to survive in this country," Mr. Sanders said outside a Verizon store in Midtown. "What these companies do is use their power to cut wages, to cut healthcare benefits, to cut pensions."
"What this campaign for president is about is saying to corporate America: you cannot get it all," Mr. Sanders, a presidential candidate in the Democratic primary, added. "We want them to pay their workers a decent wage."
The communications giant has come under fire from the Communications Workers of America for dismissing a Verizon employee in Brooklyn named Bianca Cunningham. Ms. Cunningham, who attended today's rally and spoke before Mr. Sanders, is a union representative with CWA who, the union says, was fired for trying to help an intimidated worker. Rich Young, a Verizon spokesman, said the CWA is "flat-out wrong" and "has not targeted Bianca Cunningham or any other employee for their union-related activities. This employee's conduct was subject to the same standard as all employees at Verizon."
Wireline workers represented by the CWA and International Brotherhood of Electrical Workers are also locked in ongoing negotiations for a new contract with Verizon. Labor leaders accuse the company, which is trying to control pension and healthcare costs, of negotiating in bad faith, while Verizon maintains they have made fair and realistic offers. ("Week after week union leaders issue a myriad of distracting mischaracterizations, distorted facts and innuendo. These PR stunts do nothing to help advance the bargaining process," Mr. Young said.)
Mr. Sanders, an ardent supporter of organized labor, concurred with the workers. Introduced as the "next president of the United States" by Larry Cohen, a Sanders supporter and outgoing president of the CWA, the Vermont independent spoke for several minutes at the rally. More than 100 CWA workers cheered Mr. Sanders on.
While Mr. Cohen indirectly tweaked Mr. Sanders' top rival, Hillary Clinton, for her past support of controversial free-trade agreements, Mr. Sanders stuck to his usual progressive stump speech, calling for universal healthcare, free college tuition and an aggressive solution to income inequality. He did not mention Ms. Clinton.
"What we are telling Wall Street and what we are telling corporate America is that the working class and the middle class of this country are sick and tired of working longer hours for lower wages and seeing almost all of the new income going to the top 1 percent: we are going to change that," he said.
When he was done, Mr. Sanders shook a few hands, posed for pictures and disappeared into a waiting SUV. He did not take questions from reporters.