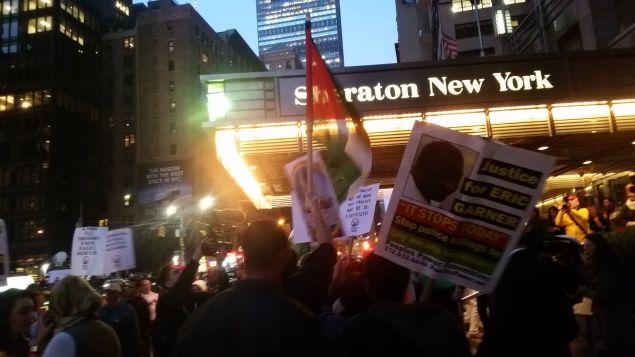 A racist police commissioner. Bloombergian gentrification. Failure to eradicate horse-drawn carriages.
The grievances were scattershot for the several dozen protesters circling outside the first fundraiser of Mayor Bill de Blasio's re-election campaign tonight, but they were plenty furious. A loose confederation of liberal animal rights, anti-police brutality and pro-Palestinian activists united at the Sheraton near Times Square to send a single message: we do not want Mr. de Blasio, who won a 2013 election as a proud liberal, as our mayor anymore.
"Bill de Blasio is a sell-out. Bill de Blasio is a fake progressive and we want to make sure he doesn't even have a chance of being able to continue to do the things he's been doing here," said Josmar Trujillo, the leader of a group that aggressively opposes Mr. de Blasio's police commissioner, Bill Bratton.
"Whether it's the addition of extra cops at taxpayer money, whether it's privatization of NYCHA [New York City Housing Authority] land, whether it's his real estate-friendly rezoning plans that are being opposed in community board after community board–all these things are basically reiterations of Bloomberg and Giuliani and he's doing it under progressive cover and we're here to call it out," he added.
At one point several activists, including Mr. Trujillo, stormed into the Sheraton's ornate lobby shouting "hell no with the status quo, Bill de Blasio's got to go." Police officers eventually forced them out.
For the activists, there was a sense of betrayal and disillusionment with a Democratic mayor who promised a break from the Bloomberg era, which shunned liberal rhetoric. The activists attacked the mayor for his plan to sell off public housing land to developers, his decision to hire 1,000 new cops and stand staunchly behind Mr. Bratton, whose "broken windows" theory of policing overtly targets nonwhites, according to some progressive critics.
Exposing a rift between some young progressive activists and the Democratic establishment, 21-year-old student protester Nerdeen Kiswani lashed out at Mr. de Blasio for his unabashed support for Israel.
"Instead of representing us and our interests, he goes to Israel and stands with the mayor. What is he doing there?" she asked. "I'm a New Yorker and I'm not represented by Bill de Blasio because he's standing [for] the genocide and the murder of my people."
In addition to anti-police brutality and anti-Israel protesters, a slew of angry animal rights activists stood on the sidewalk to criticize Mr. de Blasio over his failure to ban horse-drawn carriages from city streets, a campaign pledge that, for various reasons, has gone unfulfilled.
Activists like Donny Moss feel particularly aggrieved because they led a successful effort to discredit one of Mr. de Blasio's top rivals during the mayoral race, former Council Speaker Christine Quinn.
"We do feel betrayed by the mayor because he made a promise and we helped him get elected and he walked away from his promise," Mr. Moss said. "How could we not feel betrayed?"
Dan Levitan, a spokesman for Mr. de Blasio, declined to comment on the protests. He told reporters the fundraiser was expected to draw 300 people and raise at least $1 million for the mayor's campaign coffers.
Though his poll numbers are declining, Mr. de Blasio's 2017 re-election is not yet imperiled. Several Democrats and Republicans have expressed interest in running against him, but it's historically difficult to unseat an incumbent mayor and Democratic voters, at least for now, still broadly back him.
Mr. Trujillo told reporters he had no candidate in mind to support against Mr. de Blasio.
"I'm not going to make any allusions about other Democratic challengers that are being floated around out there," he said. "We're not here to make endorsements of anybody. We're here to call out de Blasio for what he's done."