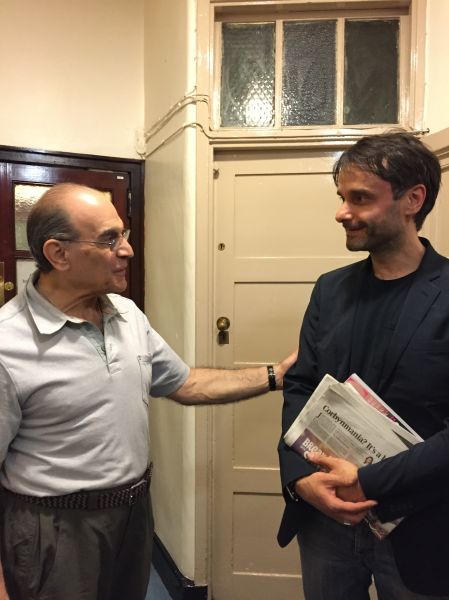 London—"I read your interviews," David Suchet told me before I even got a chance to sit down. "Please, let's kindly leave the private life out."
"You read the Julian Assange interview?" I asked him.
"Yes, very good interview," he replied with that British mastery at gracefully shutting idiots up. "What a story…What's going to happen of him? There seems to be no freedom of speech anymore, that's over," he pursued. "For instance, if someone nowadays wanted in a debate to express an opinion contrary to gay marriage, and I'm not saying this is my opinion or not, but they would be immediately branded as homophobic. I've seen it happening. Whatever is not 'P.C.' is instantly shunned. There's no room for a healthy debate at all."
For 24 years, David Suchet incarnated Agatha Christie's Hercule Poirot so magisterially on PBS' Masterpiece Theatre that it is hard to think back to the times when Albert Finney, Peter Ustinov and Alfred Molina had a go at the rotund obsessive compulsive. By some estimate, 700 million people in more than 100 countries watched the Poirot series that dealt with every single one of the 33 novels and 65 short stories written for the Belgian sleuth.
"Don't you think that when people come to see you on stage in Eugene O'Neill's Long Day's Journey into Night they come to see Hercule Poirot?" I asked David Suchet last week backstage in his loge at the Vaudeville Theater, where he plays in full drag, a vociferous Lady Bracknell in Oscar Wilde's Importance of Being Earnest until November 7.
"Once again," an irritated Mr. Suchet answered, "you are very much generalizing. Most people came to see Eugene O'Neill. I have a huge theater following, and I had that for all my career and before I started doing Poirot and I know that because of the feedback I get from the audience waiting for me after the show, so that's not correct; your assessment is incorrect. A lot came for Poirot, yes, but it was a very, very good mixture and a lot of the Poirot audience knew the play Long Day's Journey into Night. They knew that I wasn't going to be Poirot. There were only two people who I recall only came for Poirot. One flew from Moscow and gave me flowers onstage, came backstage to say hello and couldn't speak English and she sat through the three and a half hours of the O'Neill play. But that was not the general rule. For those in the audience who come to see the actor who plays Poirot, and that certainly is the case in this Oscar Wilde staging, they tell me how pleased they are to have been introduced to theater, they tell me they would never have come otherwise and that's wonderful, terrific. Your interpretation is very negative."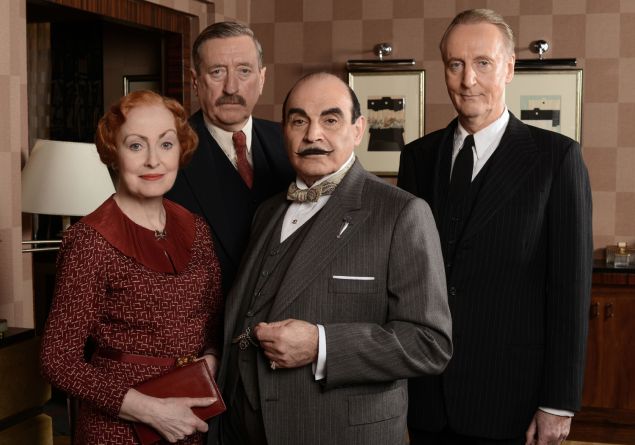 It is a shock to meet Mr. Suchet, 69, in person. As Hercule Poirot, he is obese, almost decomposed, bloated and sagging, with the Belgian accent of a soft petit monsieur who suffered bullying and mockery all his life until he had an opportunity to showcase his intellectual prowess and his steely resolve as a post-Columbo powdered, dandy loner. In person, David Suchet is fit and young looking for a man approaching his 70s, with a cavernous voice and muscular energy that makes you think this is not to be messed with. There's an aura of gravity to this man and I detect, although I'm no detective, in the course of our discussion a conservative, a very traditional streak. A man lost in a world in which daddy has had to relinquish his place at the head of the table. A rigorous, kind, tender, generous man, profoundly human and rational, Mr. Suchet would make for the perfect friend.
"I devoted to Poirot the same care, respect, study and attention I gave to, say, Iago. I put them on the same level from the get-go, treated them with the same seriousness and playing the Othello character was one of the most important moments in my life," Mr. Suchet said, pretty much verbatim what his friend and fellow Honorary Associate Artist of the Royal Shakespeare Company Patrick Stewart said about Star Trek's Captain Picard.
"Isn't there a tragedy in your life, that all you want to do is be on stage playing Iago and you became one of the most famous people in the world by playing an Agatha Christie character?"
"It's your interpretation of it. Let me give you mine, if you don't mind, since you have just put things rather theatrically…'tragedy'…you choose strange words…" Mr. Suchet said. "I was given the most beautiful gift in my life with Poirot, show business in commercial theater means that an actor with a name gets the best roles. When I started Poirot in 1988, I was 20 years an actor, classically trained; I had already played Sigmund Freud on British television, a six-part series, same for Edward Teller in Oppenheimer. On-stage I had played Bolingbroke in Richard II, Shylock in The Merchant of Venice, Iago in Othello. All these wonderful roles. Right after I started Poirot, I was offered Shakespeare's Timon of Athens, an amazing part. I couldn't believe it. I was desperate to play Timon. They told me: 'You are perfect for the role, you are very famous and people will come to see you in it.' "
"If you look at the plays I was offered after I got Poirot, I mean, my God, David Mamet's Oleanna, Who's Afraid of Virginia Woolf? playing George with Diana Rigg, Salieri in Amadeus, All My Sons, Long Day's Journey into Night—these are huge, meaningful, great theater roles that I never would have got without my Poirot profile. So what you see as a tragedy, I see as the greatest gift for an actor who wanted to play great theater roles, as well as have the wonderful accidental fortunate success of Poirot. I even got to play Napoleon!"
"Your faith is very important to you," I observed.
"Yes, very much so, my Christianity. The documentary I made on St. Paul and the subsequent one I did on St. Peter are for me the most important, personal works I've done," Mr. Suchet said.
Mr. Suchet, who is of Jewish heritage and grew up secular, got an epiphany in 1986 after reading the Epistle of St. Paul to the Romans and converted to Christianity. He followed the path that St. Paul took through the Middle East for a recent BBC documentary In the Footsteps of St. Paul.
'I always start with the voice of the character. From where does he, or she, in
this current instance, speak. For Poirot, it's the brain—the gray cells, very high up,' said
Mr. Suchet.
The documentary on St. Paul makes little mention of the apostle's virulent condemnation of homosexuality in Romans and Corinthians, nor does it discuss his incredible patriarchy, and his view of women as submissive to their husbands and definitively out of the church.
"For The Importance of Being Earnest, was there any discussion that you being in drag might privilege the farcical aspect of the play and divert attention from its political subject, a woman who lies about her class, who bought her way into society, as was becoming the norm in the late Victorian era?"
"I always pushed for the farcical, because that's how he wrote the play. My first duty as an actor is always foremost to my playwright," he answered. "We put the play in the Victorian context and remember what Oscar Wilde said about it: 'It's a trivial piece for serious people.' He also said that the part was sexless. He's satirizing society so it would be a mistake for me or the director to underline the politics of it. In its time, it was very well received, except for George Bernard Shaw. The reason it was taken off was not because of its politics but because Wilde got put on trial for homosexuality. You are incorrect about Lady Bracknell; she doesn't lie about her background, she just doesn't reveal it until a certain time. You know she's nouveau riche and that's what he's satirizing. Anyone who knows anything about English society knows that you don't go around gossiping openly and publicly with people you don't really know or like. You don't go behaving the way she does or even admit that you have no fortune of any kind, until you were married, especially if you are old, family money. She's a monster of control; she controls every single person. She takes over when she comes on, so in that sense you could tell that casting a man makes sense. At the end she is the only one left by herself, everyone else is with someone; she's the only one that goes home alone. Hopefully, she learned the importance of not putting on a facade because her whole life is a façade; in other words, the importance of being earnest."
Hercule Poirot was almost sexless, too. An awkward dandy in desperate need of a lay, Mr. Suchet created his masterpiece with this character.
"Why do you think that Poirot appeals to so many and Eugene O'Neill to so few, alas?" I asked him.
"Because Agatha Christie created the most amazing characters. Without them, her books are just banal mysteries. But let's not lose track of the bigger picture here: Eugene O'Neill wrote Long Day's Journey into Night with his blood, as he said, and Dame Agatha wrote Poirot with a typewriter," Mr. Suchet said.
"It's also because she's uplifting whereas he's depressing," I told him. "In The Iceman Cometh, there's not one guy in that bar to save another."
We live in postmodernist times, where low and high cultures mesh without a whisper. When Samuel Beckett died in Paris in his one-bedroom apartment near La Closerie des Lilas, his favorite hang, Agatha Christie's books were found on his night table.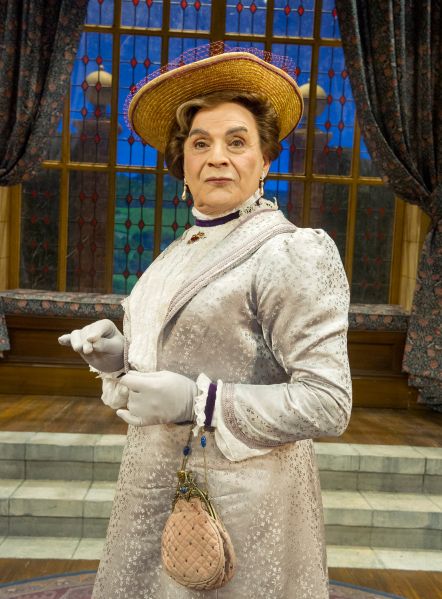 "I know people who watch you as Poirot to fight depression," I told Mr. Suchet.
"You have no idea the number of people who told me that exact sentence," he answered.
When Poirot died in 1975 in the story called "Curtains," The New York Times put it on the front page under the headline "Hercule Poirot Is Dead; Famed Belgian Detective."
In a sense, Mr. Suchet is more than a chameleon with that part. He researched Poirot extensively and made himself become the character by building his personality from the page up. He wrote down a list of his characteristics, among them: "He hates the English caste system, he always treats the servants and working class very good, never patronizes them, a kind man, not stingy at all, very wealthy, remarkable listener, his taste in art is rather bourgeois, likes the opulent and the florid, has the most charming geniality but can also be as cold as ice."
"The Whitehaven Mansions where Poirot lives are such an important character in the series," I told him. "And the real square where it is shot, Chaterhouse Square in Smithfield here in London, is such a wonderful enclave, with a beautiful park in the front of Florin Court."
"Yes, but I'm going to disappoint you," Mr. Suchet said. "Had I been executive producer at the beginning of the series like I was at the end, we would have never shot there. Don't get me wrong, I love Florin Court, but Poirot would have never lived there. The building facade is too curvilinear for him. In his flat, everything has to be with right angles. The only curve is his egg-shaped head, like mine. His brain then stands out. That's why I gave him such a high pitched voice. I always start with the voice of the character. From where does he, or she, in this current instance, speak. For Poirot, it's the brain—the gray cells, very high up. His voice sounds funny, but I had to play him very seriously and the first three years it was a struggle with each different director and even the producers who always wanted to bring him back to the joke that they thought he was. I had to stand my ground. I told them if that's what you want, then I'm not the right fit."
"Where do you stand in the debate between Denis Diderot's Paradox of Acting and Constantin Stanislavski's method or William Archer's Masks or Faces?" I asked him.
"What do you mean?" he asked.
"The actor plays the role as a representation for Diderot whereas the role is played as an experience for Stanislavski. You said that you noticed that when Poirot had a cold on the show you ended up having a real cold in your life," I answered.
'Lady Bracknell is a monster of control; she controls every single person. She takes over when she comes on, so in that sense you could tell that casting a man makes sense.'
"I work from the character's point of view rather than the actor's point of view," he replied. "I am not really interested in me and my secrets. I'm interested in the character and what they show and what they don't show about their character, through my understanding of them. I work from them; it's their choice not to show something, it's not my little secret. Some say the actor is just a mask—I couldn't exist in that dimension. I couldn't play the role of the professor in Oleanna…the way William Macy played it on Broadway…it was very staccato. That's what Mamet wanted and he directed it in New York; you speak the lines without any emotions. You just say the lines; you are the writer's voice. When Harold Pinter directed me in London, we changed that completely. Mamet came to see it and the only thing he told me through the dressing room door was 'very brave.' To this day I don't know whether he enjoyed it or not. We only talked about our common interest in photography."
"You had a similar experience to that of the professor in Oleanna when you were teaching. During a theater exercise you asked the male students to take their shirts off since everybody was sweating and the women in the class filed a complaint," I said. "Did you use that for the play?"
"I used that experience and my knowledge of what was happening at the university very much, yes," Mr. Suchet told me, "because I was pulled up in front of the dean and they wanted me to apologize to the class for being sexist, but I refused. But my understanding of the role is that although his actions may seem manipulative I chose to play the role with him not knowing that they were, because very often people will do things believing what they are doing is right and then get accused of something afterward, but they didn't mean that. I think Mamet wrote it that way because there is no clue in the play that say he is deliberately trying to be manipulative. If he were malevolent, her accusations wouldn't come as such a surprise so the more innocent he can be, the better Mamet is served. In rehearsals, you are right, I recalled what had happened to me when I was a drama professor and I thought what I was doing was completely innocent. Maybe I'm stupid. I refused to apologize. I asked to be fired. The dean refused. I was so naïve back then and immensely proud. I used it on stage, though."
"Is it what made you leave teaching?" I asked.
"No, I was proposed tenure at the University of Nebraska and realized that if I were to accept, I would never act again and I made the choice to leave. It was then that I realized how much I loved acting," he recalled.
"Acting is so risky," I told him. "It's a gamble. What do you say to kids who want to act?"
"I tell them do what I did, if you are passionate," he answered. "But I fell into acting; I was never obsessed with it. I wanted to be a doctor like my dad, then a photographer and when all failed I did what I was good at."
"But acting is an exercise in humiliation," I told him. "At first, Harold Pinter turned you down for [David Mamet's] Oleanna, and that was after he had sent you the script but you then asked to go to his house here in London, so desperate you were to get the part from him. You wanted him to explain to you why he turned you down, you wanted the part so badly, and you were in Poirot by then already. This is so humiliating for you to go there asking why he turned you down. He even tells you 'I know in the back of your head you are hoping I will change my mind,' which he eventually did. He then tells you 'even if you might be insulted by that I must say that you look exactly like the part,' he was basically telling you that you look like a perv. You are in such a position of inferiority at that time; he has so much power over you."
"Yes, I really wanted the part but I never saw it like that. You are interpreting the situation, you are reading too much into it—it's your interpretation," Mr. Suchet said.
"Of course," I interrupt him. "I'm the one talking to you."
"I went to see him to try to understand why he had turned me down after he proposed the script to me," Mr. Suchet said. "I was quite high up by that time in the profession. I was making movies in Austria, I was an associate artist with the Royal Shakespeare Company, I had a certain status within the profession. That's why my agent at the time asked Pinter to explain to me why he rejected me. This was around the time that I was waiting for an answer from ITV as to whether or not we would make another series of Poirot. I said yes to Pinter, then the offer from ITV came through and I turned it down."
"I have a feeling that you follow the character as he is on the page very carefully, that you stick to the page, to the writing," I told him.
"Yes, you are very right," Mr. Suchet said. "For Iago, for instance, I read the play without him in it. And Othello read like this is just a nice story about these two who meet, fall in love, go to fight a war in Cyprus and when they realize that there's no war to fight there they go on to their honeymoon. What's missing from the play? Jealousy. As soon you put Iago back in, everything he touches turn into flames. He is consumed by jealousy."
"Is there a danger to play him just as a two-dimensional jealous person? Have you ever met someone so destructive in his jealousy?"
"I haven't, but the courts of law are full of them," Mr. Suchet said. "You don't play him two-dimensional; you play him schizophrenic—that's three, even sometimes four, dimensions."
At this point it dawned on me that David Suchet and Hercule Poirot were one and the same person, right there in his modest dressing room at the Vaudeville. One cannot understand the carni-like lives of actors until a theater dressing room is visited. This is the wizard's haunt, show business' Achilles heel. Seeing David Suchet sitting in this tiny cell with a small desk and a minuscule bed covered with a worn duvet made me realized how much Hollywood has lied to us, and more importantly, how much we have agreed to suspend our disbelief and the damages we have all suffered from it. It was akin to realizing at a small, family-run circus that the glittery, sexy trapezist, on second look, is the same frumpy girl covered in bad acne who walks the bleachers with a concession basket harnessed around her neck. Very few people know that in an remarkable example of synchronicity, David Suchet played Inspector Japp opposite Peter Ustinov as Hercule Poirot in the TV film version of Thirteen At Dinner four years before he himself donned the paddings to embody the detective. I suddenly remembered what Marshall McLuhan said about TV: "Children are not interested in what's on it, but what's in it." If character is destiny, as Orson Wells—the man who ended up at the end of his life selling shampoo in a supermarket—reminded us, what an amazing twist of fate for our senses that Mr. Suchet met Hercule Poirot, his TV doppelganger. How cool.