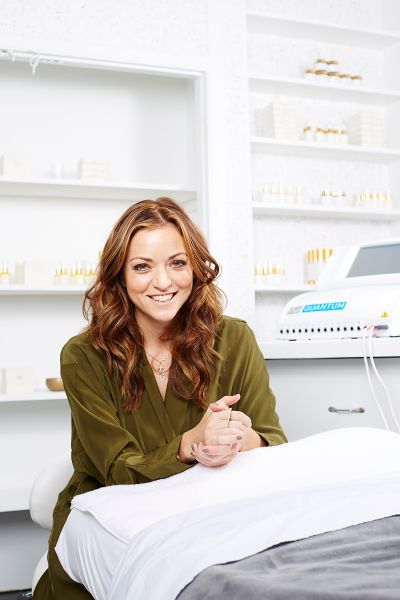 Cruising Instagram recently, I suddenly noticed that all of my favorite glamour girls were posting photos mid-facial. While the "maskie" trend is nothing new, all of said photos appeared to be taken at the luxurious atelier of Georgia Louise Skincare. I knew the majors, as in New York's top tier of celebrity facialists—Tracie Martyn, Joanna Vargas, Dangene—but Ms. Louise was not on my radar. Surely the woman whose hands have massaged the faces of Gucci Westman, Emma Stone and even Anna Wintour was someone worth looking into, I reasoned. Especially since caring for my skin has long eluded me. I have a hard time navigating the product world and feel like I'm always using the wrong thing at the wrong time. And really, what exactly is a serum anyway? But I digress—any chance to pick a professional's brain, I am all over it.
When I caught up with Ms. Louise, she was days away from moving her atelier from the Upper West Side to the Upper East Side, perfect for her well-heeled, loyal clients, many of which live either within a two-block radius of her new 71st Street location or on a swanky street downtown. Ms. Louise has gained a cult following since making the leap from London to New York four years ago. She is known for her holistic philosophies surrounding skincare and believes that a few unique therapies can lead to a needle-free existence, even for women of a certain age. Ms. Louise has worked in the beauty industry since the age of 14 and spent years in Europe training in health and nutrition, so she believes in healthy skin that starts from the inside out. She prescribes vitamins and creates highly specific, customized products for clients. On the eve of her deployment to arguably the most beauty-obsessed zip code in Manhattan, Ms. Louise is catapulting into a household name in the skincare industry, thanks, in part to her roster of clients touting her brilliance all over social media. Ms. Louise is fast becoming the facialist of the selfie set.
Her easy-to-follow commandments include using an eye cream in the morning only ('Otherwise you'll wake up puffy').
"I understand anatomy, physiology and muscle groups and that education has given me an in-depth understanding about skin," said Ms. Louise, whose first job was at a beauty center in Australia. "And in doing a thorough consultation with clients, that enables us to perform phenomenal treatments. We don't do lasers; we believe that less is more. You want to protect, enhance and grow skin rather than destroy it."
One of the cornerstones of the Georgia Louise beauty philosophy is massage. Ms. Louise's facials always involve lifting and sculpting techniques that work on lymphatic drainage points. "If you have powerful hands, you don't need machines," she said. Despite this fundamental belief when it comes to facials, Ms. Louise is a big believer in non-invasive technologies and her atelier boasts several new-to-the-U.S.A. systems including CACI, imported from London, which offers a patented electronic technology to tighten skin. She recently began offering cryo rejuvenation, an ice-cold wand that freezes the skin, tightens pores, and detoxifies, and a hydro jet, which is a power wash for the face us ing saline and oxygen to cleanse each pore without drying or stripping layers of skin. "I am always upgrading and deciding what's effective in creating tighter, brighter, younger-looking skin," said Ms. Louise.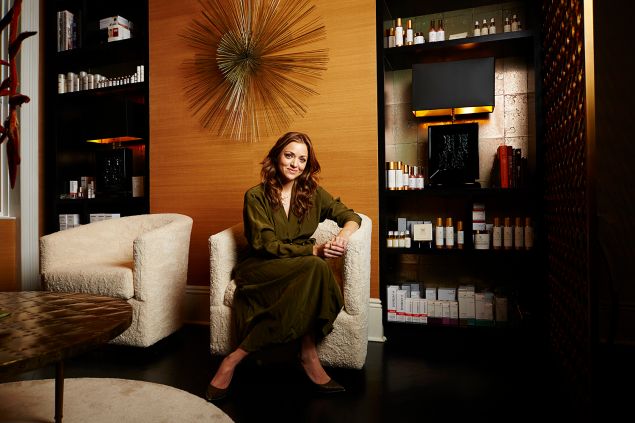 While Ms. Louise isn't strictly adverse to more advanced treatments, such as Botox and fillers, she finds that her own magical combination—a fusion of new school technology with old-school handwork—is what has the world's most glamorous women, including Jennifer Aniston, Behati Prinsloo and Tory Burch, clamoring for appointments. The stars love her beauty cream, balm rose water and beauty sleeping oil as well as special blends of fully customized serums and potions made in the atelier. But these women don't just pop in between press calls. According to Ms. Louise, unsurprisingly, her VIP clients are the best at sticking to her beauty guidelines. "They do their homework, they follow my protocols," she said. "They'll do whatever it takes to keep them young." For them, Ms. Louise will use her signature CACI machine, stem-cell infusions, massage therapy and a vitamin-heavy regime so they look great in the world of HD television. For her model clients with poor lifestyle habits such as smoking, partying or poor nutrition, she'll do clay and purifying masks, as well as hydrating treatments to help plump and revitalize the skin. "A lot of oxygen for them, too," she added, referring to a facial that pumps the valuable stuff into skin.
It comes as little shock that star clients get an A+ in skin maintenance, while the rest of us must navigate city streets, crowded subways and other stresses of real life. But Ms. Louise has key tips for all. Her easy-to-follow commandments include using an eye cream in the morning only ("Otherwise you'll wake up puffy") and switching to a silk pillowcase. ("It's very helpful in allowing the skin to breathe, and it has moisturizing properties.") She also recommends drinking way more water than you probably do and using a mineral-based sunscreen with zinc, the strongest and most effective ingredient. For women based in New York, Ms. Louise recommends laying off the one thing that's hardest to control: stress. It leads to rosacea and congestion. "New Yorkers are crazy, we're all drinking coffee, chasing our tails, yet we have these high expectations of looking phenomenal. It's time to ease the stress and renew the skin."
Noted.