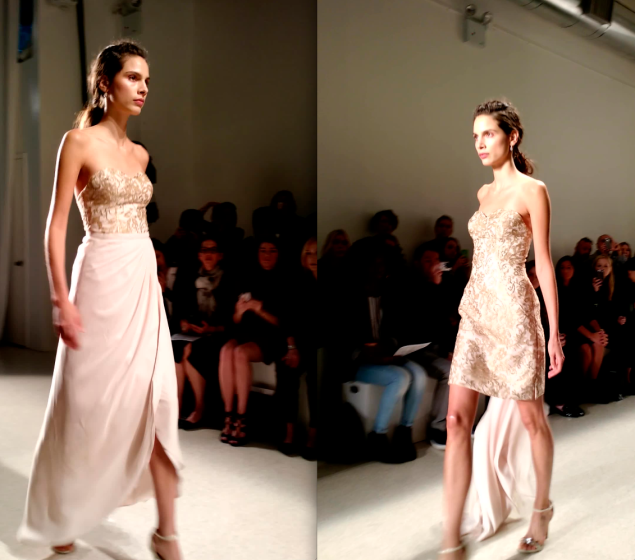 As any former bridesmaid—or, at least, anyone who has seen 27 Dresses—can attest, it is not always easy to re-wear a bridesmaid dress. Truthfully, how many future events will one attend whose dress codes call for floor-length turquoise gowns with ruching and flower details on the straps? But thanks to a newly-launched collection, making use of your bridesmaid dress past your best friend's big day might have just become easier.
Since launching in January 2013, Brideside has been simplifying the bridesmaid dress-buying process with its Warby Parker-esque at-home try-on service. As with the service offered by the trendy glasses company, Brideside lets women shop bridesmaid dresses online, then physically try them on in the comfort of their own homes. Each bridal party is paired with a Brideside stylist, who takes charge of the fitting process following an initial consultation with the actual bride.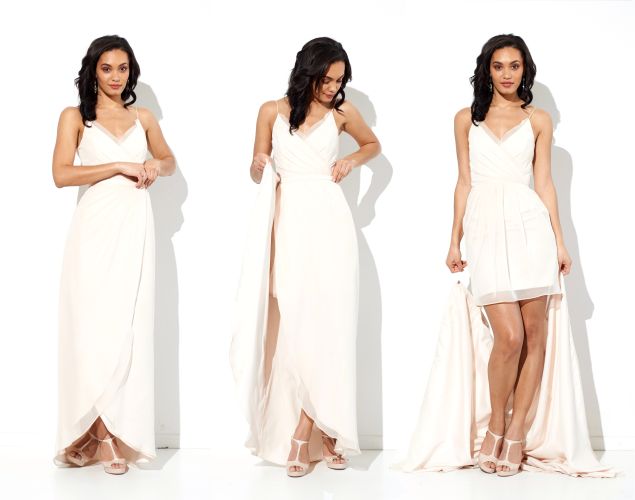 Now, Brideside is innovating again—this time with an exclusive line of convertible dresses by bridal designer Kelly Faetanini. The collection, which hit the Bridal Fashion Week runway earlier today, features short dresses and long skirts that can be mixed and matched to create a slew of different looks. A short dress and long skirt could be paired together, for instance, to create a long, formal gown suitable for an elegant NYC wedding. After the wedding, a bridesmaid could re-wear the bottom portion as a maxi skirt, or the top portion as a short dress ideal for a night out.
"The collection is called Altar Ego," Nicole Staple, who cofounded Brideside alongside business school classmate Sonali Lamba, told the Observer. "The concept is that a bridesmaid can now express different sides of herself in the same garment."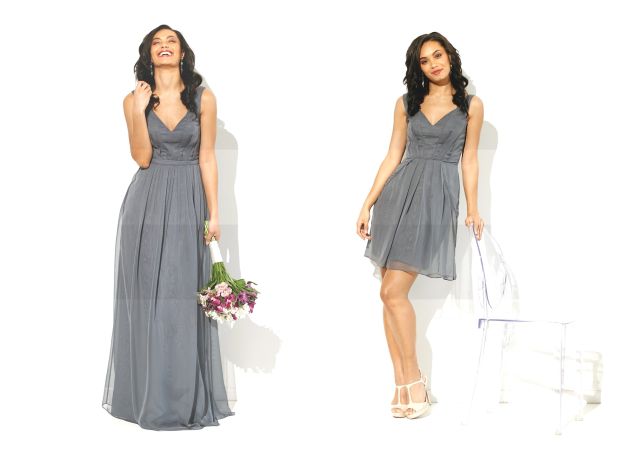 Bridesmaids could even switch up their looks within the same wedding. "You can wear a formal look for the wedding with a short dress and a skirt over it, and a short dress alone for the reception," Ms. Staple suggested.
Thanks to the customer data collected by the tech-savvy company, when it came time for Ms. Faetanini to design the looks, "we knew the top-selling bodices, silhouettes, and what [else is] trending," Ms. Lamba said. All of the items are made from chiffon and are available in 12 different muted hues. There are six short dress options and four skirt options, each characterized by clean lines and structured silhouettes. All feature modern construction methods that are "very non-bridal," according to Ms. Lamba.
Customers can be the judge of whether the looks are "non-bridal" enough to wear again and again. Either way, Brideside is on the rise; just last month, the company closed an impressive $1.5 million funding round. It also launched The Tie Bar, a men's accessories retailer known for its marriage equality partnership with Jesse Tyler Ferguson.
And keep an eye out for more forays into the fashion space; despite Brideside's tech-centric origins, its cofounders hinted they would love to introduce more exclusive collections in the future.