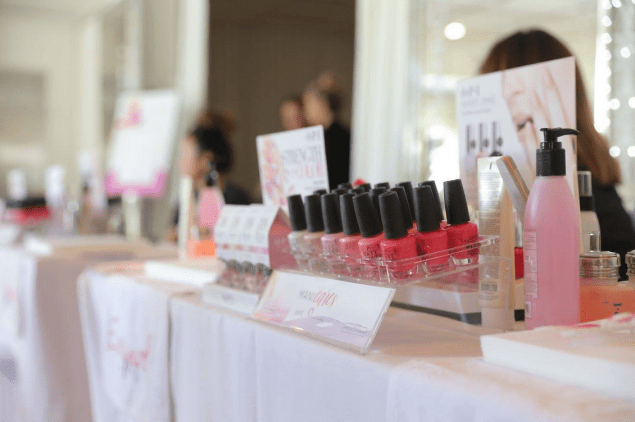 The chemical triphenyl phosphate, or TPHP, has long been used in the manufacturing of plastic and as a fire retardant in foam furniture. It also happens to be found in popular nail polish lines including OPI, Sally Hansen, Revlon, Maybelline and Wet N Wild—and according to a recent study, it could be getting into our bodies and messing with our endocrine systems.
In a recent study conducted by researchers from Duke University and Environmental Working Group, more than two dozen women were asked to paint their nails with TPHP-containing polishes. Within 10 to 14 hours, all of the women had a metabolite of TPHP within their bodies, the researchers discovered—a potential problem, given TPHP's health risks.
"There's an emerging body of scientific literature indicating [TPHP] may be a concern, in terms of endocrine disruption and developmental toxicity," Johanna Congleton, a senior scientist at EWG and coauthor of the study published Oct. 19 in Environment International, told the Observer.
Though tests on people have been limited, studies involving TPHP in animals have it can cause reproductive and developmental problems. TPHP is also believed to contribute to weight gain and obesity.
Ms. Congleton recalled a past experiment with zebra fish, where exposure to TPHP was found to cause a host of problems, such as neuro-developmental toxicity and heart defects.
"Together, all of these things raise legitimate concerns," she said.
The researchers do not know for sure how the chemical is getting into users' bodies, but they suspect it could be getting absorbed by the skin around the nail.
So why is TPHP in our nail polish to begin with? For the same reason it is found in plastic: It makes things more flexible and durable. It might, in fact, be being used as a replacement for dibutyl phtalate, another plasticizer that has been widely phased out of nail polishes in recent years due to similar health risks.
"If that is the case," Ms. Congleton said, "then we're in a situation where we've removed one component and replaced it with another one that has the same concerns."
EWG has launched an online petition urging nail polish brands to remove TPHP from their products. Those tired of chemical-ridden nail varnishes can also check out natural beauty lines such as Zoya and Suncoat.
Though the researchers hope the beauty brands will make changes, "the one thing we do not hope they do," Ms. Congleton said, "is replace it with something that does not have a clean safety record."