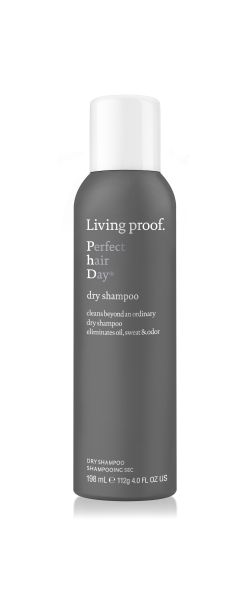 In my quest to be as lazy as humanly possible this weekend, I stopped by Sephora to see how I could get away with not washing my hair for a day or two. You guys know where I'm coming from, right?
Having heard some promising words about Living Proof's can of magical dry shampoo, I slipped on a baseball cap and set out to find this grey bottle of joy. Decorated with a little sticker that shouted "NEW!", it was easy to find my latest sought-after product. Further, the name on the bottle made me smirk. Officially called PHD Dry Shampoo, that little acronym doesn't stand for a doctorate degree, but rather it's a promise for the imminent arrival of the Perfect Hair Day. As a female, I'm confident to say that we are all (at least secretly) in pursuit of that.
Back at home, I put the product to use. For some factual background, I will admit that I was applying it to a head of hair that hadn't been tended to for 24 hours, following a long day that included an afternoon spent shopping in the West Village, a few drinks guzzled in Brooklyn and a late night of dancing in a dark underground bar.
As an astute user of dry shampoo, I knew it was imperative to read the instructions and follow exactly what they demanded. After a quick shake of the bottle, I spritzed my roots and prepared for a light dusting of white powder. According to Living Proof, this is the stage when activation and cleansing happens, so I kept my hands off my scalp for their requested thirty seconds. I then used my fingers to disperse the powder. Et voilà, I was pleasantly surprised to find that my hair looked squeaky clean.
That clean feeling lingered all day long and lingered well into the next morning. Usually I can prolong one shampoo to soldier through 48 hours of low-impact activity. With my latest Living Proof addition, it now seems like 72 hours just might be my new normal.
The secret to this formula lies in Living Proof's patented OFPMA molecule, which has the ability to minimize friction on hair. In layman's terms that means that the special powder soaks up both oil and sweat and is then easily brushed off of the hair follicle, leaving the hair actually clean, rather than just coated in powder. Should you need any further convincing that PHD is worth the $22 price tag, it also has time-releasing odor neutralizers that keep your locks smelling fresh all day long.
My all-time favorite part of the product is that the bottle actually taunts you, asking how long you'll go without actually washing your hair. Which is one challenge I am more than willing to accept.